Loaded with mashed and whole blackberries these Double Blackberry Pancakes are sure to be a hit at breakfast!
Pancakes are still a staple at our house and with berry season in full swing right now I'm loving all the ways to use them.  We were heading out of town for spring break and I still had 4 pints of blackberries to use.  I was debating making muffins but it was really warm at the time so I decided to go ahead and make pancakes instead.
I used a similar technique that I did with my Raspberry Pancakes where I mashed the berries and added them to the batter but I really wanted to have some whole blackberries in too so I grabbed a second pint and started tossing them in.  The result was such an awesome blackberry amazing-ness that it really only needed a little syrup to make them totally perfect.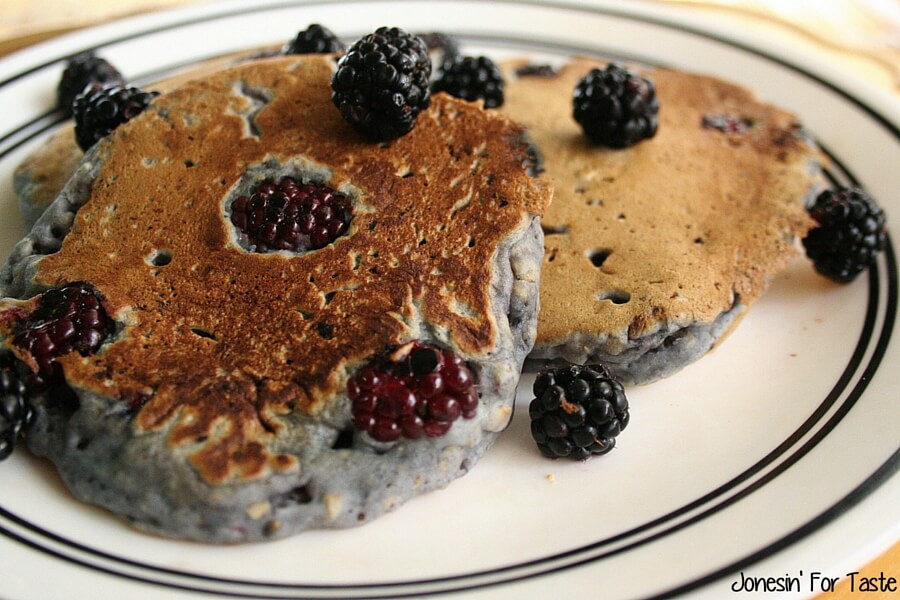 These would also be good with some peanut butter for a PB&J kind of flavor and a really easy breakfast on the go!  As always I made a double batch up and slipped them in a ziploc bag and tossed them in the freezer.  We enjoyed them for an easy school morning breakfast this last week.
I'm going to make another batch this weekend as we hang out and watch the LDS General Conference at home.  This is one of my two favorite weekends all year where I get to spend the weekend listening to inspiring messages and uplifting music.  It's available live and via replay on lds.org. I've shared before about my favorite tradition of a hearty breakfast on Sunday morning with the family before we sit down to watch.  Over the years we've made a variety of meals from Crepes with Lemon Curd, Orange Rolls or picking from any one of our favorite pancakes or other breakfast favorites.  You really can't go wrong in creating special family memories!
I missed the Women's Conference that they had this last weekend and I plan on watching that Saturday night after the kids go to bed.  I love the way I feel after a full weekend of hearing words and song that fill my heart with joy.  A year and a half ago I shared this quote that really resonated with me at the time.  It was something I shared with many friends who were struggling.  I hope you'll be able to catch at least a little bit of the conference!
What is something that really feels your heart with joy?  Family, yoga, quiet time outside?  Share your thoughts in the comments!
Double Blackberry Pancakes