No-Bake Vanilla Pudding Pie made with vanilla pudding and golden Oreos is the perfect anti-chocolate alternative. So simple to make and a great way to free up oven space during the holidays, or keep the house cool during those hot summer months.
I'm a total choco-holic.  For my 8th birthday I asked for a chocolate cake, with chocolate frosting, and chocolate sprinkles to be served with chocolate ice cream.  There really is no such thing as too much chocolate for me. And then enter my husband into the picture whose favorite ice cream flavor is vanilla.  And one of his favorite cakes is vanilla cake with vanilla frosting.  We make quite the pair don't we.  It's not that he doesn't enjoy desserts like my Oreo Pudding Dessert or Nutella Poke Cake but they certainly aren't his favorite.
So to be a sweet wife I try to come up with desserts I think he will enjoy. He's a huge pudding fan and so I thought why not take the classic pudding pie and flip that around to the vanilla side.  All the new varieties of Oreos are perfect for that. And I love that this is an easy no-bake dessert I can make year round.
What pies are your favorites?  Are you more of a chocolate or vanilla fan?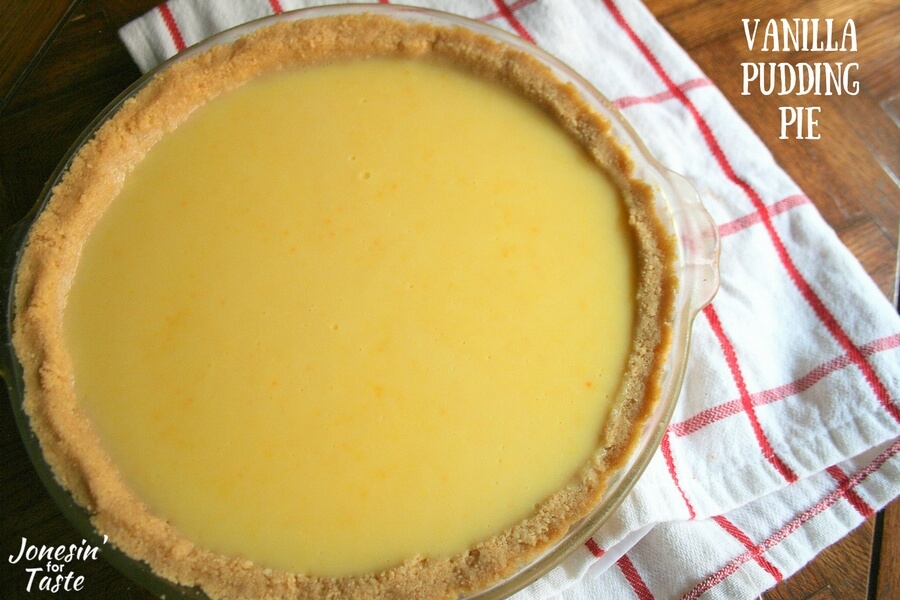 No-Bake Vanilla Pudding Pie
Author:
Jonesin' For Taste
Ingredients
30 Golden Oreo cookies
6 Tbsp butter
1 large package vanilla pudding mix
Instructions
In a food processor, crush Oreos into fine crumbs. Add butter and process briefly to blend.
Scrape contents of food processor into a pie plate. Press crumbs down into the bottom and up the sides of the pie plate. Refrigerator crust.
Meanwhile, make pudding according to package directions. Pour pudding mixture into the prepared pie plate. Cover pie with plastic wrap. Refrigerate for at least 2-3 hours.
Serve topped with whipped cream and additional crumbled golden Oreos if desired.