With just 6 ingredients, Pepper Steak is perfect for a weeknight dinner and full of tangy Asian flavors.  Prep the meat and let it marinate overnight.  Come home and have it ready in 20 minutes!
This post contains affiliate links. For more information, see my disclosure policy.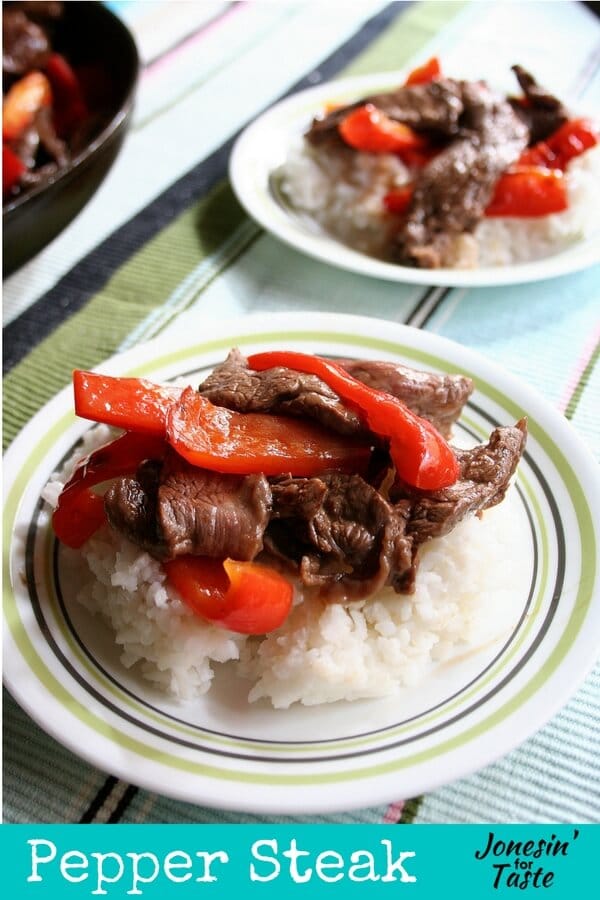 This is another one of those dishes that I grew up on.  Whenever I have this it always makes me think of home and being a kid and being so excited about having pepper steak for dinner.  My dad does lots of cooking and he let me help along the way, which I'm sure is one of the reasons why I love cooking now.  Getting recipes from him is hard sometimes because he has made them so often that he just does it, no measuring, no checking the recipe.  That's similar to the way I cook but it definitely means it can be difficult to make a recipe the same way twice.
This is a super simple recipe with practically no prep work and few steps.  What I also love about this dish is the versatility in cuts meat you can use.  Beef is really expensive right now and rarely seems to go on sale.  So I experimented recently with using London broil in lieu of the steak since it was on sale.  I was a little nervous with how it may turn out but it worked perfectly!  It was half the cost of other steak cuts and I generally see it go on sale every few weeks.
The key with London broil is to slice it thin and barely cook it.  London broil can get really tough if overcooked so I cook it just until the pink is gone and no more.  If you have cut it thin enough there shouldn't be any issues with eating any raw meat! Plus cutting the meat thin means it cooks really quickly and you can get eating sooner!  I have a programmable rice cooker that I can prep in the morning and set to have the rice all ready for dinner.
What recipes make you think of your parents or other loved one?