Simplify the classic Corned Beef dish by using your slow cooker for an easy no fuss dinner.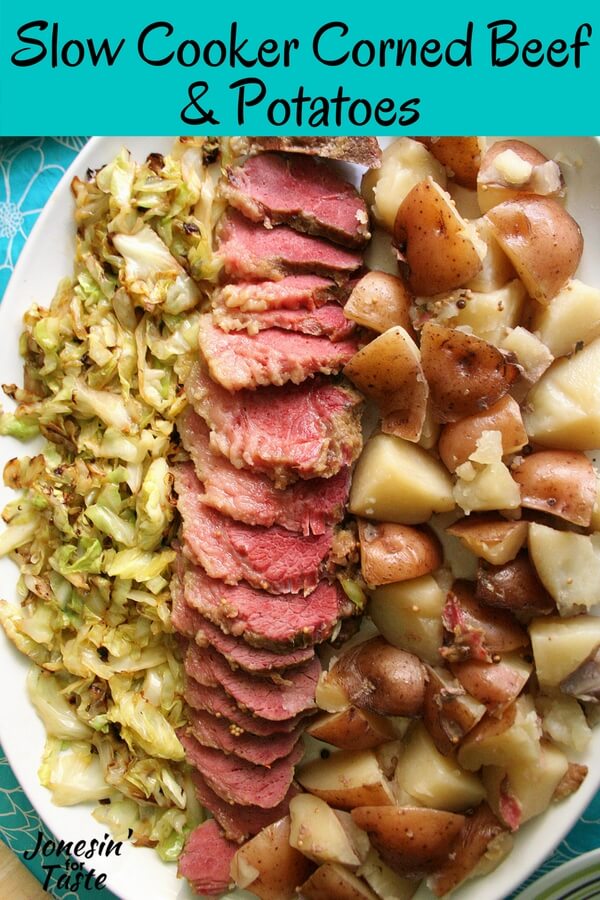 Growing up we would often head up to Santa Maria, CA to visit my great grandparents.  Often we would visit over St Patrick's Day weekend and I remember the wonderful smells of my great grandmother cooking corned beef and cabbage and potatoes and carrots. I remember loving sitting around their tiny little table eating my food and relishing visiting them.
I'm sure that is one of the reasons that I love this dish so much.  I almost get giddy when St Patrick's Day is approaching knowing we get to have corned beef and fixings.  It wasn't until recently that I realized why it makes me so happy.  It's a remembrance of happy child days visiting my great grandparents and long walks and exploring their senior citizen neighborhood.
Hopefully these are the kind of memories I am sharing with my children.  Ones that will be triggered as they make meals for their families and all of a sudden they will remember a moment or moments that are the reason why this dish is so special.  I hope that they will smile and laugh at those memories.  Personally, this is why I love food.  Yes it tastes good, but it also fills my soul with happy memories, silly memories, wistful memories.
I like to serve these up with sauteed cabbage and honey carrots for a contrast to the salty meat.  If you aren't a big fan of corned beef (I know there are some of you out there!) this Root Beer Beef Stew is a fun twist on a classic dish.
What dish invokes the best memories for you?