Sorbian Eggs is an easy cheesy mix and pour breakfast casserole perfect for brunch for a crowd!
Have you ever wondered why in the world a dish has it's name?  I've been wondering that a lot lately as I've been updating old family favorite recipes like this one.  Why Sorbian Eggs?  Or Pollo El Greco?  Or Loco Pollo?  Who the heck named these things?!  I've thought about changing the names but to be honest it just didn't seem right! Although there is the one dish name I changed although sometimes I regret it. The original name of Sausage and Veggie Spaghetti is actually Spaghetti Fest!  I still go back and forth on that one.  What do you think?  Good change or bad?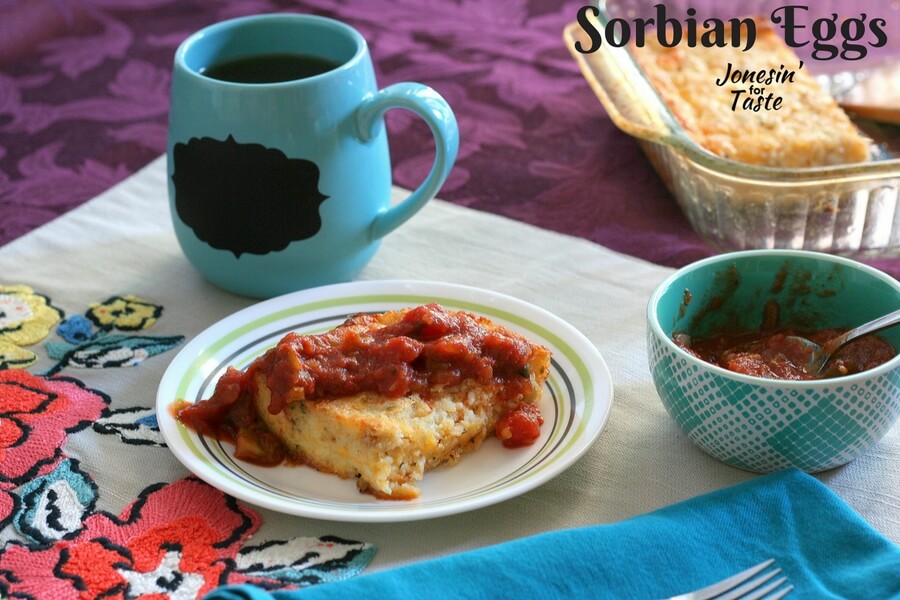 Does your family have a special holiday breakfast dish?  My family's tradition is these sorbian eggs.  As long as I can remember they have been a staple for either Christmas morning or New Years Day.  They are an amazing mix and dump casserole recipe which is I'm sure why it was such a staple at the holidays.  I love mine heaped with salsa while my mom loves hers topped with avocado.  My kids love it just plain which I'm pretty sure is how I ate it as kid.
I remember the one year I made this for a family reunion with my husband's family.  I made 3 or 4 pans of it and everyone kept coming back for seconds and thirds and fourths.  One rather health conscious aunt finally asked what was in it and when I told her she groaned and grabbed another slice.  It's just that good!
Sorbian Eggs