Does meal planning have you stressing out? I've teamed up with 6 other awesome bloggers to bring you each week's meal plans full of a week's worth of meal ideas!
We happen to be really partial to sandwiches in this house so when I saw the Italian Beef Grilled Sandwich and the Grilled Reuben Sandwich I got kind of excited. Those sound soooo good! And they are great no matter what kind of weather you are having. Wrap them up in foil and pop them on the grill if it's too hot to cook inside and if the weather is cool enough you can pair them up with a favorite soup. Maybe leftover Tomato Soup from last week can make a reappearance as a companion to one of these soups!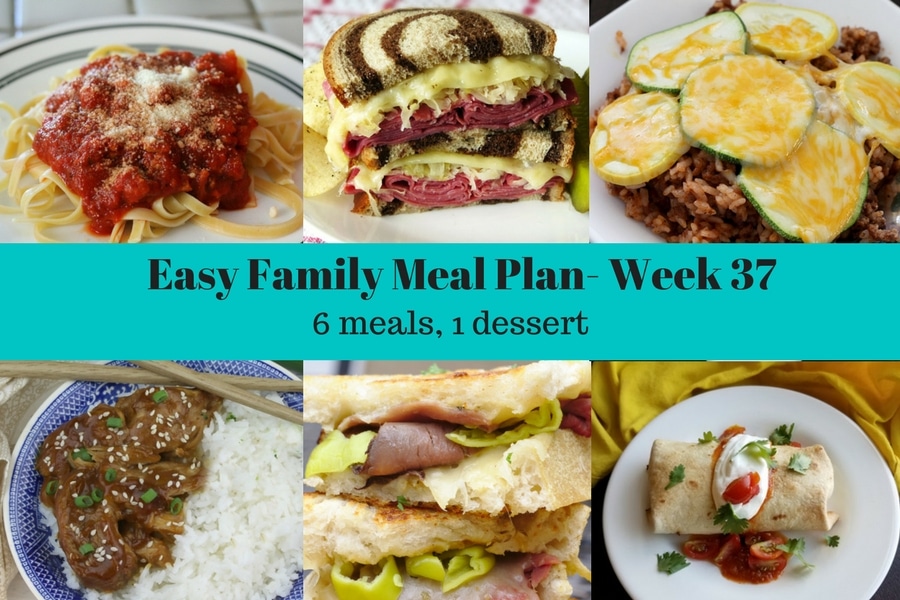 And I have to put in a plug for the Turkey Spaghetti Sauce. That is my mom's recipe and it's the one I turn to when I don't feel good or I'm not sure what to eat. When I'm in a rut with meal planning I always go back to it because it's always a hit and I can pair it with ravioli or turn it into lasagna. If we eat it once and feel satisfied then I like to toss it in the freezer as a back up for those crazy nights when life seems to get away from me.
I hope you enjoy this week's meal plan!
Did you miss last week's meal plan? Find Week 37 here.
Monday
Tuesday
Wednesday
Thursday
Friday
Take the night off! Eat some leftovers!
Saturday
Sunday
Dessert