In our house Mexican food definitely tops the all time favorite list.  I think if my husband had his way we might have it every day.  As it is we have it about once a week.  Here is a run down of many of our go-to Mexican favorites.
Sides

The horchata is going the extra mile since you have to plan ahead but trust me it is totally worth it.  Be aware, it's addictive!
Mexican Rice and salsa are musts with any main dish.  And making the salsa in the blender means it whips up in a flash.
Add in the corn with cumin butter and you have a complete meal and all 3 dishes can be made in about 30 minutes.  Just get the rice going, and while the rice cooks make the salsa and throw together the corn. Easy peasy.
Main Dish
I've got quite the range of main dish recipes here from fairly traditional to most definitely not.  Pick what strikes your fancy.  Everyone of these recipes is in constant repeat in our house.  I have made them dozens of items for lots of different family and friends and have never had a bad word about any of them.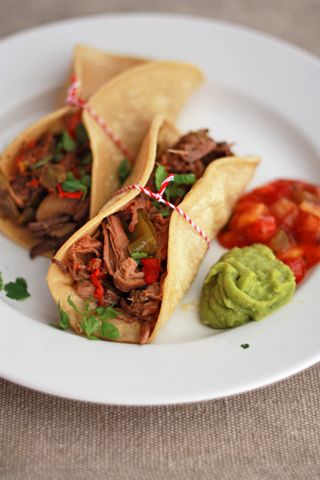 The meat for both the beef carnitas and the mole chicken enchiladas are made in the crock pot which makes it ideal for a work night.
Homemade taco and fajita seasonings are a must have in our pantry for when the mood strikes, or I run out of time for what I was planning to make.  Tacos and fajitas are a fast solution to dinner when you are just not sure what to do.
The honey lime enchiladas are an awesome not so traditional option.  We love the flavor profile of these and they are really great for kids with the honey in it to give it just that extra hit of something familiar.
Loco Pollo is another great option when you serve it with rice, beans, and tortillas.
I hope it helps your Cinco De Mayo to be a fabulous and fun day.