Fun Things To Do With Kids In Meiringen
If you are wondering if Switzerland is good for kids, don't miss out on lots of family friendly activities and visit Meiringen which has lots of fun things to do with kids!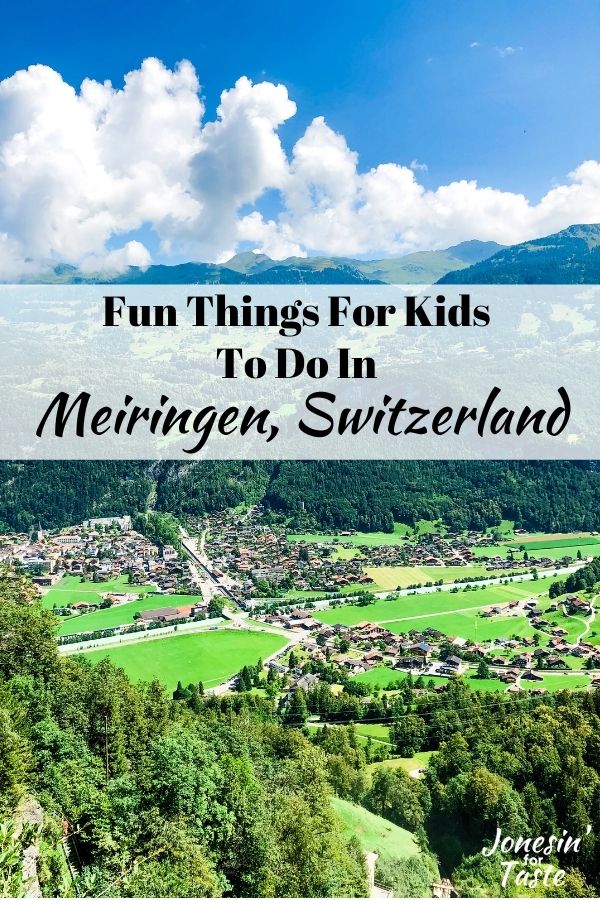 We got to spend a wonderful 8 days in Meiringen and it's a trip that my children still talk about almost a year later. My husband used to live in this area before we got married and so we have been dying to visit. Now that we live in Europe it was much more feasible.
The place that we stayed was a lovely little resort in the heart of town right next to the Sherlock Holmes museum. It was perfect for families! They are essentially apartments with good room sizes and 2 bathrooms (basically heaven for a family of 6 living in Europe!) with a playground and zipline, indoor playroom for younger children, arcade, laundry facilities and more.
This is a place we could easily come back to again and again because there is so much to do in the surrounding areas and the ease of access from Meiringen was great.
Why visit Meiringen?
Meiringen, Switzerland might not be the first destination you think to visit when planning a trip to Switzerland but if you have children Meiringen is a wonderful place for families to visit with lots of things to do for kids of all ages.
If you have not heard of Meiringen don't worry, you are not alone! It is a smaller town located in the Swiss Alps near Lucerne and Interlaken in the canton, comparable to a state, of Bern.
With a charming village, prime location to hiking and various attractions, and easy access to the train there are lots of reasons to visit.
Who is Meiringen's most famous visitor?
Meiringen is perhaps most famous for being the location of Reichenbach Falls, the infamous setting for Sherlock Holmes' last stand against James Moriarity.
For Sherlock Holmes fans, it is an absolute haven with a variety of famous landmarks, hotels, and kitchy souvenirs galore.
What's available in town?
Some of the things that I appreciated about the town was that there were lots of water refill stations throughout the city, making it easy to refill our water bottles when it was hot.
An added bonus to it being a small town is that you can walk to most of the major points of interest, really helpful if you don't have a car.
There is also the small regional train or busses also located at the bahnhof that can help you get to a few key spots close by.
There were two major grocery stores within an easy walk from the bahnhof, or train station. The one we visited more often because of its proximity to our hotel and the station was Migros.
Situated slightly further away and also slightly smaller was Coop. Right next to the bahnhof is a small convenience store that is open a few hours later than the grocery stores but it is very expensive.
What places are there to eat?
Meiringen also happens to be the record holder for the world's largest meiringue which was made with 2000 egg whites and was 2.5 meters long and 70 centimerers high!
The Frutal Versandbackerei is a bakery that sells a lot of wonderful goodies including, you've got it, meiringues. We stopped there several times to snag some goodies before hopping on the train.
Many of the restaurants also had some play equipment for the kids which is wonderful if you choose to eat out.
What transportation options are available?
Although not a major stop for the train, it is located just 30 minutes from a major junction at Interlaken, 10 minutes to a boat landing at Brienz, and about an hour from Thun and Lucerne, both of which are definitely worth visiting.
My kids' favorite part was that there is a playground right outside the bahnhof where you can wait for your train instead of having to just sit and wait on the platform.
Want to follow our adventures traveling and living abroad ? Follow Jonesin' For Taste on Instagram to catch all of our latest adventures? Stop by, send me a DM, and let me know what else you would like to know about being an expat!
Top Things to Do in Meiringen, Switzerland with kids
Here are some activities I would recommend that we enjoyed doing with our kids when visiting Meiringen, plus a few more that we had hoped to do but just didn't have time for.
Reichenbach Falls
Located an easy 20 minute walk from the main station or accessible via bus or regional train plus a short walk. Gorgeous waterfall, incredible views, a bit of hiking, a funicular ride, what more could you ask for?
Sherlock Holmes Museum
Right in the heart of downtown is a museum converted from an old church building. If you are a Sherlock Holmes fan, the museum is small but packed with various memorabilia, pictures, and even a fully recreated sitting room. They also had an audio tour included in the cost.
Aareslucht Gorge
Wind your way through tunnels and walkways suspended over water as you make your way through this natural gorge and come out to an incredible view on the other side. Bonus, it's only a short 20 minute walk from Reichenbach falls or an easy train ride from the bahnhof.
Gondola to Reuti
A short walk uphill takes you to a gondola that brings you up the mountain to the little village of Reuti. Numerous walking and hiking paths intersect through the mountain to bring you to breathtaking views of the valley. There are also fun ball runs in various spots along the way that are super fun for kids!
Boat ride from Brienz to Interlaken Oos
Located a short train ride from Meiringen, you can take a relaxed boat ride across the lake from Brienz to the city of Interlaken. Enjoy seeing waterfalls, a castle on the water, and picturesque lake side homes while enjoying an ice cream on deck.
Swimming in Brienzersee
Take a pit stop on your boat ride to get off along the way to enjoy a chilly dip in the waters of the Brienzersee. Numerous public beaches are available for a small fee, but there are plenty of spots you can pick (for free) along the lake to use as a jumping off point.
Thun Castle
Located an hour train ride from Meiringen, Thun is a wonderful place to just wander and enjoy the architecture. Don't forget to make time to visit Thun Castle which towers over the city. The museum has a fun scavenger hunt for kids that they can work as you make your way through the various levels of the castle.
Stanserhorn
The Stanserhorn is one of the larger peaks located closer to Meiringen, about a 2 hour trip one way, but you can't really visit the Swiss Alps without actually going up into the alps!
The trip requires taking a funicular to a long gondola ride up and then a short hike up to the very top. Bring a lunch, or buy it there, and enjoy being up above everything. Don't forget to take a minute to find a quiet place and listen for the cow bells ringing from below you. Absolutely magical!
Grindelwald
This was on our wish list to visit but we ran out of time since it is about an hour from Meiringen and has so many activities to do it would have required a whole day there.
There's an alpine slide, something similar to a zip line, picnic spots, and a playground to name a few things that sounded fun to my children.
We spent a wonderful 8 days in Meiringen and still wished we had more time. Perhaps we can make it again to enjoy on another trip!