This post contains affiliate links where I earn a small fee when purchases are made through this link.  For more info see my disclosure policy.
Easy no bake cherry cream cheese pie is a fantastic blend of creamy, tangy, and sweet that is a wonderful cold summer treat.
I've been reminiscing on old favorite recipes and looking over those I've shared here.  I realized that one of my favorite desserts I hadn't shared on her yet.  And it's always good to have some easy crowd pleasing desserts in mind like Toasted Coconut Caramel Brownies  or Strawberry Cream Cheese Brownies but I do realize not everyone loves brownies *gasp*.
This pie has been made by my family for as long as I can remember and we called it Cherry-O Cream Cheese Pie.  It is a fantastic combination of creamy and tangy and sweet.  My husband had it once and told me he didn't like it and I thought he was crazy.  So I waited a while to make it again and he loves it and swears he never said he didn't like it.  The kids love to help with the mixing and the pouring and despite the chilling time it comes together really quickly.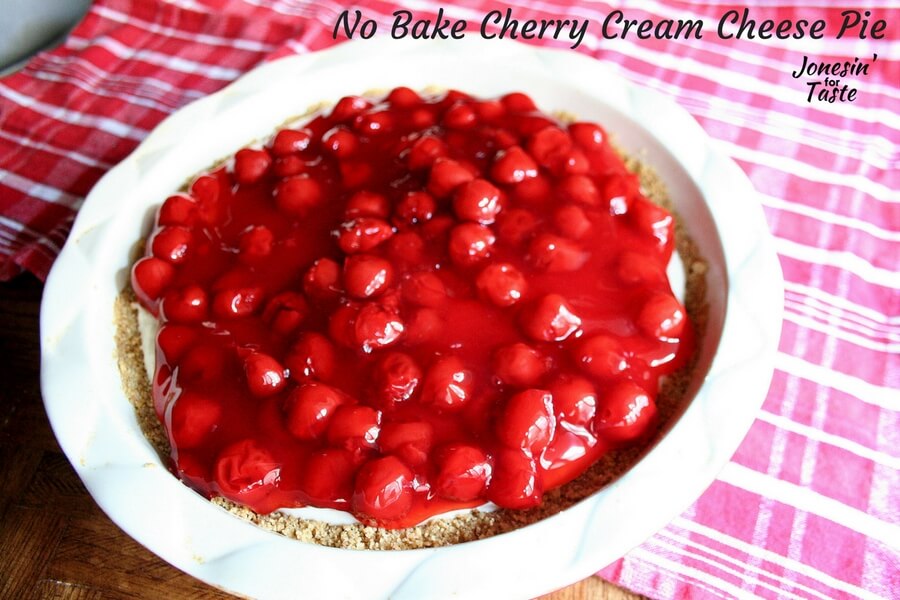 And can I talk about how much I love this pie dish as well!   It's rather deep versus the usual pie pans and it's super attractive all by itself.  I used it to make my Fresh Strawberry Pie and No Bake Vanilla Pudding Pie.  I think it works really well for no bake pies because it stays really cold.  I have found when I bake my Apple-Berry Pie or quiches in this one it takes a lot longer because it is so deep.  I got it from my grandma but you can get this pie dish which is really similar
Do you follow Jonesin' For Taste on Facebook? Stop by, say hi, and let me know what kinds of recipes you want to see!
No Bake Cherry Cream Cheese Pie
No Bake Cherry Cream Cheese Pie
Ingredients
8

oz

package cream cheese,

softened

1

can sweetened condensed milk

1/2

cup

lemon juice

1

tsp

vanilla extract

1

large can cherry pie filling,

chilled

graham cracker crust
Instructions
Beat cream cheese until fluffy with an electric mixer. Slowly add sweetened condensed milk, lemon juice, and vanilla. Continue to mix until thoroughly combined. Pour into the prepared graham cracker crust. Chill 2 to 3 hours.

When ready to serve, top with chilled cherry pie filling.