Irish Culture Virtual Field Trip For Kids
This virtual field trip exploring Irish culture will help your children explore the music, dance, and language of Ireland plus so much more. A wonderful addition to a homeschool unit or as part of a fun global education at home.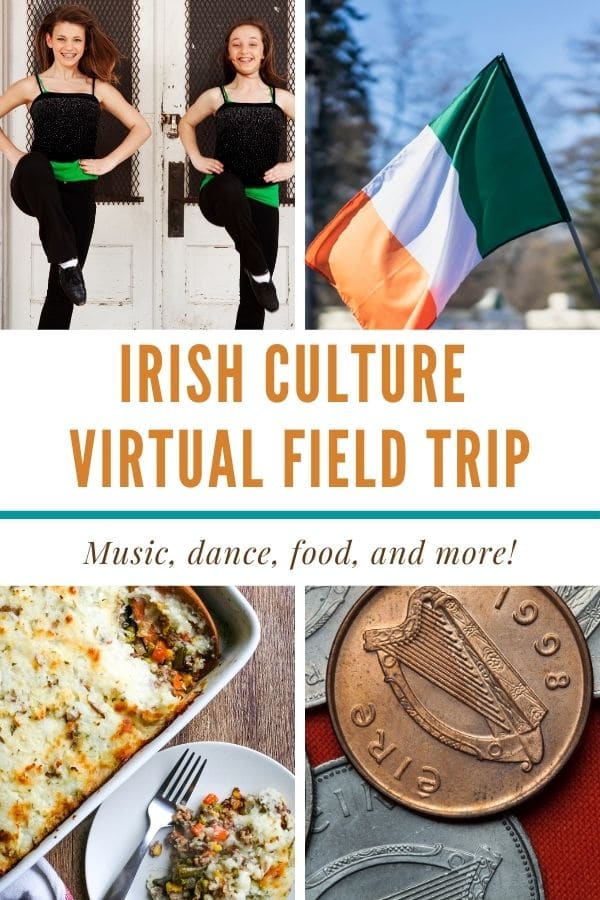 Table of contents
Start here
When you think of Ireland do you think of green and leprechauns? There's a lot more to Ireland than just that.
Explore the rich heritage of Ireland through this virtual field trip. We will cover the real story of Saint Patrick, learn about the language, music, dance and food of Ireland, and get to discover books about the country and by Irish authors.
A few culture and traditions: https://youtu.be/I5f0gbfNwFQ
Get a free printable mini-magazine with activities and recipes for kids!
Saint Patrick's Day
Saint Patrick's day has become a celebration of Irish culture, both in Ireland and beyond. But why?
Saint Patrick is one of 3 patron saints of Ireland. The other patron saints are Saint Brigid and Saint Columba. They are buried together in Downpatrick.
Patron saints are believed to be someone who acts on behalf of God and offers protection or guidance to a specific place or set of people. March 17th is the day Saint Patrick died and it is both a religious and national holiday.
Special Saint Patrick's day message from Discover Ireland: https://youtu.be/Rf9GsFnMszM
Sources:
Books
Popular stories and figures in Irish folklore: https://www.irishcentral.com/roots/irish-mythology-stories-figures
The President's Cat read aloud: https://youtu.be/-o0AFPiaPPw
The President's Glasses read aloud: https://youtu.be/Xhzl_bxM14o
Rónán and the Mermaid: A Tale of Old Ireland https://amzn.to/3vm3W20
Partial read aloud: https://youtu.be/DsJrdMlhaoQ
Fin M'Coul: The Giant of Knockmany Hill: https://amzn.to/3lbASFR
9 books for preschool or elementary kids: https://everyday-reading.com/st-patricks-day-childrens-books/
Language
History of the Irish language: https://youtu.be/9U0v9LHgyRY
How to start speaking Irish https://youtu.be/ViGAb66Nsdo
How to pronounce Irish girl names and their meanings: https://youtu.be/tOQDNSHAZGY
Dance
Riverdance: https://youtu.be/SeFtzfSu0nI
The story of Irish dancing: https://youtu.be/BLPjla4p-BE
Sesame Street visits an Irish dancing school: https://youtu.be/g29CeZJz3ek
Note: More appropriate for middle/high school kids due to the news ticker tape at the bottom. Please preview before sharing with younger children.
History of Irish dancing and Sean-nós: https://youtu.be/_lKsfLpwqoc
Music
Instruments: https://youtu.be/ta-sWn3oAQY
Monaghan jig on the Celtic harp: https://youtu.be/XFk9gvlYnjY
Cooney's Reel by The Ghillies: https://youtu.be/vZI29XaFKJI
Tír na nÓg by Celtic women: https://youtu.be/dhW1mh7U6-U
Other famous groups to listen to:
The High Kings
The Chieftains
Van Morrison
Also, you can find lots of Irish music and playlists available on Spotify
Food
Food and drink in Ireland: https://youtu.be/SrHeJeW8Jlk
Irish chef reviews stereotypical Irish food: https://youtu.be/IltuT5fqklQ
Explore Dublin's unique pastries with Paul Hollywood: https://youtu.be/5yH8dUlXzYM
How to make Irish stew: https://youtu.be/rB41QE672dc
Making Irish white soda bread: https://youtu.be/p450gWjSKTc
How to make Irish potato bread: https://youtu.be/qjD4887wkvs
Rediscovering the Irish kitchen: https://youtu.be/neKOhc6GGZ0 For older kids- a more in depth look