Where to stay when traveling with a large family?
Looking to travel with a family of 5 or more people? Finding a hotel to accommodate so many can be tough- especially when you are on a budget! Here are some hotel alternatives and tips to save money to try when traveling in the United States or abroad!
I never knew how hard it could be trying to find a place to stay once our family went from 4 to 5, especially when number 5 was no longer sleeping in a crib. It got even worse when it went from 5 to 6 and we realized most hotels have a max room occupancy of 5.
When we were getting ready to move from the US to the Netherlands with our 4 children we realized that most hotels we could find in Europe had a maximum occupancy of 4! That obviously wasn't going to work and presented us with some problems, especially when we had to plan for all of our luggage too (take a note- don't travel with so much luggage)!
Do we get 2 hotel rooms and split up the kids in between the two rooms? That started to get really expensive really fast. What other options are out there? Thankfully we have found there are various options for large families.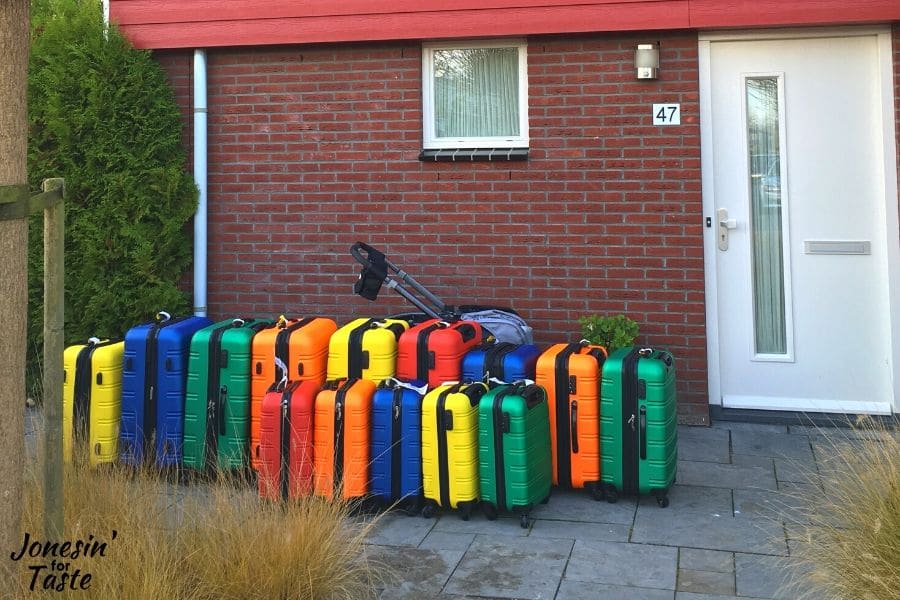 Want to follow our adventures traveling and living abroad ? Follow Jonesin' For Taste on Instagram to catch all of our latest adventures? Stop by, send me a DM, and let me know what else you would like to know about being an expat!
Can a family of 5 stay in one hotel room?
Many hotels will allow a family of 5 to stay in one room although at some locations you may have to pay an additional fee. In Europe, we have found many hotels don't have enough in room space to accommodate 5, even if one of those 5 is in a portable crib.
If they did have space they were crazy expensive.
I have found looking at the pictures of the hotel rooms can be helpful to see if there are any spots to place a crib. Always call to check with the hotel about available space if you are unsure.
Also, don't ignore maximum room occupancy limits because those are put into place to keep hotel patrons safe in the event of an emergency.
When looking for a hotel for a family of 5 we always look for rooms with 2 beds (usually 2 queens) and the ability to have a roll-away cot for older children or space to have a portable crib for babies.
We usually look for a Residence Inn by Marriot because they have more space available for sofa beds, cots, and cribs. Sometimes they have 2 bedroom units available but we have found that a 1 bedroom is still sufficient space for a family of 6, as long as the 6th person is a baby.
Our setup in this situation is to have the crib in the bedroom with my husband and I, 2 older children sharing the sofa bed, and the younger child sleeping on the couch cushions as a mattress or on the sofa if there is a second sofa available.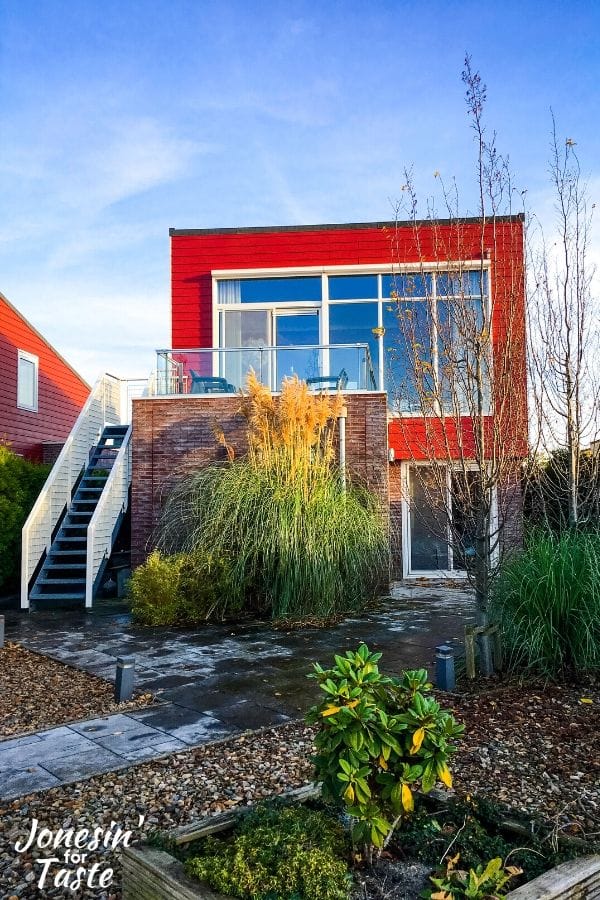 Alternate accommodations for large families
Airbnb is a website that lists available apartments, homes, and vacation rentals available around the world. "Hosts" sign up and list their property setting their own available dates, rates, and rules.
Their website allows you to narrow down avaliable locations by number of beds, bedrooms, amenities, facilities, property type and more. This is especially helpful for a large family because you can quickly filter out those properties that are far too small.
Many properties are available with multiple rooms and amenities like kitchens and laundry facilities. Since each property is individually hosted it is important to check through each listing to ensure the property has what you are looking for.
Tips when booking Airbnbs
You also have the ability to reach out to each property owner and ask any questions. We have found that even if a property doesn't list a specific amenity, like a portable crib, that you can message and ask before booking.
Many hosts are willing to provide additional accommodations for an extra fee, so don't be afraid to ask. The worse thing they can do is say no and then you can plan accordingly.
Make sure to check for any additional fees like cleaning fees, per person fees, or parking fees before booking. These, and other important points, are listed under the "Things to Know" section at the bottom of the listing.
Also note that each property can have a different cancellation policy ranging from very flexible to non refundable after 48 hours. However, we have found that most hosts have been willing to adjust dates when asked, if they can.
We have had great success with sticking with Superhosts, who are hosts that have frequent bookings with excellent ratings. These hosts often go above and beyond with their amenities which helps them maintain their Superhost status. So if you are a little nervous about going this route, this is a
VRBO is a competitor to Airbnb and works in a similar fashion. We have never personally used them but both of our parents have and they were happy with their experience. I like to look at both websites before booking anything.
Tips for booking with VRBO
There are a lot of mixed reviews about VRBO with some people having fantastic experiences and some really awful ones. It's important to read through the reviews on each property thoroughly so you can weed out the bad ones. This is true with any booking site.
Homeexchange.com and other home swap sites
Doing a home swap can seem like a brilliant idea. You can swap homes directly with another family, or some sites have it set up so you can earn points so you don't have to find a specific family in the location you want in order to swap.
I have heard both good and bad things about the home swaps so if you are thinking about going this route, make sure to read all of the terms closely and look for reviews.
Tips for doing a home exchange
Leave a detailed guide on how to care for your property including things like where to take out the trash, what day is trash day, how to operate the washer and dryer or dishwasher, emergency numbers, etc.
What may seem common knowledge to you might not be, especially if the person staying in your home is from another country.
How can I get the best deals when booking?
This tip from Peter Koch of Dollar Sanity is brilliant! He says, "type the name of the property in Google or use reverse image search to find the cheapest listing. Most will list their property on several platforms to get the greater exposure. Maybe you'll be able to book via their own site without any 3rd party fees."
If you are planning on staying for a week or more, look for places that offer discounts for week and month stays. This can significantly reduce the cost overall so be sure to compare total costs for those locations that offer a discount versus other ones with lower initial per day costs.
Ask friends for a referral code for Airbnb. You'll get $55 off your first trip—and once you complete your reservation, they'll get up to $30, too.
Here are some more great tips on saving money when traveling from Kids Are A Trip.