Creating Diaper Stations For Any Room In The House
This shop has been compensated by Collective Bias, Inc. and its advertiser. All opinions are mine alone. #SuperAbsorbent #CollectiveBias
Hide those necessary diaper essentials in plain sight with cute containers and create diaper stations anywhere in your home.
We've been in our new place for a couple weeks now and the critical unpacking is done. So I'm already feeling the need to start getting ready for baby #3! My son was born in Georgia and we weren't super close to any stores and often the thought of having to pack up the kids and drive a ways to pick up diapers just seemed too daunting. That's when I discovered the joys of ordering diapers online from Costco. Seriously the BEST thing ever was to notice we were getting low on diapers, hop online, order some more, and have them arrive to my door! A-MAZ-ING!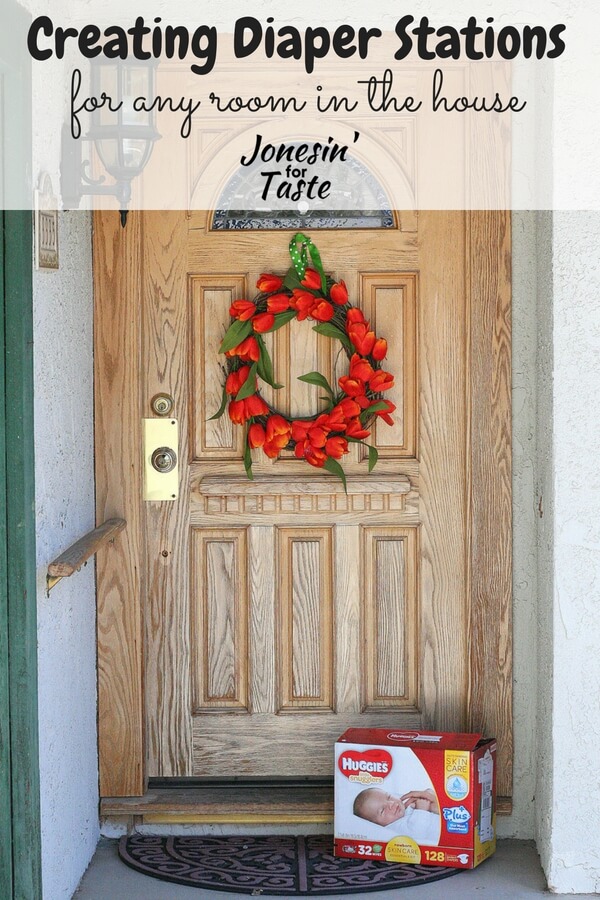 Costco has always been a favorite place to pick up diapers because they are always a great price, I can get a lot of diapers in one shot, and when they are having a sale you know I stock up! And until September 25th the Huggies Newborn packs are $5 with free shipping or you can get the Huggies Little Snugglers Plus in size 1 or 2 for $6 off with free shipping. This style is only exclusively available at Costco.
So I decided to grab a big box of the newborn diapers so I could be all ready to diaper that cute little guy when he comes. I'm just a wee bit excited!
I've always preferred Huggies to other brands and the Huggies Little Snugglers Plus come with all sorts of new features that help with a lot of those unwanted mishaps. Some of my favorite features are the belly button cut out for the newborn diapers- no more folding the waist down so that it doesn't rub the cord, and the waistband has a little pocket to help keep the mess contained. Brilliant! And I totally got all mushy at how teeny tiny and soft the newborn diapers are and I loved the cute little Mickey and Pluto designs on them.
Creating Diaper Stations
One of the biggest chores with babies is the diaper changes. Those darn babies sure can make a big mess 🙂 I remember the fear of hearing them filling up their diaper and not wanting to pick them up and move them very far for fear of squishing all of that awful mess around. So I learned to keep diapering essentials in little diaper stations that were in easily accessible locations around the house so I either didn't need to move very far to get what I needed or could easily send someone to fetch it for me.
It usually was just a pile of needed supplies stashed in a corner but this time around I wanted to do something a little more attractive and less noticeable so you don't walk into a room and immediately spot the box of wipes and diapers. Except for right now when I'm showing you my secret changing stations. If you come over to my house just act surprised okay? Thanks.
Setting up little stations was really easy and essentially all require the same supplies. My absolutely necessary supplies are:
diapers
wipes
diaper cream
baby powder
hand sanitizer
This is a little tote I have that is really easy to sneak in anywhere. I placed it on our mantel for now but it is just as easy to stash anywhere in a room for easy access and still has all of the basic necessities stashed away.
Depending on where you are changing them and what kind of space is available in your container I would consider adding:
changing pad
burp cloth
a change of clothes
I put a bigger container in the play area because that is where we tend to spend a lot of time and where big messes can get scary. I don't need a bunch of gross diaper mess all over the toys and books thank you very much!
Um, and can we just talk about that Jessi on the shelf for a second. I was editing pictures and kind of realized how creepy she is staring with those big eyes at me. Spooky!
I like to keep my bedroom changing area rather sparse. I have a changing pad with cover and my diaper caddy that is easy to grab and carry with us wherever we go in the house. Shoot, it's even handy enough to grab and take it with us and leave it in the car. I would still have a little bag in my my purse for when we aren't close to the car so I should be covered even when we are away from home, fingers crossed. For my favorite way to take diapers in my bag check out this post here.
Where do you need diaper stations? Any other necessities you just can't live without?
For more great tips for moms plus some super cute baby shower ideas go here!