Grilled Turkey Sandwich with Raspberry Balsamic Glaze
We love to make paninis and grilled sandwiches at home. One of our favorite places to eat out at is Panera and they have some terrific sandwiches. But there are so many great versions to make at home and a perfect way to use up leftovers and odds and ends. I was trying to think of a way to spice up a regular ol' turkey lunch meat sandwich. I decided to mix up a little raspberry jam and balsamic vinegar add some mozzarella, tomato, and spinach and boy did we end up with a mighty tasty hot sandwich.
The biggest surprise of all was when BOTH of my kids shouted out "I want some!" Huh?!? They had already scarfed down their food but my hubby and I cut off a piece of our sandwich to share with them. My son ate about a quarter of the original sandwich and my daughter at her whole half! I was floored, she never likes that kind of thing. Her only complaint was she didn't like the tomato. Ha ha. I was so pumped that she ate something new of her own choice. I'm always trying to introduce our kids to new foods but rarely have this great of a success the first time around.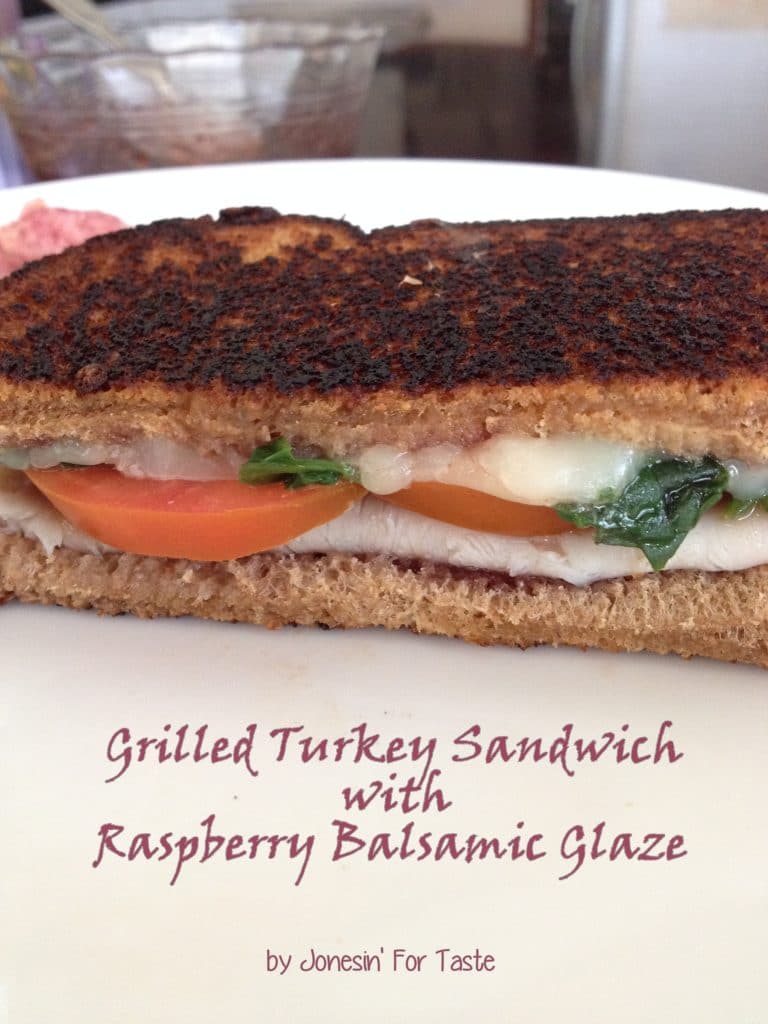 Grilled Turkey Sandwich with Raspberry Balsamic Glaze
Ingredients
Bread
Turkey- leftovers or lunch meat
Tomatoes, sliced
Fresh spinach
Mozzarella or provolone cheese slices
Raspberry jam
Balsamic vinegar
Instructions
To make glaze, scoop out a few spoonfuls of raspberry jam into a bowl. Add just enough vinegar to thin it out. The ratio will completely depend on how thick your raspberry jam is. I've found some jams are much thinner than others. You can always add a little bit more jam if it gets to thin. After it is mixed together it should be thick enough to coat the back of a spoon and stay when you wipe a finger through it.
To assemble sandwich, spread glaze onto two slices of bread. Top with turkey, spinach, tomatoes, and cheese. Butter top of sandwich and place in a grill pan on medium heat. While the bottom is browning butter the opposite side of the bread. Flip and cook until browned on the second side.