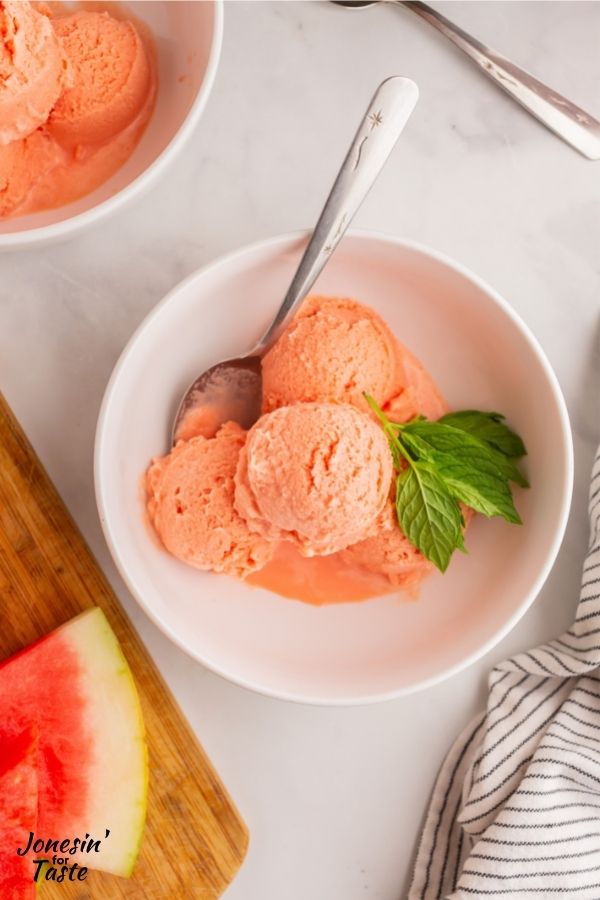 Who knew there was a National Ice Cream Month?  I didn't until this last week.  So in honor of National Ice Cream Month here is a unique ice cream recipe for you.
What is the number one summer fruit?  I'd probably say watermelon.  And I love watermelon, so juicy, so tasty, so light.  Perfect for summer.  Last summer (yeah, I know, better late than never right?) we had a ton of watermelon that I wanted to use up and I really wanted to make ice cream.  Of course looking online I couldn't find any actual watermelon ice cream recipes.  Everything was for watermelon bombes.  Not what I wanted.  I did find a recipe which is from Emeril Lagasse.  It's a bit of work, but is so worth it!
This is an absolute must each summer and is so unique due to the creamy watermelon taste.  It truly is watermelon ice cream and is so good!
Yay for National Ice Cream Month! Watermelon Ice Cream (gf)
Author:
Jonesin' For Taste
Ingredients
1 quart watermelon pieces with juice (about 4 cups)
1 cup heavy cream
½ cup sugar
2 egg yolks
Instructions
Split the watermelon in half, reserving the other half for a later use. Using a large spoon, remove the fruit from the halved watermelon. Using your hands and knife, remove all seeds from watermelon and discard.
Dice watermelon into 2 inch pieces and put in a large bowl with the juice. In a large saucepan over medium heat, combine heavy cream and sugar. Bring the mixture up to a simmer.
Whisk the egg yolks until smooth and temper into the hot cream mixture. To temper, slowly add a few spoonfuls of the hot cream mixture to the egg yolks as you whisk. If you stop whisking or add in too much hot cream it will curdle the eggs. Go slowly!
Cook the egg mixture for four minutes. Remove from the heat. Pour hot cream mixture over watermelon pieces and mix thoroughly. Cool to room temperature.
Using a hand held blender puree the mixture until smooth and strain.
Add the ice cream mixture to the your ice cream machine and follow the ice cream machine directions.