We borrowed Kung Fu Panda from my grandma the other day and my son was checking out the cover. All of a sudden he gets a sly grin on his face and says, "Mama, it's a panda! Just like Panda Express. I love Panda Express!" He then begged me to go get some Panda Express. Well, I am that mean mom who flat out told him no way no how it's definitely not in the budget right now. He was sooo bummed. But I made up for it by making some at home and he was a happy camper.
And honestly, its probably better we eat it at home instead. I get to control what goes in and that always is a good thing. Plus baking the chicken instead of frying not only makes cooking easier but also the end dish is just a little bit lighter.
Not that I'm against frying anything but I do try to spread those dishes out a bit. And not so much for my health but for my safety. I swear every time I fry something I end up with at least one burn. It happened all the time when I worked at our local pizza and burger place in college- constant burn marks on my arms from hot oil splatter or oven marks. But that may just be the klutz in me. Any who…
Back to the food. I like to cook the chicken and the sauce and then toss them together and let it sit for 10- 15 minutes. It helps the sauce to really soak into the chicken so it's not just some chicken with the sauce on it but IT IS orange chicken. Some people may not notice the difference but for my orange chicken loving family they sure do notice. No matter how you do it though I'm sure you will end up loving these!
And if you're family can't get enough Asian food you can check out these other Asian inspired recipes.
Appetizer and Sides: Pork Wontons
Main Dish: Easy Asian Salmon in Foil, Sweet and Sour Meatballs, Cantonese Black Pepper Beef with Green Beans, Honey Glazed Chinese Chicken,  Peanut Chicken Rice Bowl, Black Pepper Pork, Pepper Steak
Recipe adapted from Orange Chicken by The Pioneer Woman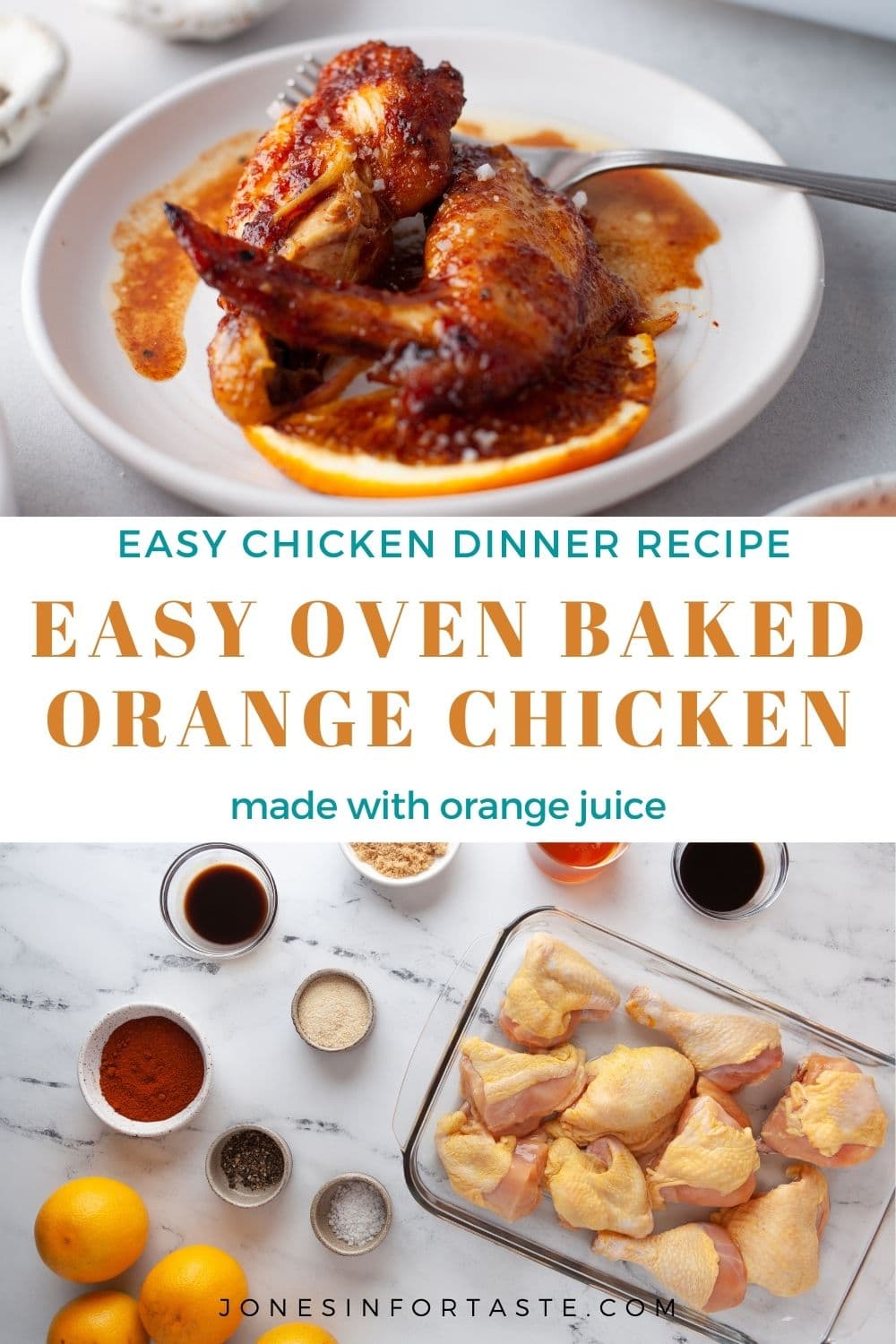 Ingredients
2

lbs

boneless chicken thighs or breasts

cut into chunks

1

egg

2

Tbsp

water

1

cup

flour

1/2

Tbsp

kosher salt

1

tsp

fresh cracked pepper
Sauce:
2

cups

orange juice

1/4

cup

low sodium soy sauce

1/4

cup

brown sugar

1/4

cup

rice vinegar

1

tsp

sesame oil

1/4

tsp

salt

4

cloves

garlic

minced

1

inch

ginger

peeled and minced

1

Tbsp

cornstarch

1/4

cup

water

additional

4

whole green onions

sliced (for garnish)

zest of 1-2 oranges

optional

dash of crushed red pepper

more to taste (optional)
Instructions
Prepare a large cookie sheet with cooking spray. Combine egg and 2 Tbsp water in a bowl. In a separate bowl, combine flour, 1/2 Tbsp kosher salt, and crushed black pepper. Dip chicken into egg mixture and then dredge in flour. Shake off extra and place onto prepared cookie sheet.

Bake chicken at 375 degrees for 25-30 minutes until cooked through.

Meanwhile, for the sauce, in a skillet whisk together orange juice, soy sauce, brown sugar, rice vinegar, sesame oil. salt, garlic, ginger. and, if using, crushed red pepper and orange zest. Heat until boiling and beginning to thicken.

Whisk together the cornstarch and water. Add the cornstarch mixture to the orange sauce. Continue cooking for 1-2 more minutes. Toss the cooked chicken in the sauce and, if desired, let sit for 10-15 minutes before serving. Serve topped with green onions.