Slow Cooker Dr. Pepper BBQ Sandwiches
Slow Cooker Dr Pepper BBQ Sandwiches is tender meat cooked in Dr Pepper and spices and topped with an easy homemade Dr. Pepper BBQ sauce for a unique twist on the classic pulled pork or beef sandwich.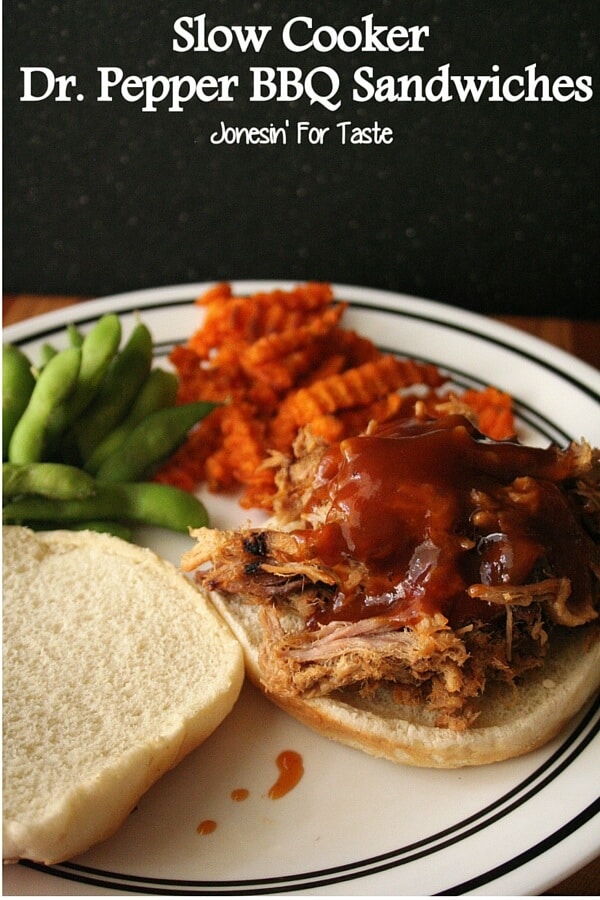 Give my husband a good sandwich with some homemade BBQ sauce and he is a happy man. This Slow Cooker Dr Pepper BBQ Sandwiches are super tasty and I love that it is made in the slow cooker. No heating up the house, I don't even need to be home. Just perfect for when we will be gone playing but will be home to eat dinner. It's also the perfect alternative to a burger this summer.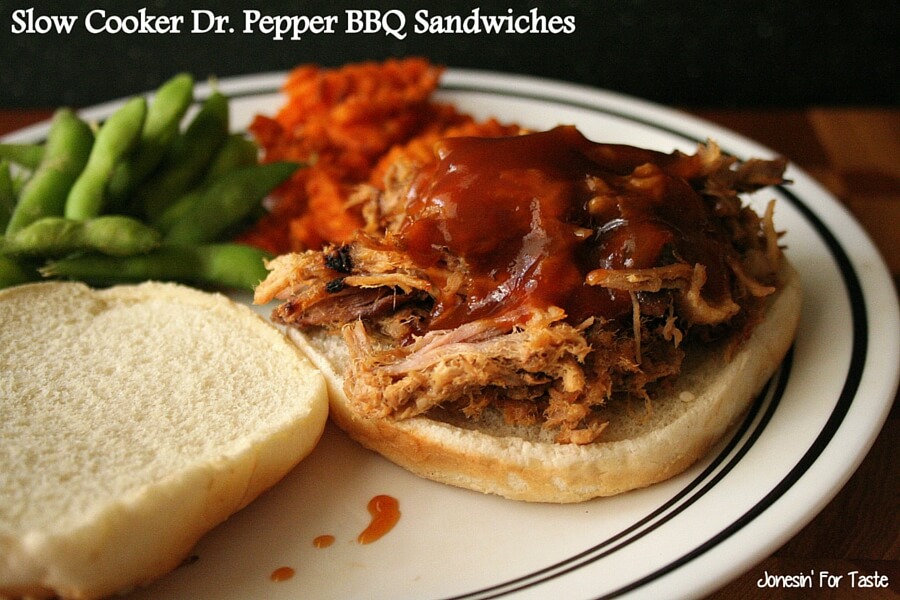 We've made this with beef roast and pork roast and we agreed that both are fabulous so make it with whatever kind of meat you prefer. And the sauce on this is amazing. I love that it uses base ingredients I always have on hand and it's really simple to tailor it to my family.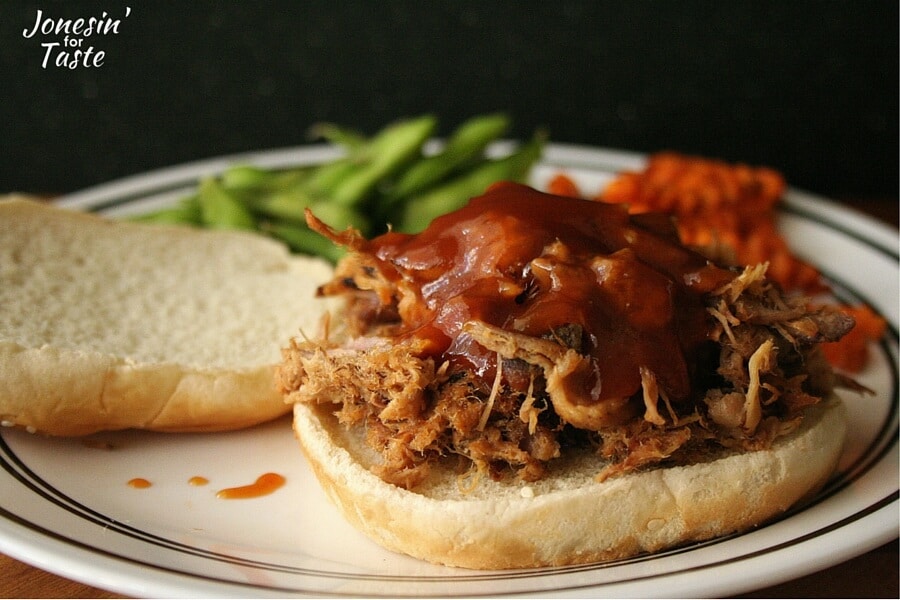 I like to pair this with sweet potato fries, edamame and Honey Lime Fruit Salad for a complete meal. This recipe can make up a ton of meat if you want it to. We used the leftovers for some Easy Baked Chimichangas which were a huge hit with my kids and I really want to try my Baked Empanada recipe with the meat instead of ground beef! I love being able to have 3 meals from one base mix!
Do you follow Jonesin' For Taste on Facebook? Stop by, say hi, and let me know what kinds of recipes you want to see!
Slow Cooker Dr. Pepper BBQ Beef Sandwiches
Recipe adapted from Barbecue Beef Subs from Rachel Ray Magazine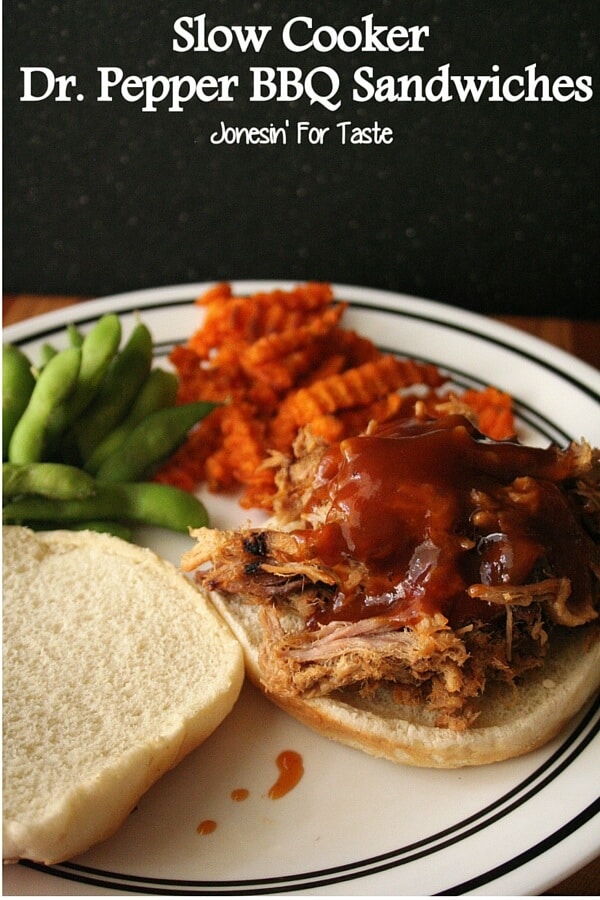 Ingredients
Meat:
2 1/2

tsp

salt

1 1/2

tsp

black pepper

1

tsp

cayenne pepper

3

lbs

beef brisket or pork shoulder

2

Tbsp

extra-virgin olive oil

1

12-oz. can Dr. Pepper or 1 1-L Dr. Pepper

Rolls,

for serving
BBQ sauce:
1

cup

Dr. Pepper

(or juice from the crock pot)

2

cup

ketchup

1

cup

apple cider vinegar

1

cup

brown sugar

1/4

cup

prepared mustard,

I like using spicy brown
Instructions
In a small bowl, mix together salt, pepper, and cayenne pepper. Set aside 1/2 tsp of the mixture. Rub the remaining mixture on the meat. In a large skillet, heat the oil over medium heat. Brown the meat on all sides. Transfer beef brisket to crock pot. Add the Dr. Pepper to the skillet and simmer on low heat for about 2 minutes scraping up the browned bits. Pour the Dr. Pepper mixture over the meat in the crock pot.

Cook on low for 7 to 9 hours.

Shred the meat and transfer to a bowl and cover to keep warm. Pour the juices from the crock pot into a bowl or gravy separator. Skim off fat. Return meat to slow cooker and pour 2 cups of the juices onto the beef. Cover and keep crock-pot on warm.

In a small saucepan, heat the BBQ sauce ingredients and the reserved 1/2 tsp spice mixture over medium heat. Allow to heat on medium heat until the sauce has reduced and begun ti thicken. Stir 1 cup of the mixture into the meat, and reserve the rest.

Split the rolls, mound the meat on top, and serve with the reserved sauce.