Fidget Spinner Addition Worksheets
This post uses affiliate links where I am paid a small fee on purchases made. Learn more from my disclosure policy.
Use your child's fidget spinners for something educational and use them as a fun math timer for these Fidget Spinner Addition Worksheets.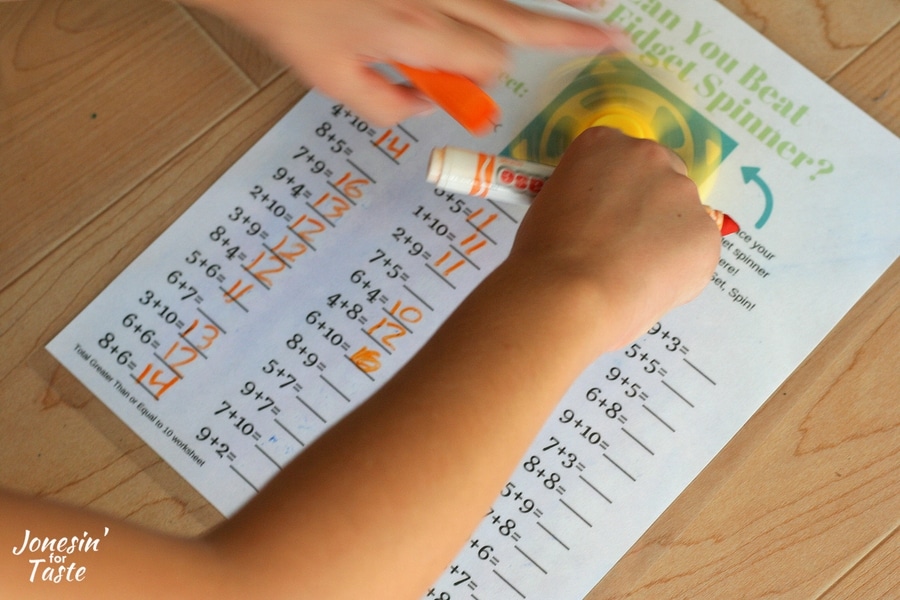 When my son asked for a fidget spinner towards the end of the school year I was kind of annoyed. I thought they were really dumb and boring and had no real use. I let him get one with his own money and he has a lot of fun with them. But I really wanted to find some ways to use them for a good purpose. I saw a video on Facebook from Your Modern Family where she used a fidget spinner as a timer for addition practice! It was exactly what I was looking for.
I wanted to tailor my practice sheets to where both of my kids, ages 5 and 8, are mathematically. So I created one addition sheet for a total of 10 and under and another for a total of 10 and over. My 8 year old struggles with timed tests because she stresses herself out so I thought doing them more at home might help relieve some of the stress over them. I also added a "how many spins does it take?" line so there was an added incentive to continue working towards improvement.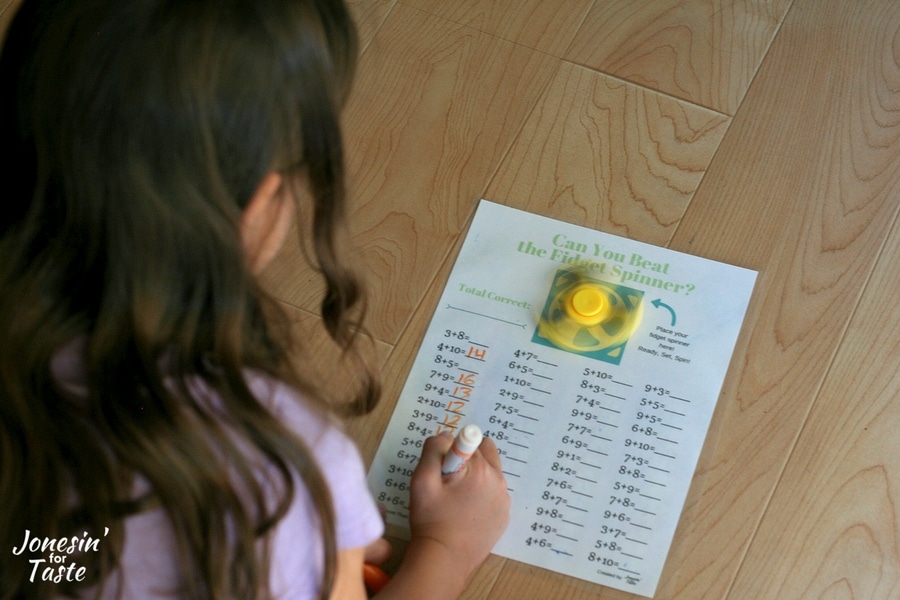 I laminated my math worksheets and gave them dry erase markers and let them have them. They did the worksheets over and over and over again and traded them back and forth. It was so fun to watch! They were cracking up as they were frantically trying to answer a few more addition problems before the fidget spinner came to a complete stop. After doing the worksheets many times they asked me if it was possible to complete them all correctly in just one spin. So I did the worksheet too and I did manage to beat the fidget spinner! Whew! Mom's still got it.
I hope your kids love them the way mine have! I think I need to make some subtraction ones as well. And once my daughter learns multiplication I should make some for that too!
What kind of worksheet would you like to see?