DIY Dark Chocolate Popcorn with M&Ms and Marshmallows
This shop has been compensated by Collective Bias, Inc. and its advertiser. All opinions are mine alone. #MakeItAMovieNight #CollectiveBias
Make Family Movie Night an awesome event for everyone with a special DIY Dark Chocolate Popcorn mix with mini marshmallows and M&Ms!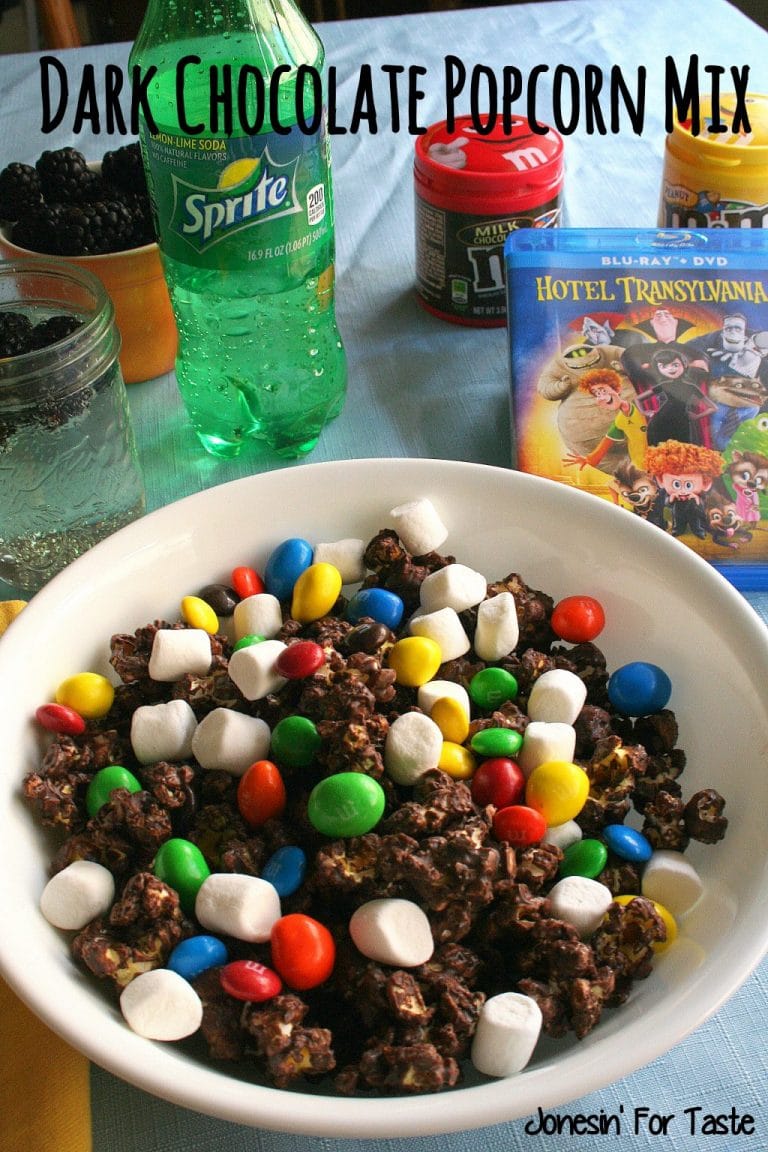 Doing a fun family movie night at home can be just as fun as going to the movies, and a lot cheaper too! I remember growing up going to the movie theater to see Harry Potter and standing in line for hours waiting for it to start. It was fun but now I find I just don't have the patience to do that kind of thing anymore. As a kid I think the best part of going to the movies was the snacks!
A few years ago we thought it would be fun to take the kids to go see a movie at the theater since I had gotten a few free tickets. What was supposed to be a fun night out was not that fun with the way it worked out. My husband and I ended up having to take each kid out at some point either because the movie had gotten too scary (it was supposed to be a kid's movie), or for a bathroom break, or just because someone couldn't sit still anymore. That was really when I realized we needed to stop trying to take our kids to the movies while they are little.
Thankfully we have figured out how to make move nights at home really fun! We gave our kids a few options the other day of things we could go out and do. Then my daughter told us that she and her brother had been talking and they wanted to have a fun family day at home with a movie and popcorn and smoothies. It made us so happy that they were talking about it and planning it without us!
We've found the key to making it fun is allowing the kids to do something we don't usually do. We never eat in our living room so we set up a big picnic blanket and all sit on the floor and eat and watch. This time I decided to really jazz things up and make it an event. I wanted to make a fun themed popcorn to go with our movie, Hotel Transylvania 2 and the kids loved it, and so did my hubby and a few friends we had over! The dark chocolate popcorn and white marshmallows represent the old school Dracula and the rainbow M&M'S® Chocolate Candies represent the new school Maeve and Johnnie. I also added some blackberries to little mason jars and filled them up with Sprite. The kids loved their "fancy" drinks!
And if you're looking for other great ideas for movie night treats make sure to check out the Make It A Movie Night page!
How do you make family nights special?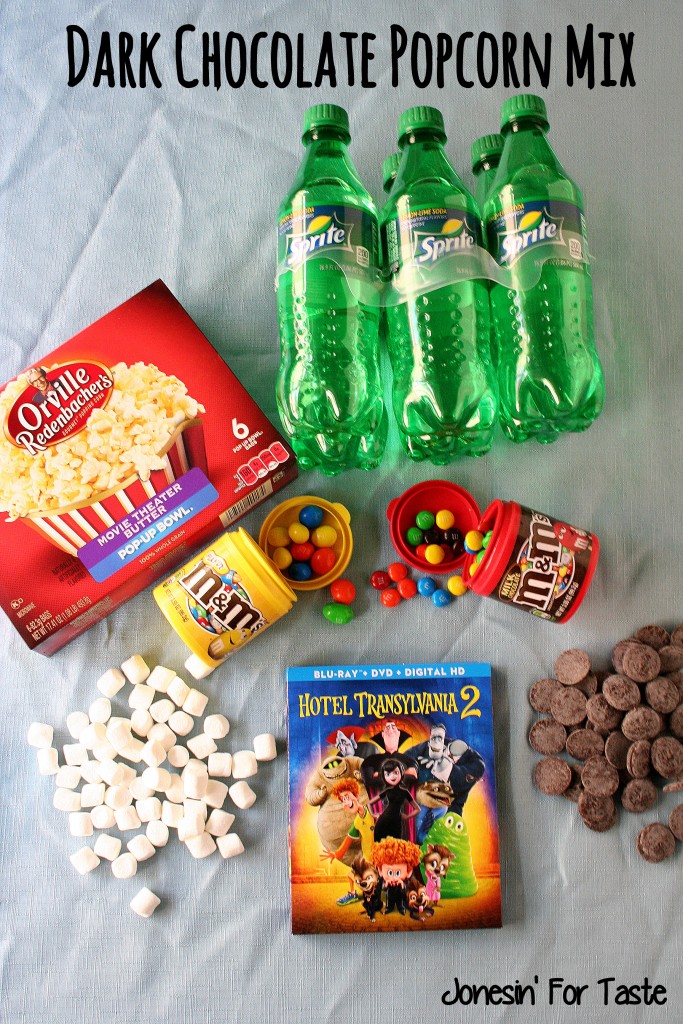 I found the Orville Redenbacher on the snack aisle, Hotel Transylvania 2 in the movie department in a display, the Coca-Cola 6- packs were with the sodas, and the M&M'S® Chocolate Candies 3.5 oz containers were by the check out stands up front.
To make the popcorn you can use air popped or bagged microwave popcorn. This time I used microwave popcorn because that's what I had on hand but air popped works just as well. I tossed melted dark chocolate candy melts with the cooked popcorn and kept tossing it to coat it completely. Then it's just a matter of tossing in some extra treats. Dark Chocolate Popcorn with extra treats is never a bad thing!
DIY Dark Chocolate Popcorn Mix
Ingredients
4

cups

Orville Redenbacher Movie Theater Popcorn

about 1 bag

1/2

bag

dark cocoa candy melts

kosher salt

optional

2

cups

mini marshmallows

1 1/2

cups

M&M'S® Peanut or Milk Chocolate Candies

we preferred the peanut
Instructions
Make popcorn according to package directions. Pour popcorn into a large bowl.

Melt dark cocoa candy melts according to package directions. Pour over popcorn in bowl. Using two spatulas, thoroughly mix the popcorn until well coated.

Spread popcorn into a cookie sheet lightly sprayed with cooking oil. If desired sprinkle with kosher salt. Allow the chocolate to cool.

Once cool, break popcorn up into small pieces into a large bowl. Add marshmallows and M&M'S.
Nutrition
Calories:
529
kcal
|
Carbohydrates:
79
g
|
Protein:
5
g
|
Fat:
21
g
|
Saturated Fat:
13
g
|
Cholesterol:
11
mg
|
Sodium:
151
mg
|
Potassium:
47
mg
|
Fiber:
3
g
|
Sugar:
63
g
|
Vitamin A:
195
IU
|
Vitamin C:
0.5
mg
|
Calcium:
93
mg
|
Iron:
1.2
mg