Bring along this deliciously easy strawberry rhubarb crisp to your next garden party or brunch and enjoy the wonderful flavors of spring fruits. It is a perfect tangy dessert made with an oatmeal and pecan topping that can be made in under an hour.
My kids ask me all year round if I can make rhubarb treats. That might seem a bit odd if you have never had rhubarb before but once you have it in this strawberry rhubarb crisp you might understand why.
I've found that kids love that sweet and sour combo, a la lemon heads, sour patch kids, you get the idea. So a rhubarb dessert falls really nicely in line with that.
This strawberry rhubarb crisp is a simple dessert that is fun for the kids to help make and much faster to whip up than a pie. Plus that crispy oatmeal topping is always a winning combo.
What is rhubarb?
Is it a vegetable or fruit? Rhubarb is one of those funny foods, like tomatoes and cucumbers, which are really confusing to classify. Tomatoes and cucumbers are technically a fruit (fruits have seeds) but are used culinarily as a vegetable.
Technically, rhubarb is a vegetable that doesn't generally get used in that way. This spring vegetable is most frequently used in sweet fruit dishes- crisps (ahem), jams, pies, rhubarb and custard, etc. If you've watched a season or two of The Great British Baking Show you've probably seen it used at least once.
However, you can use rhubarb in savory dishes as well- rhubarb BBQ sauce anyone?
What does rhubarb taste like?
Rhubarb is quite sour (think raw lemon sour) when raw which is why it makes such a popular choice to pair with fruits. It gives a nice contrast to sweet fruits like strawberries. When used in baked goods and paired with sugar it has about the same sour level as a tart apple.
It is important that you know that only the stalks of rhubarb are safe to eat. The leaves and roots contain high levels of oxalic acid which is toxic to both humans and animals. This is only something to worry about if you are growing it at home. The rhubarb sold in stores or at farmer's markets should have both cut off already so you don't have to worry about it.
Want to learn a bit more about rhubarb? National Geographic has an interesting article or you can check out this one.
Ingredients
Shopping list
Rhubarb
Strawberries
Pecans
Butter
Pantry staples
Sugar
Cornstarch
Almond extract
Flour
Oats
Salt
Cinnamon
Substitutions
The pecans are there for additional flavor and texture in the crumble. By the way, I learned recently that pecan stems from a Kickapoo word pakaana meaning nut. So if you say pe-Kahn you are spot on! The Kickapoo people are one of the Indigenous people of the United States from the Great Lakes region.
If you can't have any nuts, go ahead and skip those and add about 2 Tablespoons of oatmeal for the pecans. You could also swap them out for an equal amount of cashews or almonds if you prefer.
What to serve with strawberry rhubarb crisp?
How you serve your crisp is up to you. My kids and I are always keen on a scoop of vanilla ice cream while my husband is perfectly happy with a large (and I mean Large) dollop of whipped cream.
If you are feeling really adventurous, try it with some cinnamon ice cream (you can always use the semi-homemade version here).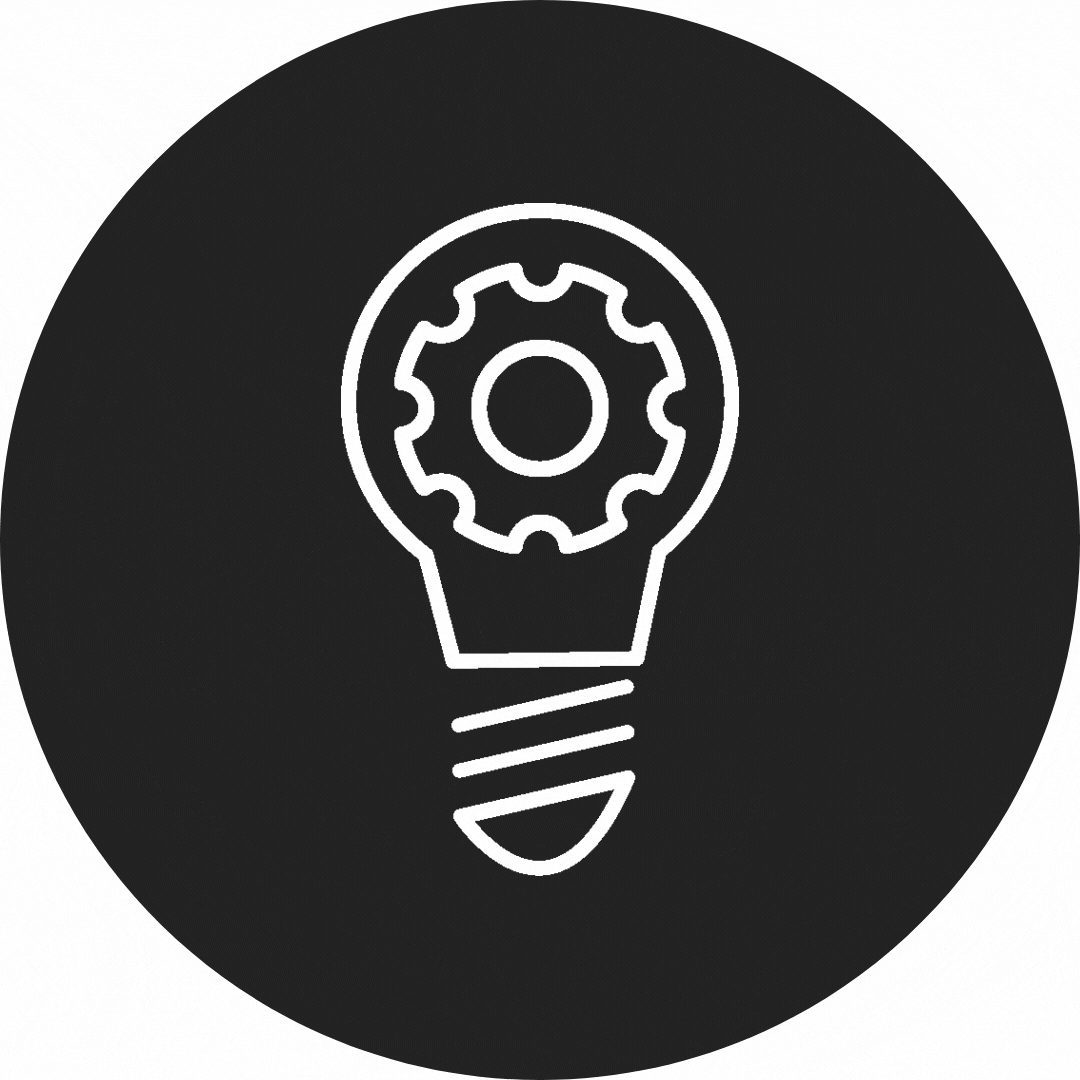 FAQs
Tips for cooking with kids
This is a really simple recipe to make so it's a great one to get your kids to help you make it. Here are a few ideas for how your kids can help:
Kids of any age can help with the measuring of the crumble ingredients and the cutting of strawberries. They can also help sprinkle the crumble topping on.
If you are comfortable with it, all your kids to help cut the rhubarb. A paring knife is a good option for smaller hands (don't forget the cutting glove for extra protection).
See here for more tips on cooking with kids!
The crisp is good for up to 3-4 days when kept in the fridge in an airtight container. You might notice that the oatmeal crisp loses some of its crunchiness after a day or two though so eat quickly if that bothers you.
If you have a lot of leftovers and want to freeze the baked crisp, you can do so in a freezer safe container. Just be aware that the texture of the strawberry rhubarb filling will be a little different once thawed.
I don't often let my crisp get past a day or so since I will happily eat it with breakfast. Spoon some of the leftover crisp over yogurt or oatmeal and I am a happy woman!
Recipe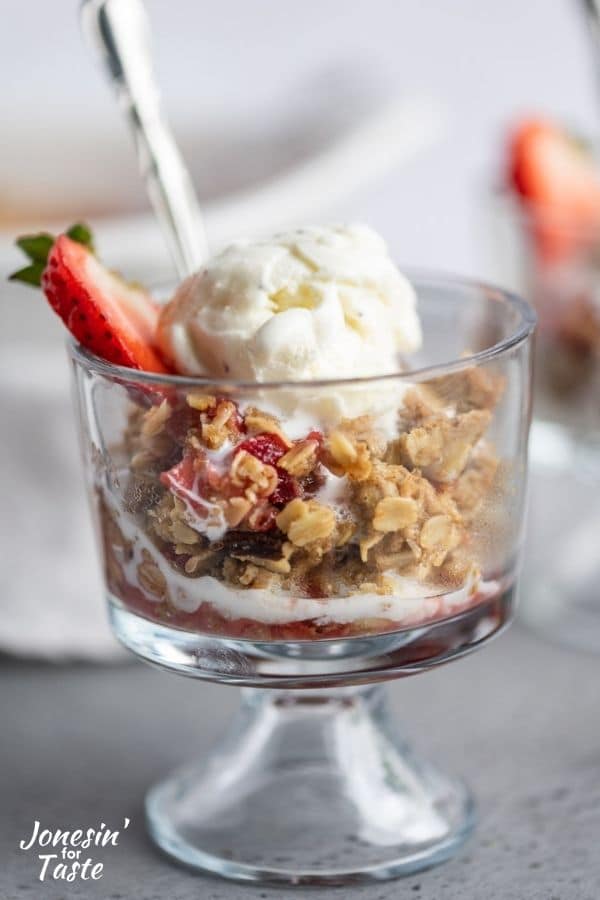 Ingredients
Filling
4

cups

rhubarb

chopped into ½" pieces

2

cups

strawberries

diced

¾

cup

sugar

3

tablespoons

cornstarch

1

teaspoon

pure almond extract
Instructions
Preheat the oven to 350°F.

Place the chopped rhubarb and strawberries in a bowl, sprinkle with sugar, cornstarch, and almond extract.

Stir to combine, and let sit while you make the topping.

Cut the stick of butter up into tablespoon size pieces or smaller.

Put the flour, butter, pecans, oats, salt, cinnamon, and brown sugar into a bowl. Use a pastry blender or your hands to thoroughly mix everything together.

Spread the rhubarb mixture evenly in a greased 9 x 13 baking dish.

Sprinkle the topping over the rhubarb mixture so it is evenly distributed.

Bake for 35-40 minutes. The filling will be bubbling at the edges and the topping should be golden brown.

Serve warm with ice cream or whipped cream.
Notes
You can use all rhubarb instead of a mixture of rhubarb and strawberries. If you do, you may want to add a little bit more sugar as rhubarb is more tart.
This dessert can be made with fresh or frozen fruit. If you use frozen fruit, you may need to increase your bake time slightly.
Nutrition
Calories:
330
kcal
|
Carbohydrates:
51
g
|
Protein:
4
g
|
Fat:
13
g
|
Saturated Fat:
7
g
|
Polyunsaturated Fat:
1
g
|
Monounsaturated Fat:
4
g
|
Trans Fat:
1
g
|
Cholesterol:
27
mg
|
Sodium:
153
mg
|
Potassium:
294
mg
|
Fiber:
4
g
|
Sugar:
31
g
|
Vitamin A:
376
IU
|
Vitamin C:
23
mg
|
Calcium:
77
mg
|
Iron:
1
mg