Last Updated on
Some days I realize that I have goofed up completely.  We had been invited over to a new family dinner at our
bishop's
(like a pastor) home.   I replied to the email saying we would bring rolls and didn't think anything of it until checking my email for details on the party the day before and realizing my reply had been sent to the wrong person.  I emailed the bishop's wife explaining what had happened and asking if it was too late.  She was really sweet about it and told us to come on over and bring a side or dessert to share.  I had already made rolls and it was Sunday so I couldn't go to the store (I don't shop on Sundays) so I had to come up with something FAST.  I offered my hubby a couple options-
Strawberry Cream Cheese Brownies
,
Mint Brownies
, or Coconut and Caramel Brownies.  He chose the last option so off I went to whip up some brownies.  I used my trusty brownie recipe which is perfect for being topped with goodies.  The brownies aren't overly sweet so being topped with extra sugar doesn't put them over the top.  I poured the jarred hot caramel sauce over the top of the brownies while they were still a little warm and sprinkled the coconut on top.  It worked out perfectly and everyone was raving about them.  At the end of the evening people were eyeing the leftovers and jumped at the opportunity to take them home. Whew!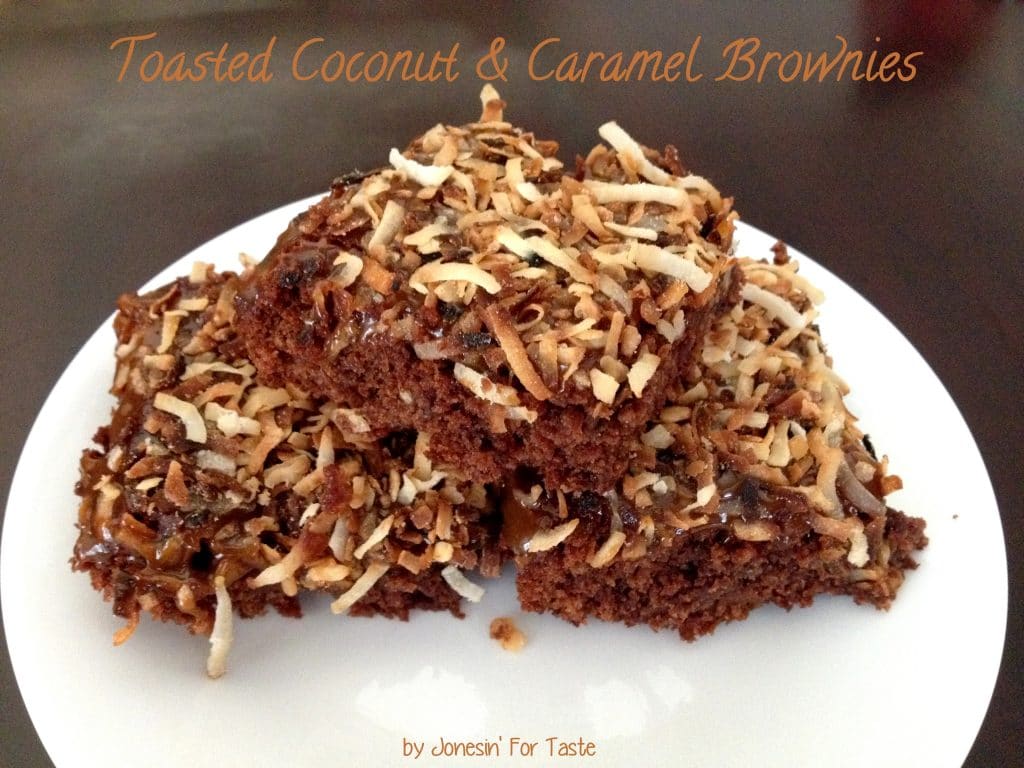 Toasted Coconut and Caramel Brownies
Ingredients
1 1/2

cups

shredded coconut

toasted

Jarred hot caramel sauce

Brownies:

1

cup

margarine

½

cup

cocoa

2

Tbsp

honey

4

eggs

2

cups

sugar

1 ¾

cup

flour

½

Tbsp

baking powder

½

tsp

salt
Instructions
Melt the margarine and mix in cocoa. Allow to cool. Add honey, eggs, sugar, flour, baking powder, and salt. Mix well. Pour batter into a greased 9 by 13 baking pan. Bake at 350 degrees for 25 minutes. Cool.

While brownies are cooking, pour shredded coconut into a saute pan over medium heat. Stir constantly until coconut turns a golden brown. Watch carefully because it can go from golden brown to burned in an instant.

Heat caramel sauce according to jar directions. Pour over mostly cooled brownies. Top with shredded coconut.