Homemade brownies topped with strawberry jam and cream cheese frosting.  There are 25+ more strawberry recipes for this month's Ultimate Recipe Challenge. #URC
I love brownies a lot.  I'm a chocolate fiend for sure.  For my 8th birthday party I wanted a chocolate cake with chocolate frosting with chocolate sprinkles served with chocolate ice cream.  My wise mother gave me the cake I wanted along with the ice cream but made sure that there was vanilla ice cream available for those not in favor of a chocolate overload.  I was in heaven.
To this day I prefer a chocolate cake with chocolate mousse filling and a great chocolate frosting (I love the ones from Costco, their sheet cakes are wonderful).  So keeping this in mind I needed to bring a dessert to a church function and I ran out of time to do what I wanted to do.
I do love brownies (like Toasted Coconut Caramel Brownies, S'mores Brownies and Mint Brownies) and I had some leftover cream cheese frosting in the fridge and my mind instantly saw some possibilities.  While retrieving the cream cheese frosting my eyes fell to the jam sitting in the door.  Bingo!  So here is a super quick and easy semi-homemade treat that will surely satisfy any extreme sweet craving, even mine!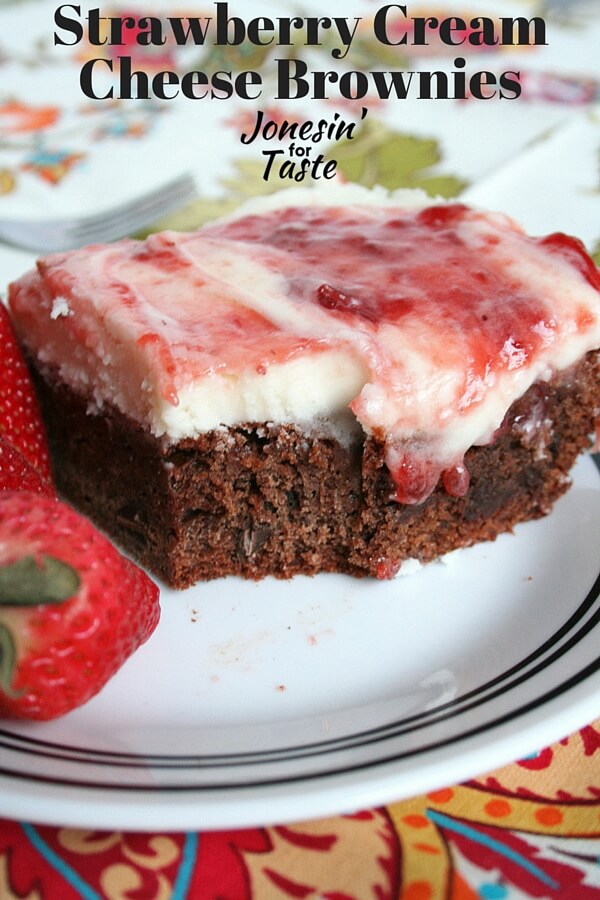 If you want more strawberry recipes check out this month's Ultimate Recipe Challenge with over 25 strawberry recipes! So yummy!
Strawberry Cream Cheese Brownies
Ingredients
Brownies:
1

brownie recipe

, prepared

1/2 to 3/4

cup strawberry or raspberry jam

, depending on taste

1

recipe cream cheese frosting

, follows
Cream Cheese Frosting
(from Better Homes and Gardens red cookbook)

1

8 oz

package cream cheese

, softened

1/2

cup

butter

, softened

2

tsp

vanilla

5 1/2 to 6 cups

powdered sugar
Instructions
In a large mixing bowl beat cream cheese, butter, and vanilla with an electric mixer on medium speed until light and fluffy.

Gradually beat in powdered sugar to reach spreading consistency.

Prepare brownies according to recipe directions.

Meanwhile, prepare cream cheese frosting.

When brownie is cool spread jam over brownies and place in freezer for a few minutes. (Or, if desired, spread jam over warm brownies which allows the jam to soak a little bit into the brownies, then place brownies in freezer).

Spread cream cheese frosting over jam and place in freezer again for a few minutes until it sets.  To serve, remove from fridge, cut into squares, and wait about 10 minutes before you plan on serving to let the brownies warm up a bit.