Simple DIY felt breakfast food to inspire your budding chef's imagination. Free patterns included!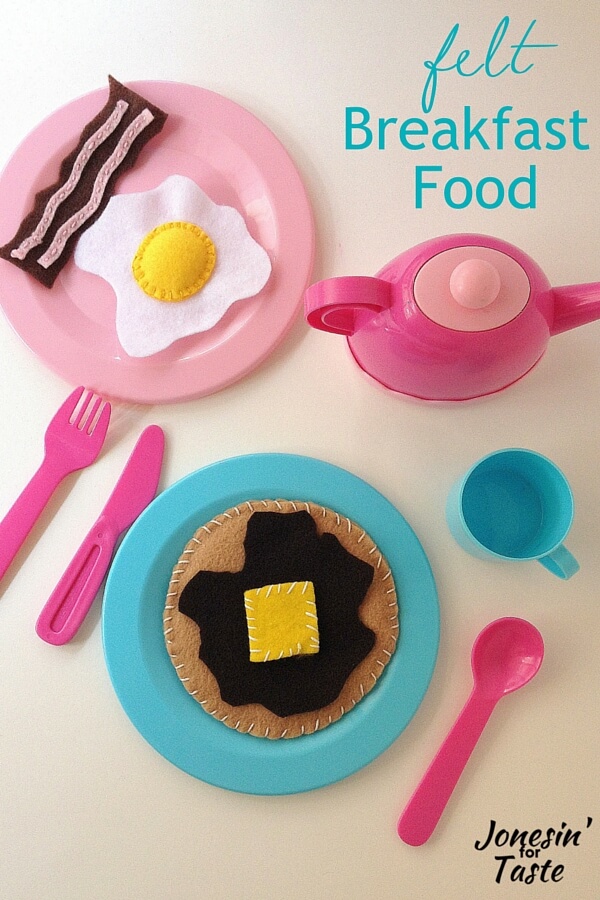 In addition to my love affair with breakfast food I have an addiction to buying fabric. Like a serious problem. I didn't realize how much of a problem until this last move when I was trying to sort through my fabric and it just seemed to be magically appearing in every box I opened.
When I filled two totes with all of my felt I knew it was useless to deny it. Felt is such a great medium for creating so I don't feel too guilty, but that may change the next time we move.
So I've committed myself to using up more of my felt either making new iterations for my Disney Felt Potato Heads or creating play food to pair with the DIY cookie sheets and food containers I've put together.
And who knows what other creations I'll come up with in the meantime. Hopefully some fun ideas will spring forth from my need to use up this fabric.
What patterns are included in the Felt Food Breakfast Set?
Patterns are included for:
Pancakes
Syrup
Butter
Bacon
Eggs
Considering my family's love for all things pancakes I decided to make my kids a set of breakfast food that they could have fun with. I love watching them set up a table for their babies and feed them breakfast.
It's so fun to picture them doing the same thing with their own little families someday!
You might also like:
10+ DIY Felt Food Gifts for Kids
Tips and Tricks
I used a simple whip stitch to piece together the food and it has held together really well so far. And if you don't have any batting for the inside of the pancakes just use two pieces of felt which should work just as well.
I used a little bit of batting to stuff the egg yolk with but you could also use shredded fabric scraps instead of the batting. I've begun using my fabric scraps as batting in more and more projects and it works great for many projects.
Let me know if you have any questions!