With just 6 ingredients, Pepper Steak is perfect for a weeknight dinner and full of tangy Asian flavors.  I like to prep the meat and let it marinate overnight.  That way when I come home I can have it ready in 20 minutes!  You could even prepare this as freezer meal and just pull it out of the freezer the morning off.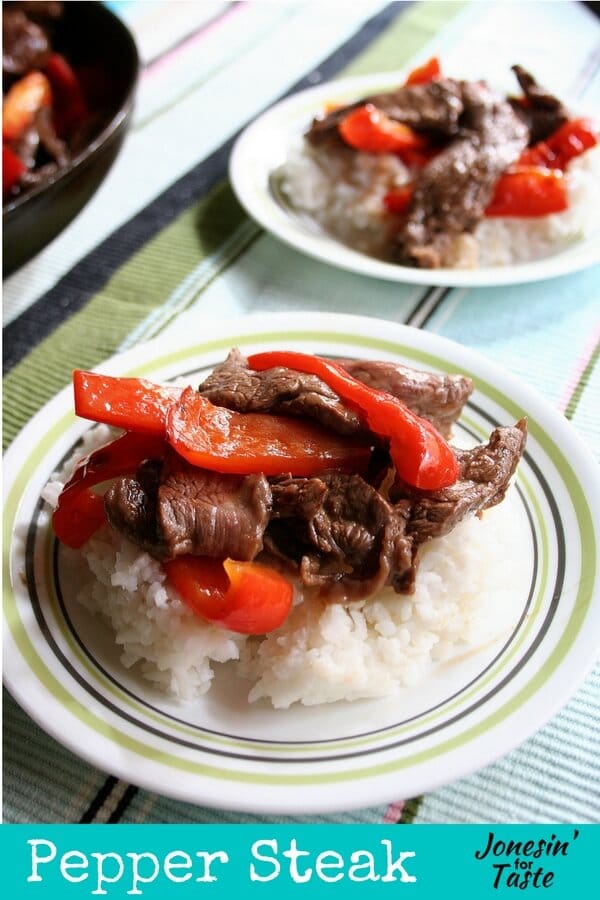 This Pepper Steak is another one of those dishes that I grew up on like Pollo El Greco or Loco Pollo.  Whenever I have this it always makes me think of home and being a kid and being so excited about having pepper steak for dinner.  My dad does lots of cooking and he let me help along the way, which I'm sure is one of the reasons why I love cooking now.  Getting recipes from him is hard sometimes because he has made them so often that he just does it, no measuring, no checking the recipe.  That's similar to the way I cook but it definitely means it can be difficult to make a recipe the same way twice.
This is a super simple recipe with practically no prep work and few steps.  What I also love about this dish is the versatility in cuts meat you can use.  Beef is really expensive right now and rarely seems to go on sale.  So I experimented recently with using London broil in lieu of the steak since it was on sale.  I was a little nervous with how it may turn out but it worked perfectly!  It was half the cost of other steak cuts and I generally see it go on sale every few weeks.
The key with London broil is to slice it thin and barely cook it.  London broil can get really tough if overcooked so I cook it just until the pink is gone and no more.  If you have cut it thin enough there shouldn't be any issues with eating any raw meat! Plus cutting the meat thin means it cooks really quickly and you can get eating sooner!  I have a programmable rice cooker that I can prep in the morning and set to have the rice all ready for dinner.
Do you follow Jonesin' For Taste on Facebook? Stop by, say hi, and let me know what kinds of recipes you want to see!
Japanese Style Pepper Steak
Japanese Style Pepper Steak
Ingredients
2

lbs.

round steak

cut across the grain into strips about 1/2 inch wide and 2 inches long

2

bell peppers

any color, cut into strips
Marinade:
1/4

cup

soy sauce

1/2

cup

Sake

or rice wine vinegar

1

Tbsp

cornstarch

1

Tbsp

ground ginger

or if using fresh ginger cut into disks and saute in oil. Take out before eating
Instructions
Marinate meat over night or at least two hours.

Saute pepper strips in oil until crisp tender.

Saute meat in oil just until no pink is showing. Do not overcook! Remove from pan and keep warm.

Return pepper strips to pan and add marinade and cook until the sauce begins to thicken. Cook for an additional minute. Return meat to pan and toss to coat the meat in the sauce.

Serve with sticky white rice.
Notes
Note: I have also used flank steak and London broil roast with great success. The key is to cook the meat to just done and not over cook it. Overcooking leads to tough meat.