Sprinkle Initial Cloud Cake
Have you seen the awesomeness going on at Pick Your Plum today? If you haven't you are missing out. 27 deals including TONS of cute party stuff and if you use the code 20offday you can get an extra 20% off. Hurry!
Note: the link above and the links to specific products below are all affiliate links. Thanks!
---
I am so happy with how this cake turned out. I had been envisioning it in my head for months but was afraid it wouldn't turn out how I wanted it to. But it came out exactly how I dreamed it up. I think the cloud cake is already really pretty but I loved how the sprinkles on top added such a great burst of color and kicked up the fun factor.
For the frosting I went with some Whipped Vanilla Buttercream from Annie's Eats and I think this is my new favorite buttercream. I did omit the heavy cream she added because I knew the cake would be sitting outside for a while and I was afraid the extra cream would cause the cake to melt. It held together really well being outside for many hours on a warm day. To decorate 48 cupcakes and dirty ice as well as ice the cake I did need a double batch of the frosting.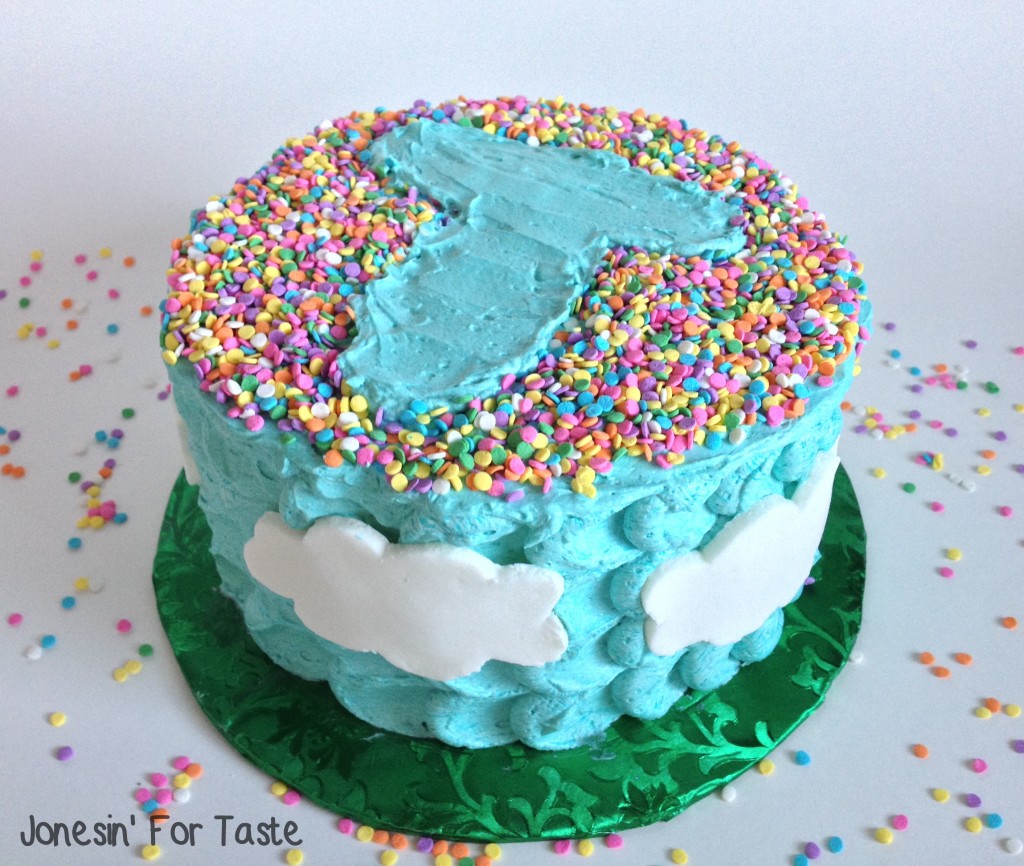 Doing a cloud cake is so easy and doesn't require much cake decorating knowledge. All you need is a reusable pastry bag
, disposable pastry bag
, or a ziploc bag and a tip. I used a large round tip
to get big dots which made the cake faster to decorate and fit the bill perfectly for the sky feeling I wanted to invoke. Annie's Eats gives a tutorial on how to do it here.
I decided to go with a smaller cake this year after making a whopping 3 tier 8 inch round cake that we couldn't finish. And cupcakes are always more popular with the kiddos anyways. It worked out perfectly that basically all the cupcakes got eaten at the party and we had the cake leftover to have a mini-celebration at home the next night. This time I did a 6-inch 2 tier cake which was just perfect. I debated on buying this 6 inch cake pan
but am so glad that I did because it is going to get a lot of use.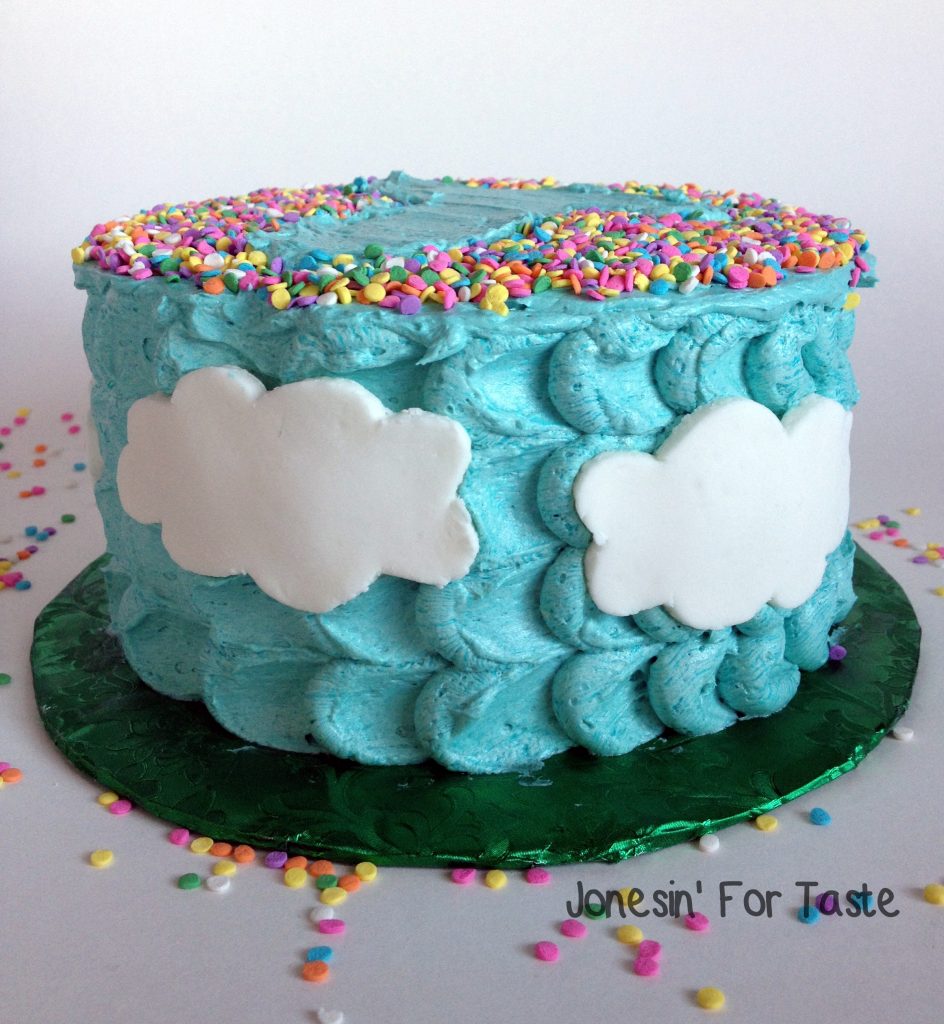 I think my favorite part was the fondant clouds. I used this marshmallow fondant recipe on the cake and the cupcakes. It makes a ton so I think I could have done a half recipe to decorate all 48 cupcakes and the clouds but I'll just use them again for something else. It keeps for several months so I am not in a rush.
To make the cloud cutouts I just drew a simple cloud shape on some paper cut out the shape and laid it directly on the fondant. Then I just used a sharp knife to cut around my shape. I used my fingers to soften any edges that I didn't cut very well. It only took a little extra time but for me the clouds really made the cake what I wanted it to be.
The only thing I would have changed in retrospect would to have done the initial in fondant as well. It was a beast trying to get the initial to look clean in frosting.
Well, there you have it! Make sure to check out the whole party here and my party inspiration here.