These 30+ Star Wars gifts under $50 are sure to make any Star Wars fan happy.
I'm looking ahead to Father's Day already and I was thinking what could be some fun gifts to give to dads. The Harry Potter gifts and Dr Who gifts could be good if the man in your life is into those but Star Wars might be a little more universally appealing.
My husband isn't a fan of Harry Potter or Dr Who but he does love Star Wars. I'm not sure of many men who aren't fans of Star Wars so some Star Wars gifts should be a hit.
I love so many of these gifts but I think my favorites are the Darth Vader oven mitt, the Death Star waffle maker, and the R2-D2 measuring cup. These are just so clever!
What is your favorite Star Wars gift here?
Star Wars Kitchen Gifts
Darth Vader Oven Mitt under $25 for a 2-pack
Protect your hands from the heat and look scary when flexing your hands after taking dishes out of the oven. Who wouldn't love that?
BB-8 Oven Mitts under $15
If looking scary isn't your thing, these are a much cuter way to keep your hands from burning.
Salt and Pepper Shakers – R2D2 and R2Q5 under $20
These are fun to use everyday and are a wonderful gift idea for someone who collects salt and pepper shakers.
Lightsaber Utensil Set (Includes Luke Fork, Yoda Spoon, and Vader Knife) under $35
These would be great for a college student who only needs one of each. Or you could take them everywhere you go.
Blue Light Saber Water Bottle under $20
Show your good side every time you go to take a sip.
Red Light Saber Water Bottle under $15
Or show off your dark side with this red lightsaber water bottle. Or get the set and choose which one to take depending on how you feel that day, it's an early warning sign for those around you!
Ice Cube And Candy Mold under $20
We have several different versions of these silicone molds. They are very fun to use for birthday parties and work well with chocolate.
Darth Vader Apron under $25
This apron pairs perfectly with the Darth Vader oven mitts above!
Boba Fett Apron under $25
If you're more of a bounty hunter fan this might be a better apron option.
C-3PO Apron under $25
If the other aprons don't scream nerd, this one might push you over the edge.
Han Solo Apron under $25
You'll want the "I love you- I know" mug below to go with this apron
Stormtrooper Apron under $25
Storm troopers will always be cool.
Luke Skywalker X-Wing Pilot Apron under $25
Pair this apron with your blue light saber water bottle up above.
Death Star Cutting Board under $30
There are so many cool Death Star items out there. This cutting board would look cool for display too.
Death Star Waffle Maker under $35
Who wouldn't want to eat the death star for breakfast?
Death Star Toaster under $50
Seriously this is a death star shaped toaster that prints a tie fighter on your toast!
Stormtrooper Toaster under $50
A stormtrooper toaster is a perfect pairing for the stormtrooper apron above.
Lightsaber Spatula under $20
Practice your lightsaber skills while making pancakes or grilling.
Pizza Cutter Lightsaber under $15
Another fun lightsaber item for those who like to collect lightsabers.
Death Star Popcorn Maker under $50
Another fun death star item and the air poppers make the best popcorn!
R2-D2 Bowls under $20
You'll want these bowls to go with the popcorn maker.
Birthday Cake Candles under $10
Way more fun than the traditional candles.
Death Star Kitchen Timer under $20
Count down the time until the planet is destroyed…or you know, when dinner is ready.
BB-8 Kitchen Timer under $30
Or if you want a more positive vibe waiting for dinner consider this timer.
R2-D2 Measuring Cup Set under $30
The way this measuring cup set nests together is so fun! Is it a toy or is it baking tools.
Cookie Cutters under $20
Forget the traditional gingerbread men, make gingerbread droids and wookies.
Lightsaber Light Up Chopsticks under $30
These may be more fun than practical but the kids would probably be happy to try some sushi just to get to use these chopsticks.
Darth Vader Mug under $20
If you're a mug collector this is a fun addition to make, especially if you sympathize with Darth Vader in the morning.
Lightsabers Mug under $20
The bright colors of this one are very fun, and the fact that they added the names to each lightsaber is fun for trivia buffs.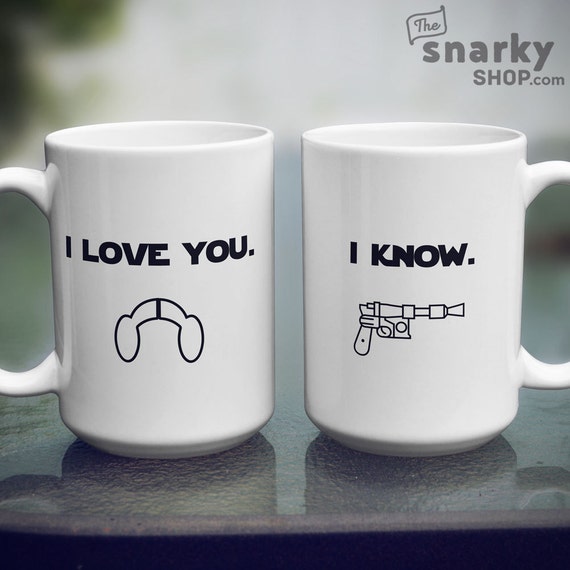 I Love You, I Know Mug $14.99
For the Han Solo/ Leia lovers this is the mug you want. Plus the Han Solo apron above is a great partner for the mug.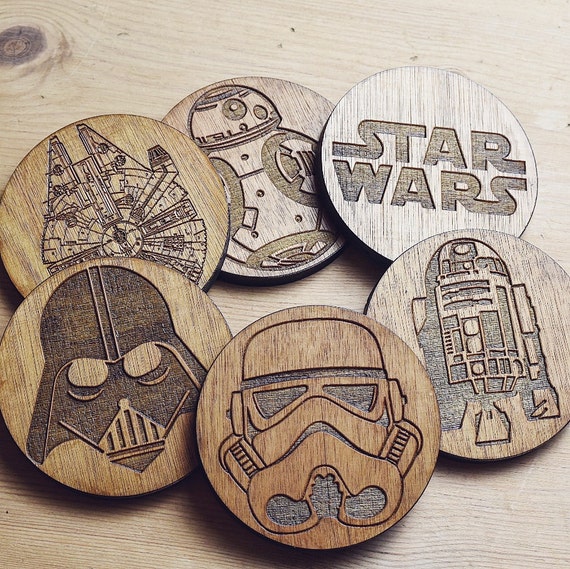 Coasters $20.00
The look of these etched wooden coasters is really cool.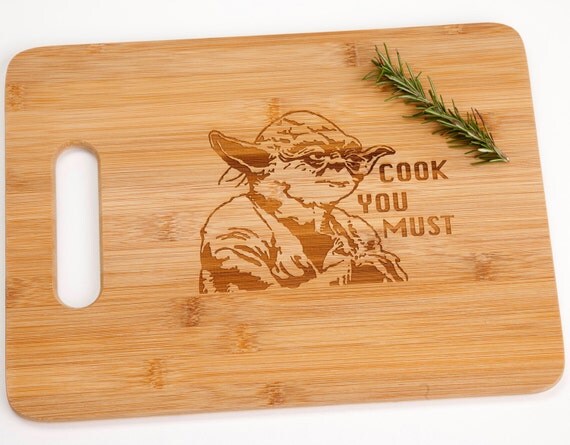 Yoda Cook You Must Cutting Board $24.99
Maybe having Yoda telling you that "cook you must" will motivate you each evening.
These rolling pins which imprint on your dough is so fun and such a simple way to make your cookies festive.
These towels come can be ordered in two colors and it's nice that they are a little more subtle so would look nice in a kitchen.