This post contains affiliate links.  I earn a small commission from purchases made when clicking on my links.  For more info see my disclosure policy.
These 30+ Star Wars gifts under $50 are sure to make any Star Wars fan happy.
I'm looking ahead to Father's Day already and I was thinking what could be some fun gifts to give to dads.  The Harry Potter gifts and Dr Who gifts could be good if the man in your life is into those but I thought that Star Wars might be a little more universally appealing.  My husband isn't a fan of Harry Potter or Dr Who but he does love Star Wars. I'm not sure of many men who aren't fans of Star Wars so some Star Wars gifts should be a hit.
I love so many of these gifts but I think my favorites are the Darth Vader oven mitt, the Death Star waffle maker, and the R2-D2 measuring cup. These are just so clever!
What is your favorite Star Wars gift here?
 Darth Vader Oven Mitt $9.99
BB-8 Oven Mitts $19.99
Salt and Pepper Shakers – R2D2 and R2Q5 $19.95
 Lightsaber Utensil Set (Includes Luke Fork, Yoda Spoon, and Vader Knife) $11.90
Blue Light Saber Water Bottle $6.96
Red Light Saber Water Bottle $9.01
Ice Cube And Candy Mold $19.99
Darth Vader Apron $12.20
Boba Fett Apron $15.73
C-3PO Apron $17.27
Han Solo Apron $24.77
Stormtrooper Apron $14.99
Luke Skywalker X-Wing Pilot Apron $19.95
Death Star Cutting Board $16.95
Death Star Waffle Maker $39.99
Death Star Toaster $49.99
Stormtrooper Toaster $47.58
Lightsaber Spatula $14.49
Pizza Cutter Lightsaber $10.77
Death Star Popcorn Maker $49.99
Birthday Cake Candles $6.03
Death Star Kitchen Timer $14.99
BB-8 Kitchen Timer $19.99
R2-D2 Measuring Cup Set $28.89
Cookie Cutters $13.91
Darth Vader Light Up Chopsticks $23.99
 Lightsaber Ice Pop Maker $34.99
Darth Vader Mug $19.99
Lightsabers Mug $14.99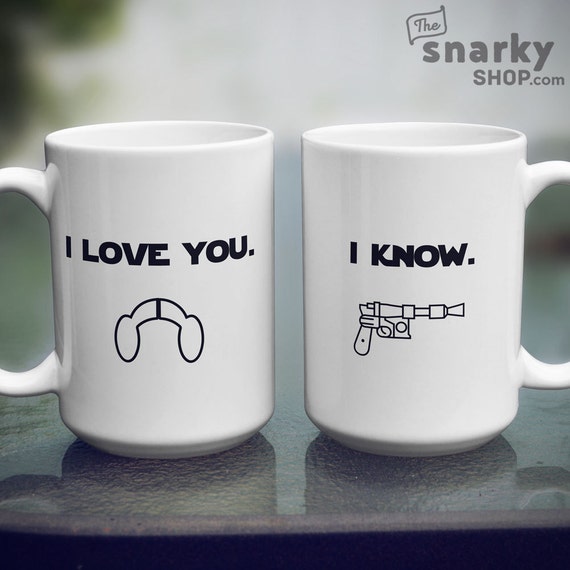 I Love You, I Know Mug $14.99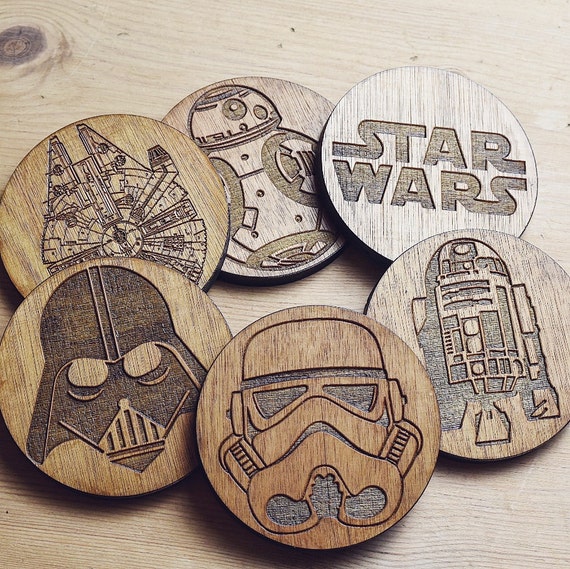 Coasters $20.00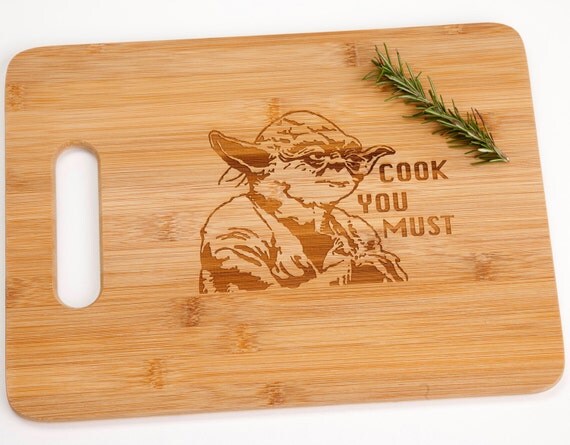 Yoda Cook You Must Cutting Board $24.99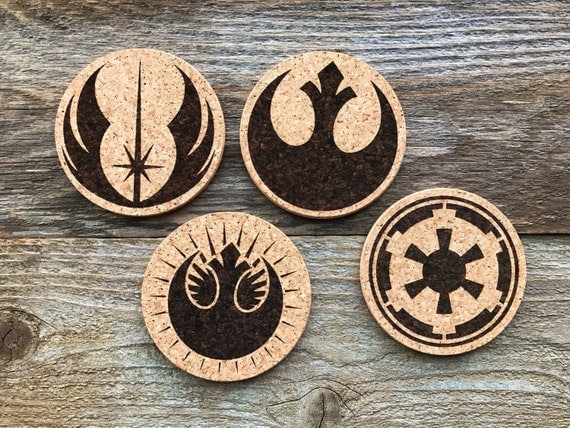 Coasters  $8.99