Sour Cream Apple Triple Berry Pie has an oatmeal crumble topping, apples, and frozen berries combined for a flavorful pie perfect for any gathering.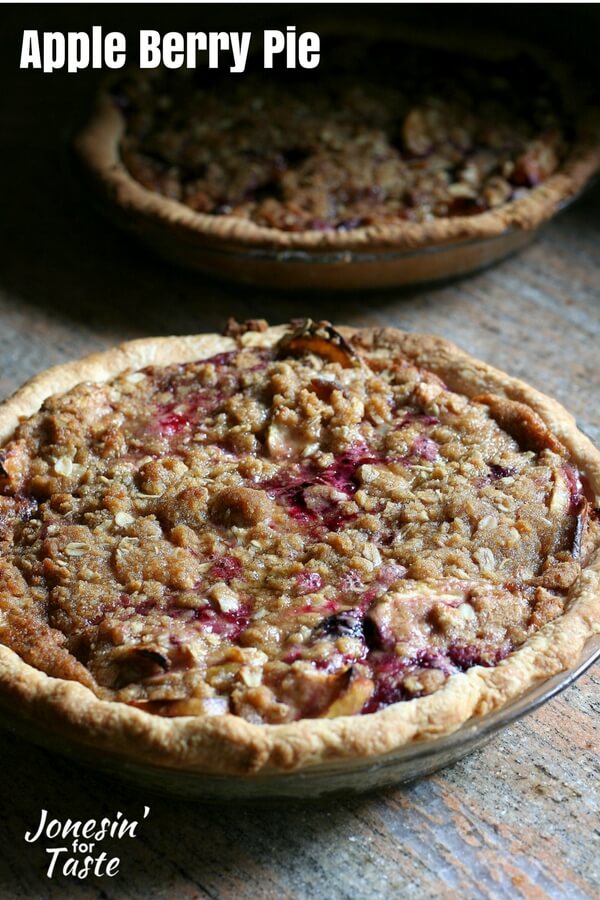 Sometimes I have epic fails where I decide I want to make a dish thinking I have all of the ingredients I need. Then when I go to make it I realize that either I don't have enough or I don't have that ingredient at all. Whoops! Most of the time it means that I put my plans on the back burner but sometimes I try to see if I can make it work. Thankfully it works out sometimes.
So one day I made the mistake of telling my hubby that I was going to make an apple pie only to head over to the kitchen and realize that I only had just TWO green apples. Oh man. The look on his face when I said I didn't have enough apples made me feel SOOOOOO guilty. So I was off to see if I could figure something out. Thankfully I always have a stash of frozen fruit in the fridge since we have smoothies multiple times a week. I pulled out a triple berry mix and went to work and the results were AWESOME! Marriage saved by frozen fruit (just kidding he still would have loved me)!
This pie uses an ingredient you don't usually find in fruit pies- sour cream! It might sound a little weird but it results in an awesome pie filling. I usually use this recipe with just apples for a sour cream apple pie which is amazing. It's a staple recipe from a cousin of my husband which I was lucky enough to receive after our marriage.
I used my trusty ol' pie crust recipe. Still haven't found a pie crust recipe that is easier or more forgiving. I also used the crumble from that recipe for this as well.
And if one pie is just not enough you could try:
Crazy Easy No Bake Key Lime Pie
No Bake Cherry Cream Cheese Pie.
Do you follow Jonesin' For Taste on Facebook? Stop by, say hi, and let me know what kinds of recipes you want to see!
Sour Cream Apple Triple Berry Pie with Oatmeal Crumble Topping
Ingredients
1

9-inch

pie crust

(homemade or store bought)
Filling:
Instructions
Combine beaten eggs, sour cream, and sugar in a large bowl. In a small bowl, combine flour, cinnamon, and salt. Add flour mixture to egg mixture and stir to combine.

Add apples and frozen berry mix to wet mixture and again stir to combine. Pour into unbaked pie shell.

In a separate bowl, put quick oats, flour, brown sugar, and salt. Cut chilled butter into small cubes and add to the mix. Using a pastry blender, cut the butter into the oatmeal mixture until you have roughly pea-sized chunks.

Sprinkle crumble mix over apple berry filling.

Bake at 375 for 45-55 minutes. If edges and top begin to brown too quickly top with foil and continue baking. Allow to cool for at least 30 minutes before slicing.
Nutrition
Calories:
597
kcal
|
Carbohydrates:
89
g
|
Protein:
5
g
|
Fat:
25
g
|
Saturated Fat:
13
g
|
Cholesterol:
86
mg
|
Sodium:
396
mg
|
Potassium:
224
mg
|
Fiber:
4
g
|
Sugar:
62
g
|
Vitamin A:
645
IU
|
Vitamin C:
3.9
mg
|
Calcium:
82
mg
|
Iron:
2
mg