Sausage and Veggie Spaghetti
Chock full of veggies and ready in just 30 minutes, Sausage and Veggie Spaghetti is a perfect hearty dish that may just get a picky eater to eat their veggies!
Every time I make this Sausage and Veggie Spaghetti dish I chuckle to myself. When I was a kid I would pick out every last veggie out of the spaghetti and, when I got more, I would try to get as much sausage as possible. Now I enjoy all of the different elements of the dish and no longer pick out certain items. Growing up we called this Spaghetti Fest
To my surprise the last time I made this dish my picky eater who rarely eats veggies was eating bowl after bowl and kept exclaiming, "Mmm, this zucchini is so yummy Mama!" I'm pretty sure I about fell out of my chair. I was just staring at her in disbelief. I really do believe that the more often you offer dishes to your children the more they will come around to them. It's been the case with just about everything my children have tried and now love!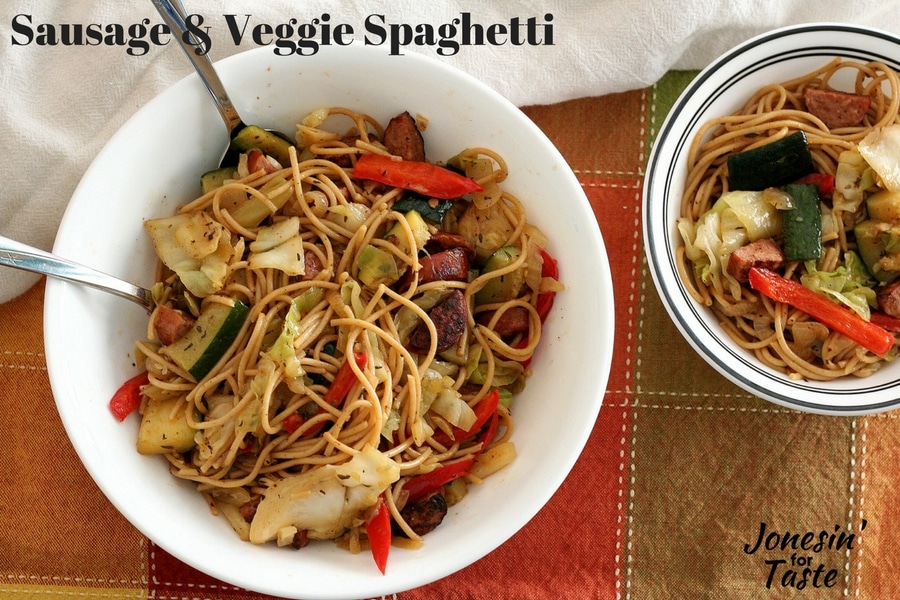 This is a perfect dish to take advantage of those seasonal veggies sales during the winter and spaghetti is cheap. I like to use whole wheat spaghetti in this for the extra hearty factor.
The most time consuming part of this Sausage and Veggie Spaghetti is cutting all the veggies. To help keep this a quick dinner, I cut the sausage and cabbage and cook those up. As the cabbage cooks I quickly cut the rest of the veggies because the cabbage takes a bit to cook to saute down completely.
What dish did you not like as a kid that you love now?
Sausage and Veggie Spaghetti aka Spaghetti Fest
Ingredients
1

lb

turkey polska kielbasa or smoked sausage

cut into half moon slices

3

Tbsp

butter

1

small cabbage

thinly shredded

1

lg red pepper

cut into 1 inch strips

1

lg. zucchini

cut into 1 inch strips

1

lg. onion

thinly sliced

2

cloves

garlic

minced

4

tsp

chicken bouillon

3/4

cup

water

2

tsp

thyme leaves

3/4

tsp

salt

1

tsp

course grind pepper

1

lb

whole wheat spaghetti
Instructions
In a large skillet, lightly brown sausage in butter; remove from skillet.

Add cabbage and stir-fry for 10 minutes.

Meanwhile, prepare spaghetti according to package directions.

Add red pepper, zucchini, onion, and garlic and stir fry an additional 5 minutes.

Stir in sausage, bouillon, water & spices and simmer 5 minutes.

Toss hot spaghetti with sausage and veggies.