Apple Feta Quesadillas combine tart apples and salty feta for a not so traditional but extra flavorful take on the usual quesadilla.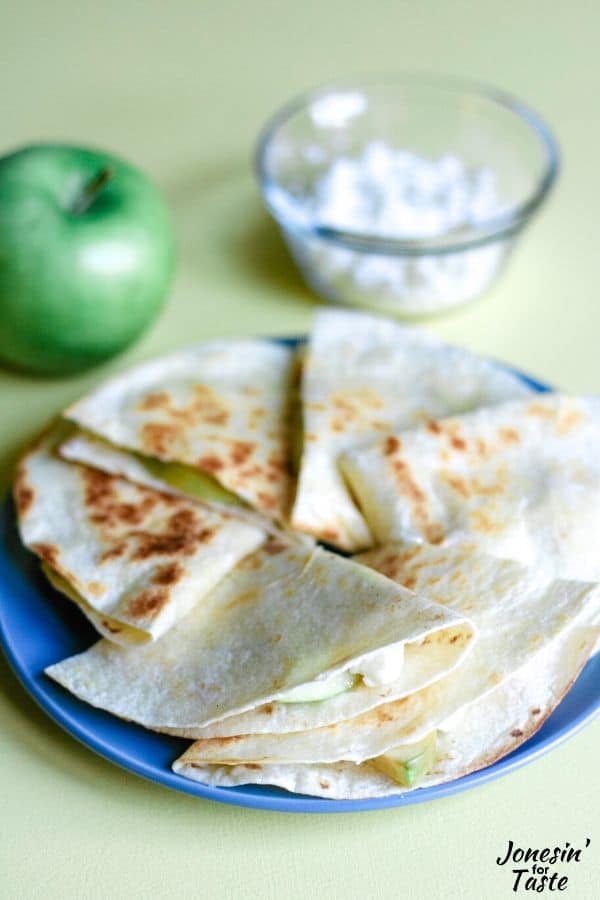 Alright I know you may be thinking I'm crazy but I promise these quesadillas are amazing! We were still young newlyweds when my husband first proposed the apple-feta combo. I was ambivalent but wanted to support him taking an interest in the kitchen. So he made them up and we sat down to take a bite. I was a little nervous since he was also the man who had served me up tuna spaghetti when we were dating. TUNA & SPAGHETTI?!?!? It honestly wasn't as nasty as it sounds but after 9 years he still hasn't totally lived that one down.
Back to the quesadilla- I bit into it and was floored! It was SO good! The tart sweetness of the apples contrasted beautifully with the salty feta. We've made this countless times over the years and have figured out the tricks to making it less messy since the feta doesn't really melt like a traditional quesadilla cheese does. The trick is only using one tortilla and doing a half quesadilla. That way the filling has a chance to stay in the tortilla. The cheese melts enough  and when served right out of the pan they are fabulous.
This time I paired up the quesadillas with our favorite Greek Quinoa Salad. It's a good meatless meal with plenty of protein from the cheese and quinoa and is a good weeknight option since you can make the salad ahead of time and quesadillas are always a easy quick option.
What unusual quesadilla options have you tried?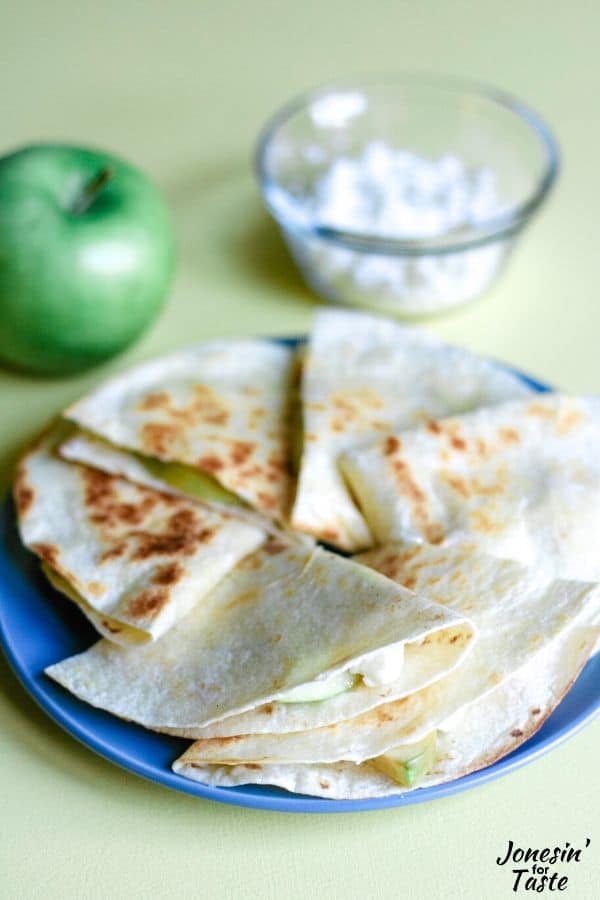 Ingredients
2-3

granny smith apples

sliced into thick slices

2-3

cups

feta cheese

4-6

tortillas
Instructions
Heat a skillet over medium heat. Place one tortilla on the pan and sprinkle with some feta and top with apple slices. Fold in half. Cook until bottom is lightly browned and then flip to toast the other side. Serve immediately.