Cheesy Ranch Potato Broccoli Bake take the deliciousness of twice baked potatoes and turning them into a casserole loaded with cheese, ranch, and broccoli. Kid friendly and easy to make for a crowd.
Broccoli.  Does that word drive fear into your heart? Do your children turn up their noses at the mere mention of those little green trees? Well, it doesn't need to.  I've teamed up with over 10 other bloggers for this month's Ultimate Recipe Challenge to bring you some fantastic recipes that might just change your mind about that feared green veggie! My contribution is this Cheesy Ranch Potato Broccoli Bake which is a quicker version of twice baked potatoes.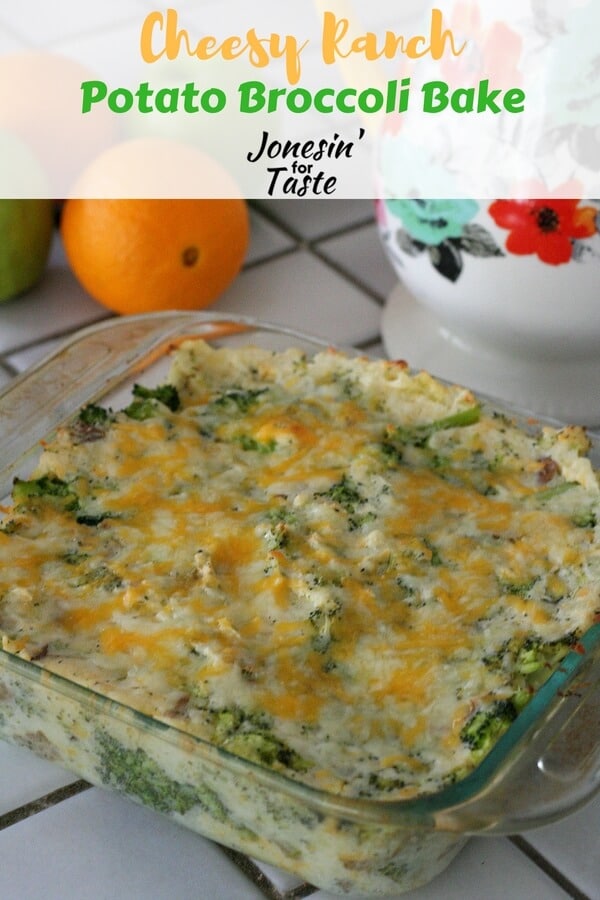 I've been planing on sharing this recipe with you for a while but for some reason I have never gotten around to it. My bad! It really hit the spot last night when I made it and my daughter got so excited when she saw me making it.  That girl does not usually get excited about her veggies but broccoli happens to be one of the few along with Honey Carrots and Parmesan Garlic Green Beans. I know, she's an odd duck!
My son happens to be a great veggie eater but he does not like potatoes.  Like he won't eat fries, or mashed potatoes, hash browns.  I'm lucky if I can get him to eat a few of them.  I dunno what's up but he's weird in a whole 'nother way from my daughter.
Any-who, thankfully everyone happened to enjoy this! Loaded with favorite kid flavors of cheese and ranch these are sure to please those picky eaters.  Plus I love how simple this is to prepare.  It's the perfect option to bring to any family gathering.  I love serving this up with some BBQ chicken and cornbread or rolls.  I always plan to make extra of the BBQ chicken so we can make BBQ Chicken Pasta Salad later in the week.
I used to make these potatoes actually as twice baked potatoes but I would always have filling leftover and it would take so long to scrape out the baked potatoes and then re-stuff them.  Making them as a casserole seemed like such an easy solution to my time dilemma.  This recipe makes an 8 by 8 pan but you could always beef it up by adding some ground beef or turkey to the mix and turning it into a main dish and bake it in a 9 by 13 pan instead.
I often will make up the baked potatoes in the instant pot or the slow cooker to save even more time making this.  They are both great tools for meal prepping.
Do you follow Jonesin' For Taste on Facebook? Stop by, say hi, and let me know what kinds of recipes you want to see!
Cheesy Ranch Potato Broccoli Bake
Cheesy Ranch Potato Broccoli Bake
Ingredients
1

cup

ranch or 1 cup Greek yogurt plus 1 1/2 Tbsp ranch seasoning

1

cup

Mexican blend cheese

, separated

5-6

medium baking potatoes

, prepared liked regular baked potatoes

2- 2 1/2

cups

broccoli

, steamed (can use frozen broccoli thawed)
Instructions
Preheat oven to 400 degrees F.

To prepare potatoes, pierce potatoes with a fork and microwave for approximately 5 minutes per side until cooked through. Mash with a potato masher or fork.

Meanwhile, steam broccoli for 9 minutes until tender.

Add ranch and 3/4 cup cheese to mashed potatoes. Mix thoroughly. Add broccoli and fold into potato mixture.

Add salt and pepper to taste, if desired. Top with remaining cheese.

Spread mixture into a 9 by 9 casserole dish and bake for at least 10 minutes until warmed through.
Make sure to check out all of the other broccoli recipes that are a part of this month's Ultimate Recipe Challenge!
Loading InLinkz ...