You will not believe how crazy easy this No Bake Key Lime Pie is.  It's a little tangy, a little sweet, and so simple you can make it and eat it tonight.
This no bake key lime pie recipe I got from a church youth leader I had when I was in high school.  I used to make it all the time because my husband loves key lime pie but he never really liked this version and could never tell me why.  Finally one time he finally figured out what it was- he thought it was too sweet.  Then, I tried making my own graham cracker crust and leaving the sugar out that most recipes add in but to no avail.  So my poor trusty key lime pie recipe sat in my files for years. Until now!
After sitting unloved for so many years I decided to dust it off for Pi Day because it is so ridiculously easy it didn't feel right to sit on it any longer.  And after making a chocolate chip cookie dough cake last week I had a half can of sweetened condensed milk sitting in my fridge.  That's when it dawned on me how to make the cake less sweet (seriously, I needed a Gibbs smack to the back of the head there), use less condensed milk!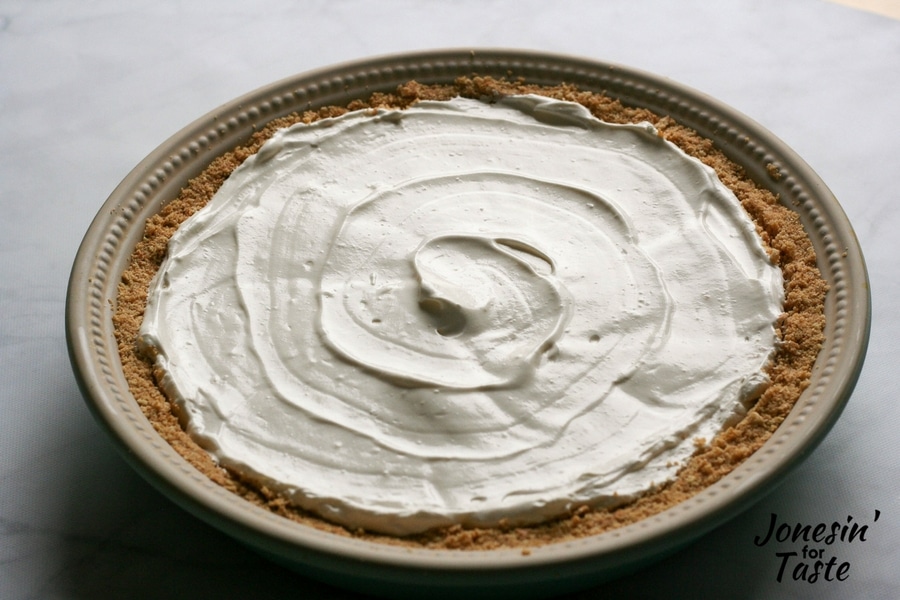 He was much happier with the resulting tangy taste and I was much happier with the texture of the pie which had always tended to be a little runny when I was trying to add extra key lime juice to make it more tart (insert second Gibbs smack).  Now it holds its shape much more like my Vanilla Pudding Pie. I choose to not add green food coloring but you totally can if you want.  The shredded coconut is also optional but we liked the extra texture it added to the cake.  And really lime + coconut (cue the song…).
Moral of the story, if you want this key lime pie to be even more tart, decrease the amount of sweetened condensed milk before you increase the key lime juice.  If you'd like it to be a little sweeter the original recipe called for at least 12 ounces of cool whip and 1 can sweetened condensed milk.  Start by adding a little more of the condensed milk up to the full can.  It's something I do need to revisit with my No Bake Cherry Cream Cheese Pie which can have a similar runny issue to it but honestly it doesn't really bother me because they both taste SOOO good.
Do you follow Jonesin' For Taste on Facebook? Stop by, say hi, and let me know what kinds of recipes you want to see!
Crazy Easy No Bake Key Lime Pie
Crazy Easy No Bake Key Lime Pie
You will not believe how crazy easy this No Bake Key Lime Pie is. It's a little tangy, a little sweet, and so simple you can make it and eat it tonight.
Ingredients
Key Lime Filling
3/8

cup

key lime juice

(3/8 equal to 1/4 cup plus 2 Tbsp)

12

oz

cool whip

thawed

7

oz

sweetened condensed milk

1/2 of a 14 oz can

Green food coloring

optional
1 Prepared Graham Cracker Crust (or homemade version below)
18

graham crackers

1/2

cup

butter

melted
Topping
2/3

cup

shredded coconut

unsweetened
Instructions
Crush graham crackers until very fine. I find this works best in a food processor but you can also a rolling pin and a Ziploc bag. If using a food processor, add the melted butter to the crushed graham crackers and process until it is completely combined. If using the rolling pin method, pour the graham cracker crumbs into a bowl and then add the melted butter. Mix well.

Combine the key lime juice, thawed cool whip, and the 1/2 can sweetened condensed milk. Whip it until smooth and pour into the prepared crust.

Chill for at least 15 minutes before serving.

If desired, toast coconut in a pan over medium high heat stirring constantly for about 5 minutes. Just before serving top with toasted coconut.
Pi Day Pie Recipes