Hot Air Balloon Coloring Page
Beat summer boredom with a beautifully intricate Hot Air Balloon coloring page that is perfect for kids or adults.
I married into a family with some serious skills. My mother in law is an incredible quilter, my sister in law, Devery, is amazing at crochet, and my sister in law, Katelynn, is a crazy good seamstress and artist. It's been fun to watch everyone's talents develop over the last decade that I've been a part of this family. I asked my sister in law if she would ever be interested in creating some adult style coloring pages for me. Well, she was up to the challenge and has been creating up some amazing coloring pages like this Hot Air Balloon coloring page.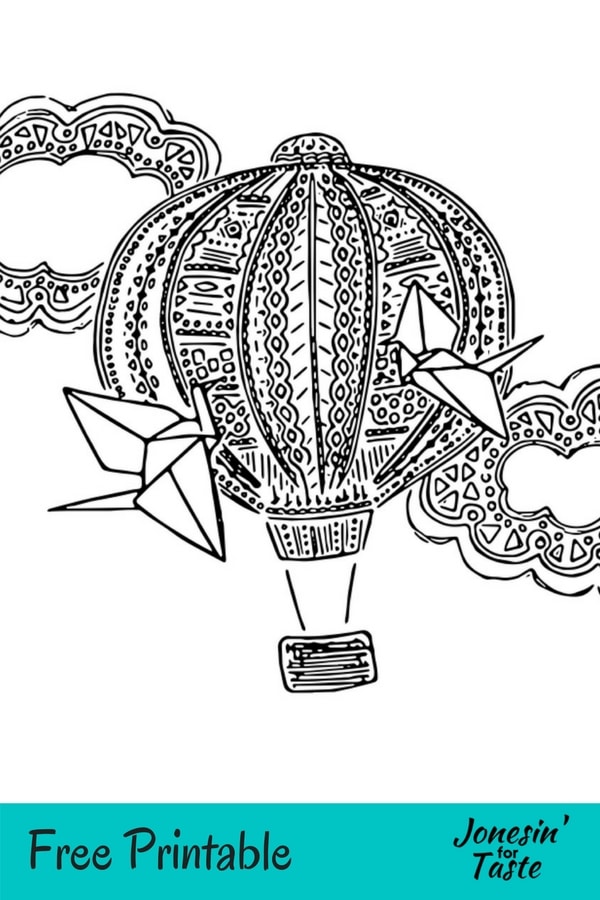 Not only do I love the details on the Hot Air Balloon itself but I love whimsy of the flying paper cranes! And even though this is slightly more intricate than your regular children's coloring page my 8 year old loves coloring pages like these. She patiently colors them in and hangs them on the wall.
I think a line of adult coloring pages all colored in could make a really fun art decor whether framed or just temporarily displayed. I'll be posting new coloring pages throughout the summer so keep checking back for those!
Do you love to decorate with free printables? Check out our Free Quote about Mothers printable, Laughter is Brightest quote printable, Thee lift Me printable for your bedroom, and Be A Pineapple printable.
And if you love this Hot Air Balloon coloring page, will you comment below with some love for my sister in law, Katelynn?
clipboard mock up from Dawn Nicole Designs
Want to be notified of more free printables like this? Sign up for my weekly newsletter to stay up to date!
Do you follow Jonesin' For Taste on Facebook? Stop by, say hi, and let me know what kinds of coloring pages and printables you want to see!