Easy Baked Orange Shrimp Sushi
Make your own sushi at home with this simple starter recipe for Easy Baked Orange Shrimp Sushi that combines familiar flavors in a new way.
Before this school year started we took our kiddos to a local sushi restaurant as a last hurrah. We weren't sure how the kids would like the fare so we tried to keep it to familiar flavors in a new presentation. Now I know this wasn't traditional sushi but it was a good beginning. The kiddos had been haranguing me to have sushi again so I decided to do a little homemade sushi night.
My kiddos always have a blast making spam musubi and it is a favorite they ask for all the time. I thought they might like these orange shrimp rolls that were similar to something we had at the sushi restaurant. They were really simple to put together. With just a few simple ingredients they are easily made and were a big hit.
If you've never made sushi rice before don't be scared. It's really not that hard and I like to make it up in huge batches in my rice cooker. I use this recipe here. You can either use a jarred or homemade orange sauce depending on how much time you have available. If you want to make your own orange sauce you can use the one from my Baked Orange Chicken.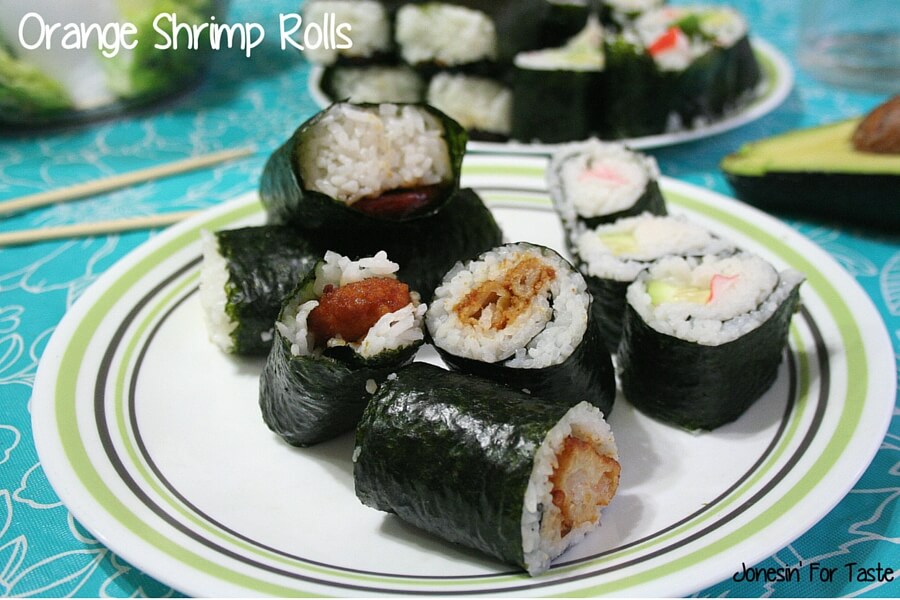 Easy Baked Orange Shrimp Sushi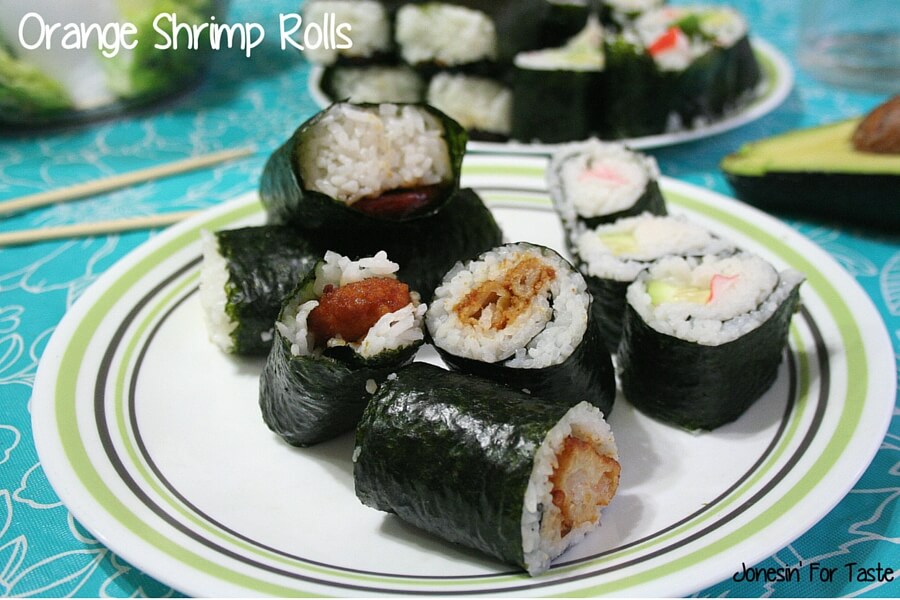 Ingredients
1/4

of a 12 oz pkg popcorn shrimp

1/3

cup

of jarred or homemade Orange Sauce

3

cups

sushi rice

4

nori sheets
Instructions
Bake shrimp according to package directions. Remove from oven and toss with orange sauce. Keep warm.

Spread prepared sushi rice on nori sheets, just enough to cover the sheet leaving a thin edge on one side uncovered. I've found wetting my hand with water helps to simplify the spreading of the rice.

Place a row of orange shrimp on top of sushi rice on the opposite end of the uncovered side.

Starting at the shrimp side, tightly roll the nori sheet. Cut into bite size pieces about an inch thick.