Are you a hot sandwich lover? My husband is a huge fan of hot sandwiches and I have to agree that there is something super satisfying about them. The only thing I didn't love about them was how much meat they used for just one sandwich. It's not the healthiest and I knew I could do better. So over time I've added spinach, sauteed peppers and onions, and some provolone and fresh Parmesan-Reggiano cheese. I know adding Parmesan-Reggiano cheese may not sound like a money saver but using the cheese with a stronger flavor means I can use less of it!
It's easy to make with a short list of ingredients and a quick bake time just to melt that cheesy goodness. We usually pair these with some sweet potato fries, salad and a side of our favorite fruits for a complete meal.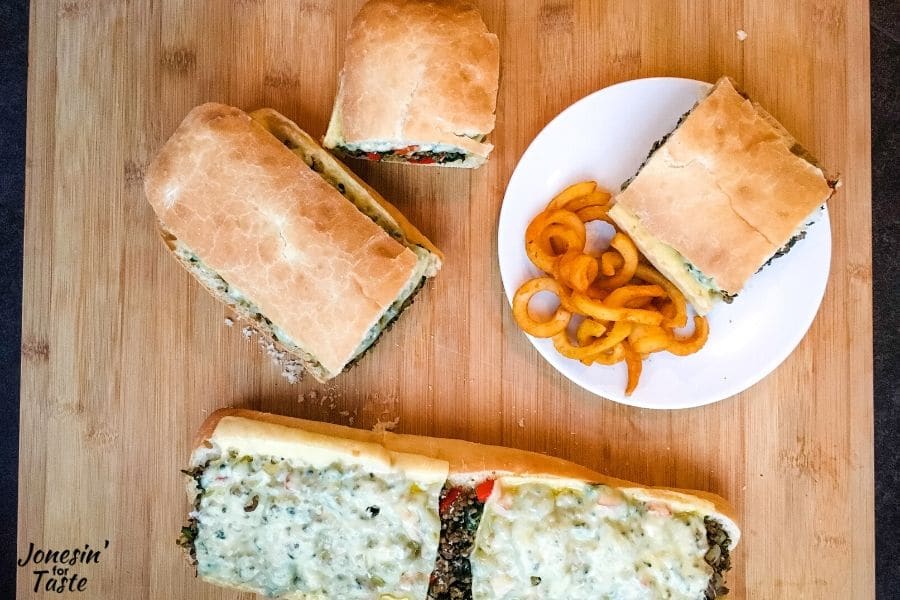 Ingredients
1

lb

ground sausage

2

cloves

garlic

minced

1

onion

diced

1

bell pepper

diced

1

10 oz

package frozen spinach

thawed and chopped

1

loaf

french bread

Sliced provolone cheese

Parmesan cheese
Instructions
Slice bread cutting into the loaf in a v-shape. If you like remove some of the bread to allow more room for the filling. Be careful to not rip into the outside of the loaf and leave a hole.

Cook sausage breaking up large chunks until sausage is browned and there is no more pink showing. Remove meat but leave the sausage drippings in the pan.

Add garlic, onion, and pepper to the pan with the sausage drippings. Saute until the veggies begin to soften, about 3-4 minutes. Add sausage to pan and stir until wilted, about 2-3 minutes.

Add sausage back to pan and stir to combine and reheat. Spoon the filling into the bread. Top with a sprinkling of Parmesan and a slice of Provolone cheese.

Cover with foil. Bake at 350 for 5-10 minutes until cheese is completely melted. Slice and serve.