I received a free box of produce from Melissa's Produce in conjunction with #FreakyFruitsFriday. All opinions are my own.
Spice up your usual lemonade with this simple passion fruit lemonade! This easy tropical mocktail recipe will help quench your thirst and satisfy your taste buds on those hot summer days.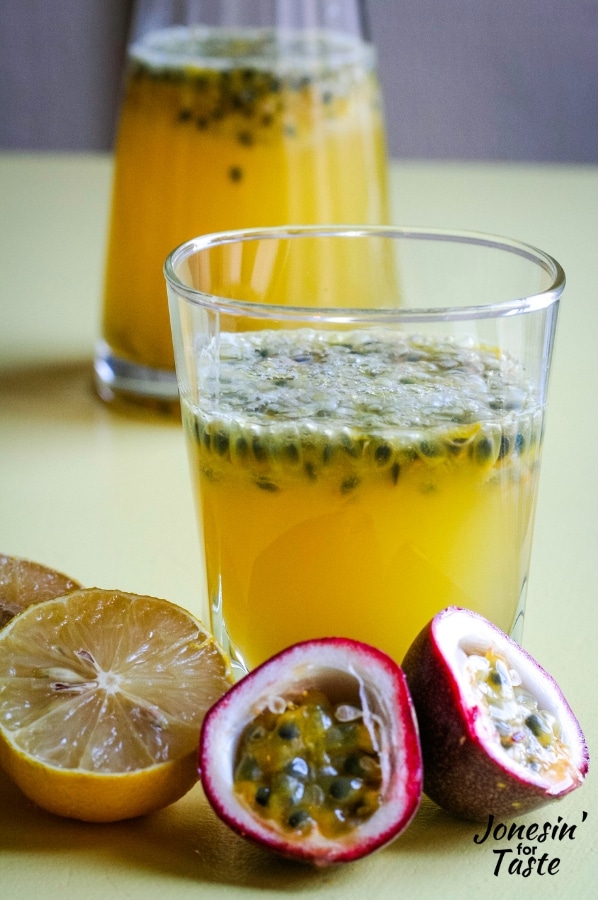 I love that you can make this simple lemonade in just 5 minutes! Get the kids involved by having them scoop out the pulp, juice the lemons, and stir the lemonade. It also makes a great spooky drink at Halloween because the seeds look almost like monster eyes floating in the drink.
Since my whole family loves drinks, it's always fun to come up with something new to serve up. We often enjoy Brazilian lemonade or Sangria mocktail but with many of our neighbors' lemons trees bursting with lemons it seemed time to make some fun lemonade!
Ingredients you need:
passion fruit
lemons
sugar
water
What is passion fruit?
Passion fruit is a tropical fruit originating from South America. It is native to southern Brazil, Paraguay, and the Northern part of Argentina.
Passion fruits are purple on the outside with a bright yellow green pulp with black seeds on the inside. The juice can be rather tangy similar to lemons so it is perfect for use in this sweet lemonade.
Where do I find passion fruit?
I found my passion fruit at my local Vons. Some grocery stores may carry it but you also may be able to find it at your local Hispanic market.
How To Make Passion Fruit Lemonade:
Using a sharp knife, cut passion fruits in half and use a spoon to scoop out the insides. Add pulp to pitcher.
Juice lemons using a citrus reamer or a juicer. Add juice to passion fruit pulp in pitcher.
Add sugar and water to the pitcher and mix well.
Serve well chilled, with ice, if desired.
Are passion fruit seeds safe to eat?
Passion fruit seeds are safe to eat if you would like to keep them in the lemonade. If you do not like the seeds, feel free to strain them out.
Can I make this with sparkling water instead of regular water?
Of course you can! Using sparkling water will give you more of a mocktail/ soda feel to the drink.
Do you follow Jonesin' For Taste on Facebook? Stop by, say hi, and let me know what kinds of recipes you want to see!
If you like this recipe you might also like: