This gorgeous Easy Banana Bundt Cake is a perfect use for overripe bananas. Made without sour cream it is lovely with a simple glaze or powdered sugar dusting.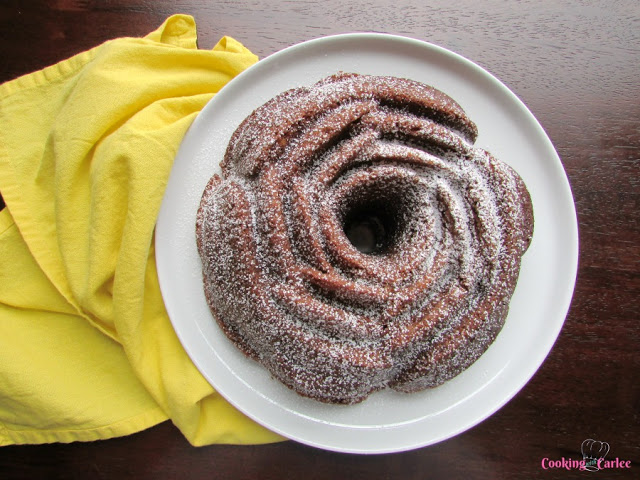 "I found this cake recipe about 2 months ago and decided to bake it, we liked the idea of a cake and not bread. OMG it was so good that my hubby has been stocking our little freezer with bananas ever since."
Jaime
"This is the ONLY banana bread recipe I will ever make again. I've made it at least 5 times at this point and am about to pop another in the oven. Absolutely the best! Thank you for the recipe."
Samantha
Hi everyone, I'm Carlee from Cooking With Carlee and truth be told, it is never a very hard sell for me to make a cake. In fact I have been known to celebrate the fact that it is Saturday by baking a Devilishly Good Chocolate Cake with the best ever Shiny Fudge Frosting. It is decadent, chocolaty and delicious.
Living with a toddler can be rough sometimes. I know we can't be the only ones who go through food phases, so I am sure some of you can relate. Recently we were sooooo into bananas.
My little man ate so many that we had to buy a couple of bunches a week and he was on a two banana a day rationing program. Then as fast as it started, we were done with bananas. DONE!
Now I am not one to let good food go to waste, but it doesn't take long before we have a few brown bananas. So I take the lemon and turn it into lemonade, or take the overripe bananas and turn them into this banana bundt cake might be a more accurate description!
Add a fancy bundt pan and you are set. That is perfect for a busy mom with no artistic talent like myself! So next time you find yourself with a few overripe bananas, go ahead and bake a cake!
~Carlee
Thanks Carlee for sharing this gorgeous cake with us!
What is the difference between banana bread and banana cake?
Although they share many of the same ingredients, banana bread and banana cake are different. The main difference is in their texture. Banana cake is lighter and less dense than its bread counterpart.
Ingredients you need
ripe bananas
sugar
vegetable oil
eggs
vanilla
flour
baking soda
cinnamon
salt
What Bundt pan works for this?
I love how pretty this Banana bundt cake looks that Carlee made! I can't wait to get the Rose Bundt Pan so I can make some gorgeous cakes like this. It's such an easy way to make a cake look elegant without all the work!
This cake was made in a 10 cup Bundt pan. So you can swap it for any other similar sized Bundt pan. Check out a few options you could use below.
The fancier the bundt pan the more care you will need in greasing it. Make sure the baking spray gets into all the little crevices. If you have a problem with cakes sticking try using this cake goop from Sugar Geek Hero.
Other Bundt pans you could try
How to make this
Preheat your oven and grease a large bundt pan.
Mash the bananas and stir in sugar, vegetable oil, eggs and vanilla.
Whisk together the flour, baking soda, cinnamon and salt.
Stir the flour mixture into the banana mixture, just until mixed. Don't over mix it!
Pour your batter into the pan and bake.
Cool for 15 minutes before turning out the cake onto a wire rack to cool completely.
Dust with powdered sugar or drizzle with a simple powdered sugar and cream glaze (or both!)
Note: I find that having a pretty cake stand or cake plate is another great way to level up a simple cake like this.
Other ways to finish a Bundt cake
You don't have to know any fancy decorating techniques to make a cake something special. A fun pan and dusting of powdered sugar and you are in business. Or add a little glaze and you are golden.
Here are a few other finishing options readers have suggested:
Brown sugar butter icing
Powdered sugar glaze using coconut milk
Cream cheese icing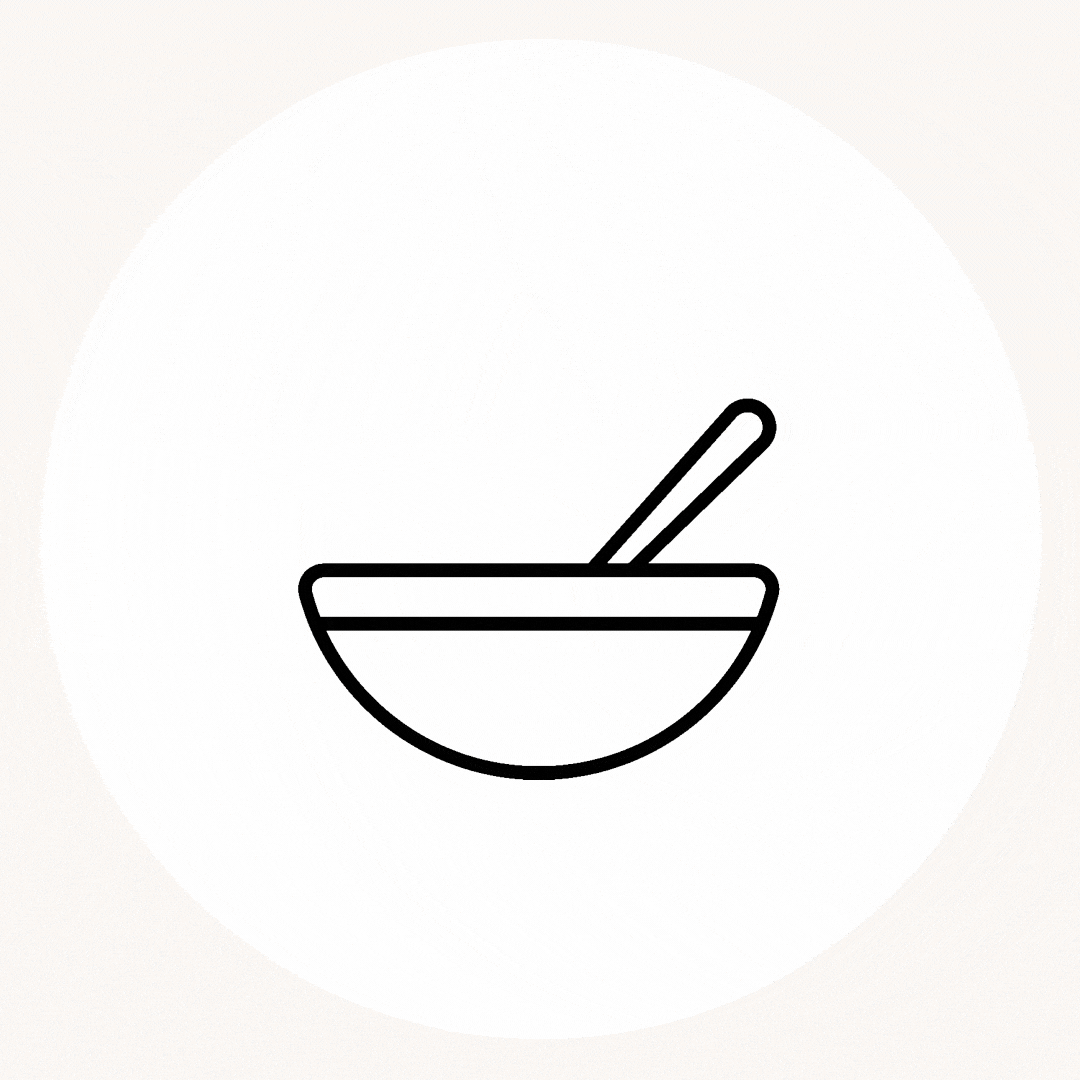 Other reader suggestions
"I butter my Bundt pan and then roll around ground almond and pistachios with white and brown sugar before putting in half the batter, swirling in more almond and pistachio sugar mixture and then the rest of the batter with one last swirl." -Christopher
"The first time I added chocolate chips. It made a wonderful breakfast coffee cake. 2nd time I left out the chocolate chips and sprinkled the top generously with chopped pecans. It gave the cake a nice crunch, but I missed the chocolate chips. Today's version will definitely have the chocolate chips added. I plan on making a version of this with raisins in the future." -MK
For more easy cakes try these:
Recipe
Ingredients
3-4

medium bananas

the riper the better

2

cups

sugar

1

cup

vegetable oil

3

eggs

beaten

1

teaspoon

vanilla

2

cups

flour

1

teaspoon

baking soda

1/2

teaspoon

cinnamon

pinch

of salt
Instructions
Preheat your oven to 350°F and grease a 10 cup capacity Bundt pan.

In a large bowl, mash the bananas until mostly smooth. Stir in the sugar, vegetable oil, eggs and vanilla.

In a small bowl, whisk together flour, baking soda, cinnamon and salt.

Stir the flour mixture into banana mixture until just mixed. Do not overmix!

Pour the batter into the prepared pan. Bake for 40-45 minutes or until a skewer comes out clean when poked into the cake.

Cool for 15 minutes in the pan before turning out to cool completely.

Dust with powdered sugar or drizzle with a simple powdered sugar and cream glaze (or both!)
Notes
This cake was made in a 10 cup Bundt pan. So you can swap it for any other similar sized Bundt pan.
Here are a few other finishing options readers have suggested:
Brown sugar butter icing

Powdered sugar glaze using coconut milk

Cream cheese icing
Nutrition
Calories:
263
kcal
|
Carbohydrates:
56
g
|
Protein:
3
g
|
Fat:
3
g
|
Saturated Fat:
1
g
|
Cholesterol:
40
mg
|
Sodium:
121
mg
|
Potassium:
143
mg
|
Fiber:
1
g
|
Sugar:
37
g
|
Vitamin A:
80
IU
|
Vitamin C:
2.6
mg
|
Calcium:
12
mg
|
Iron:
1.3
mg