This gorgeous Easy Banana Bundt Cake is deceptively easy and lovely with a simple glaze or powdered sugar dusting.
I love how pretty this Banana bundt cake looks that my friend Carlee made! I can't wait to get the
Rose Bundt Pan
so I can make some gorgeous cakes like this. It's such an easy way to make a cake look elegant without all the work!
Thanks Carlee for sharing this gorgeous cake with us!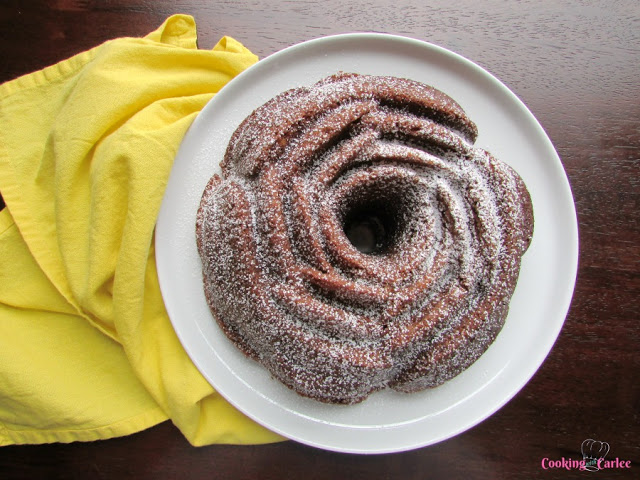 Living with a toddler can be rough sometimes. I know we can't be the only ones who go through food phases, so I am sure some of you can relate. Recently we were sooooo into bananas.
My little man ate so many that we have to buy a couple of bunches a week and he was on a two banana a day rationing program. Then as fast as it started, we were done with bananas. DONE!
The problem is, I inevitably just went to the grocery store and have a couple of bunches sitting on the counter! So I spend the next few days trying to talk him into bananas, but he only has eyes for strawberries.
Now I am not one to let good food go to waste, but it doesn't take long before we have a few brown bananas. So I take the lemon and turn it into lemonade, or take the overripe bananas and turn them into this banana bundt cake might be a more accurate description!
Hi everyone, I'm Carlee from Cooking With Carlee and truth be told, it is never a very hard sell for me to make a cake. In fact I have been known to celebrate the fact that it is Saturday by baking a Devilishly Good Chocolate Cake with the best every Shiny Fudge Frosting. It is decadent, chocolaty and delicious.
Luckily I have a lot of siblings who all gather together for dinner on Saturdays to help eat it, otherwise I'd be scared how much I'd eat of it on my own! I was tempted to bake up a tried and true banana cake favorite.
My friend, Diane, shared a recipe with me a few years back that has quickly become a favorite of family and friends. You should really check it out. I also love Banana Sheet Cake with Salted Caramel Cream Cheese Frosting, so that one was tempting too.
In the end, I decided to go with a bundt cake. I read somewhere that King Arthur Flour is dubbing this the Year of the Bundt and I can see why. Bundt cakes bring their own pizzazz to the table.
You don't have to know any fancy decorating techniques to make them something special. A fun pan and dusting of powdered sugar and you are in business. Add a little glaze and you are really golden.
That is perfect for a busy mom with no artistic talent like myself! So next time you find yourself with a few overripe bananas, go ahead and bake a cake!
~Carlee
For more easy cakes try these:
Easy Banana Bundt Cake
Easy Banana Bundt Cake
Total Time
1
hour
5
minutes
Ingredients
3-4

medium bananas

the riper the better

2

cups

sugar

1

cup

vegetable oil

3

eggs

beaten

1

tsp

vanilla

2

cups

flour

1

tsp

baking soda

1/2

tsp

cinnamon

pinch

of salt
Instructions
Preheat oven to 350 F and grease a large bundt pan.

In a large bowl, mash the bananas until mostly smooth.  Stir in sugar, vegetable oil, eggs and vanilla.

In a small bowl, whisk together flour, baking soda, cinnamon and salt.

Stir flour mixture into banana mixture until just mixed.

Pour batter into prepared pan. Bake for 40-45 minutes or until it tests done.

Cool for 15 minutes in the pan before turning out to cool completely.

Dust with powdered sugar or drizzle with a simple powdered sugar and cream glaze (or both!)