This gorgeous Easy Banana Bundt Cake is deceptively easy and lovely with a simple glaze or powdered sugar dusting.
I love how pretty this Banana bundt cake looks that my friend Carlee made! I can't wait to get the
Rose Bundt Pan
so I can make some gorgeous cakes like this. It's such an easy way to make a cake look elegant without all the work!
Thanks Carlee for sharing this gorgeous cake with us!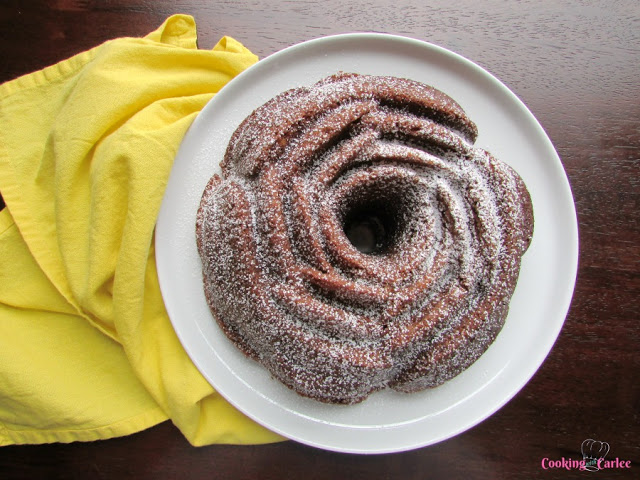 Hi everyone, I'm Carlee from Cooking With Carlee and truth be told, it is never a very hard sell for me to make a cake. In fact I have been known to celebrate the fact that it is Saturday by baking a Devilishly Good Chocolate Cake with the best every Shiny Fudge Frosting. It is decadent, chocolaty and delicious.
Living with a toddler can be rough sometimes. I know we can't be the only ones who go through food phases, so I am sure some of you can relate. Recently we were sooooo into bananas.
My little man ate so many that we have to buy a couple of bunches a week and he was on a two banana a day rationing program. Then as fast as it started, we were done with bananas. DONE!
Now I am not one to let good food go to waste, but it doesn't take long before we have a few brown bananas. So I take the lemon and turn it into lemonade, or take the overripe bananas and turn them into this banana bundt cake might be a more accurate description!
Luckily I have a lot of siblings who all gather together for dinner on Saturdays to help eat it, otherwise I'd be scared how much I'd eat of it on my own! I was tempted to bake up a tried and true banana cake favorite.
Ingredients you need:
ripe bananas
sugar
vegetable oil
eggs
vanilla
flour
baking soda
cinnamon
salt
How to make banana bundt cake:
Preheat oven to 350 F and grease a large bundt pan.

In a large bowl, mash the bananas until mostly smooth. Stir in sugar, vegetable oil, eggs and vanilla.

In a small bowl, whisk together flour, baking soda, cinnamon and salt.

Stir flour mixture into banana mixture until just mixed.

Pour batter into prepared pan. Bake for 40-45 minutes or until it tests done.

Cool for 15 minutes in the pan before turning out to cool completely.

Dust with powdered sugar or drizzle with a simple powdered sugar and cream glaze (or both!)
You don't have to know any fancy decorating techniques to make them something special. A fun pan and dusting of powdered sugar and you are in business. Add a little glaze and you are really golden.
That is perfect for a busy mom with no artistic talent like myself! So next time you find yourself with a few overripe bananas, go ahead and bake a cake!
~Carlee
Subscribe to our mailing list and receive the free 30 Day Easy Meals e-book
Do you follow Jonesin' For Taste on Facebook? Stop by, say hi, and let me know what kinds of recipes you want to see!
For more easy cakes try these:
Easy Banana Bundt Cake
Instructions
Preheat oven to 350 F and grease a large bundt pan.

In a large bowl, mash the bananas until mostly smooth.  Stir in sugar, vegetable oil, eggs and vanilla.

In a small bowl, whisk together flour, baking soda, cinnamon and salt.

Stir flour mixture into banana mixture until just mixed.

Pour batter into prepared pan. Bake for 40-45 minutes or until it tests done.

Cool for 15 minutes in the pan before turning out to cool completely.

Dust with powdered sugar or drizzle with a simple powdered sugar and cream glaze (or both!)
Nutrition
Calories:
263
kcal
|
Carbohydrates:
56
g
|
Protein:
3
g
|
Fat:
3
g
|
Saturated Fat:
1
g
|
Cholesterol:
40
mg
|
Sodium:
121
mg
|
Potassium:
143
mg
|
Fiber:
1
g
|
Sugar:
37
g
|
Vitamin A:
80
IU
|
Vitamin C:
2.6
mg
|
Calcium:
12
mg
|
Iron:
1.3
mg