If you are celebrating Harry Potter's birthday (or your own) with a party, you need to make these amazing Harry Potter inspired recipes. Sharing is totally up to you!
There are so many amazing recipes out there for all sorts of sweet treats, especially involving butterbeer, that it can be hard to narrow down what to make for a Harry Potter party. Some of these desserts are so ridiculously easy it's silly to not have them more often.
So if you want to make these treats more often than once or twice a year, I won't blame you! They really shouldn't be relegated to merely July 31st and Halloween. I give you full permission to toast the boy who lived whenever you feel like it!
If you're attending a birthday party and need some gift ideas for a Potterhead, take a look at this list of amazing Kitchen Gifts for Harry Potter fans. I'm sure you'll find something that will make the perfect gift.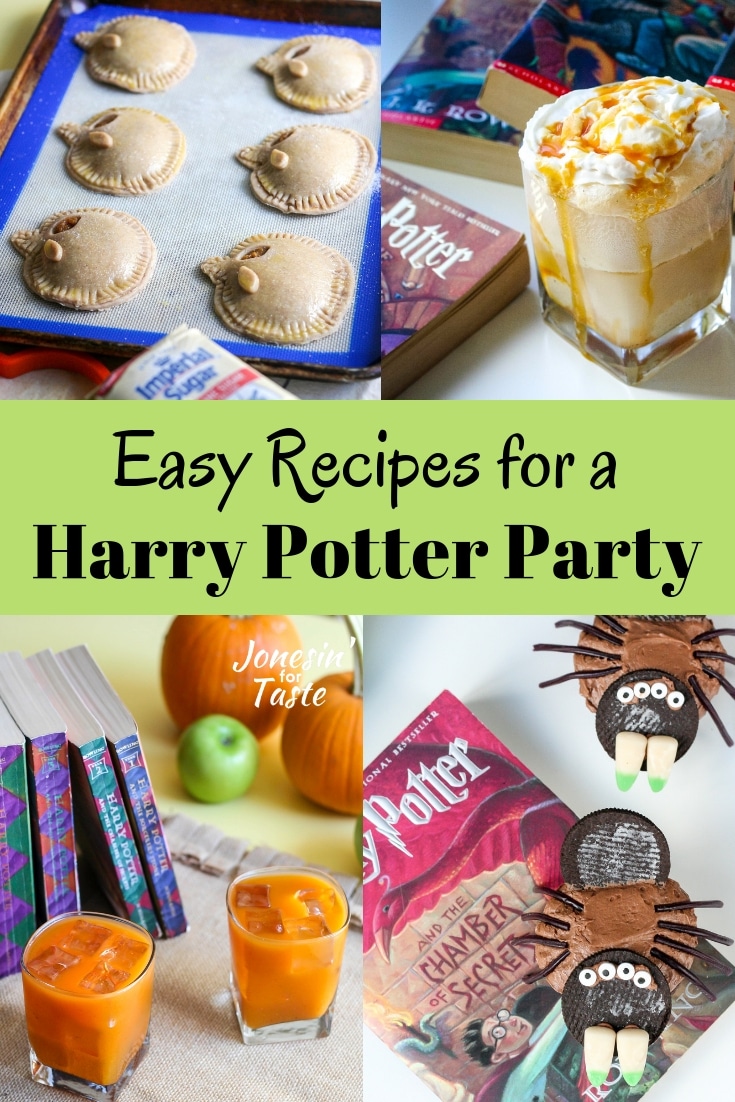 Harry Potter Recipes
This Basilisk cupcake cake and giant spider cupcakes are so easy to make and will be a huge hit at any party. Pair them up with Lego versions of Harry, Ron, and Hermione and the cupcakes double as decor!
Pumpkin pasties (aka pastries for us non- Brits) are cute little hand pies shaped like a pumpkin with a sweet pumpkin filling. They taste as good as they look!
This pumpkin juice recipe works well for both summer and fall since you can serve it chilled or warmed. Plus, it makes a nice accompaniment to the pumpkin pasties, hint hint.
Butterbeer has to make at least a few appearances on the list. Butterbeer ice cream floats are so good on a hot summer day so they are perfect for Harry's birthday. Of course, if you want to have one at Halloween that's perfectly acceptable as well!
My grandma made a version of this cheese ball but it never looked quite like this.
It really is silly how easy these little broomstick treats are to make. Of course that makes them even more exciting because you won't be burning the midnight oil to make them.
Another simple drink to make using just 3 ingredients. Isn't that easy? It's also non-alcoholic so everyone can enjoy it and the color is awesome!
Although I do love sweet drinks, a wizard or witch cannot live on sugar alone. This Gilly water is refreshing and inventive- I love the way they made the Gilly weed for the drink!
Do you follow Jonesin' For Taste on Facebook? Stop by, say hi, and let me know what kinds of recipes you want to see!