Sweet and saucy this Slow Cooker Sticky Pineapple Chicken is crisped up in the oven and made with only a few ingredients for a deliciously sweet and sticky dinner.

When it comes to slow cooker recipes I really want something that I can dump and run. This recipe uses 4 ingredients for the sauce that can be mixed right in the slow cooker!
It really doesn't get much easier than that!
What sides go with pineapple chicken?
This would be a perfect pairing with Real Hawaiian Macaroni Salad, rice, and broccoli, sugar snap peas, or baby bok choy for a delicious Hawaiian plate lunch! And don't forget some pineapple slices to serve up with it!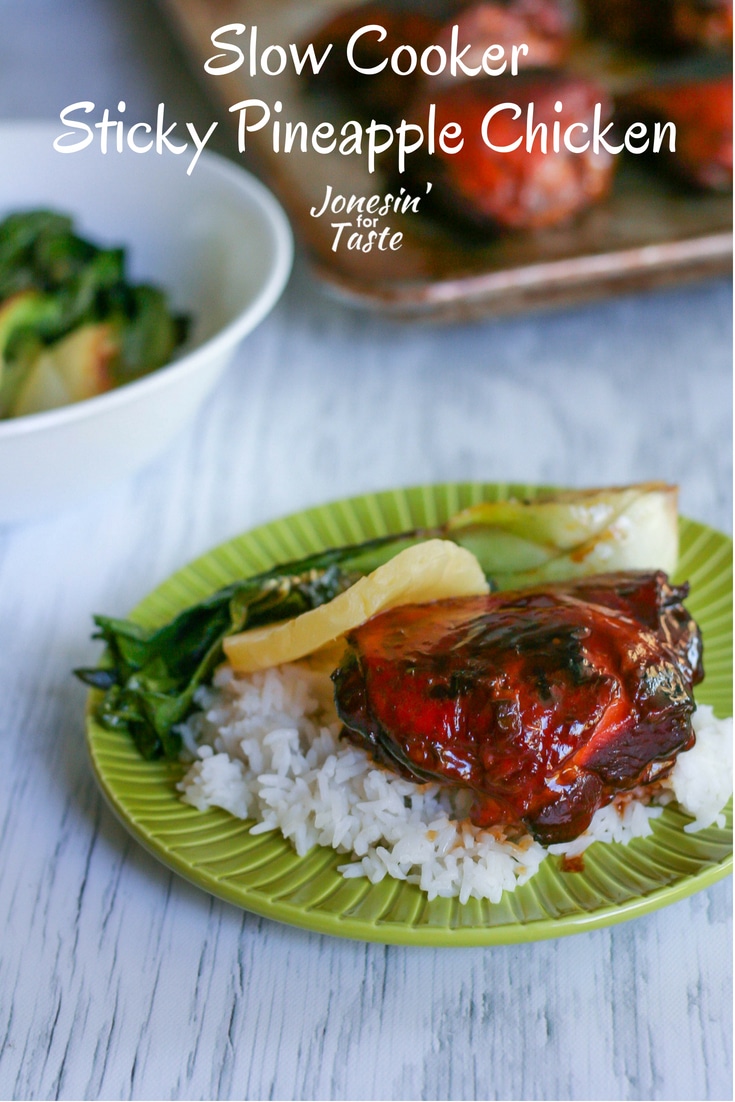 How to make the sticky pineapple chicken glaze?
I thicken the pineapple sauce that the chicken has cooked in and serve it up for those who want some extra sticky pineapple chicken.  It's really easy to thicken up the pineapple sauce with a little cornstarch on the stove top really quick.
Brush on the glaze just before you put the chicken under the broiler for extra crispy and sticky chicken.
How to get crispy skin on slow cooker chicken?
Broil the chicken on high for 3-5 minutes until the chicken skin is nice and crispy!
Once upon a time we lived in a place where I lived the battle of the oven.  It was supposed to be a brand new oven but it worked once or twice and then quit.  It only would get up to about 200 degrees or so.  Great for keeping things warm not so much for cooking.
So I was constantly trying to come up with dishes that I could make in the slow cooker or the stove top.  I love my crock pot but of course I really wanted Honey Glazed Chinese Chicken but that needed to be made in the oven not in the slow cooker.
After trying to figure it out for a few days I came across a recipe on Pinterest where she made chicken wings in the slow cooker and then put them under the broiler for a few minutes to crisp them up.
Brilliant!  So I was off to make some yummy sticky (and crispy!) chicken. Last minute I decided to add in a little bit of pineapple juice just to change things up a bit.  I'm glad I did because it was a big hit with the kiddos.
In honor of National Slow Cooker Month (yes, it's a thing) I've teamed up with some other bloggers to bring you a few tasty slow cooker dishes.  I hope you check them out because you might just find some new favorites.
Need some cute pineapple decor for your party?
Be A Pineapple printable available here!
Do you follow Jonesin' For Taste on Facebook? Stop by, say hi, and let me know what kinds of recipes you want to see!
For some of my other slow cooker recipes try:
Slow Cooker Garlic Balsamic Pork
Slow Cooker Cranberry Chicken Sandwiches
For more pineapple recipes try these:
Sweet and Spicy Pineapple Pork
Slow Cooker Orange Pineapple oatmeal
Slow Cooker Sticky Pineapple Chicken
Slow Cooker Sticky Pineapple Chicken
Slow Cooker Sticky Pineapple Chicken is cooked in the slow cooker and crisped up in the oven and made with only a few ingredients for a deliciously sweet and sticky dinner.

Cook Time
4
hours
10
minutes
Total Time
4
hours
20
minutes
Ingredients
1/2

cup

soy sauce

1/4

cup

hoisin sauce

1/4

cup

honey

1

20 oz.

can sliced pineapples with juice

2

lbs

bone in chicken breasts
Instructions
Drain pineapple juice off into a bowl reserving pineapple slices for later use.

Add soy sauce, hoisin sauce, and honey to pineapple juice in bowl. Mix well.

Place chicken in slow cooker and pour sauce over chicken. Cook on high for 3-4 hours.

Remove chicken from slow cooker, reserving sauce, and place chicken on a foil lined baking sheet.

Add 1 Tbsp cornstarch to a small sauce pan and whisk as you slowly add the sauce. Cook over medium-high heat just until thickened, about 3-5 minutes.

Brush sauce on chicken and place under a preheated broiler for 4-5 minutes or until chicken skin has become crisp. Serve with reserved pineapple slices.
Slow Cooker Day