This post contains affiliate links where I earn a small fee when purchases are made through this link. For more info see my disclosure policy.
Easy Peanut Butter and Banana Croissants are a super quick breakfast to make on a busy school morning that any banana lover will gobble up.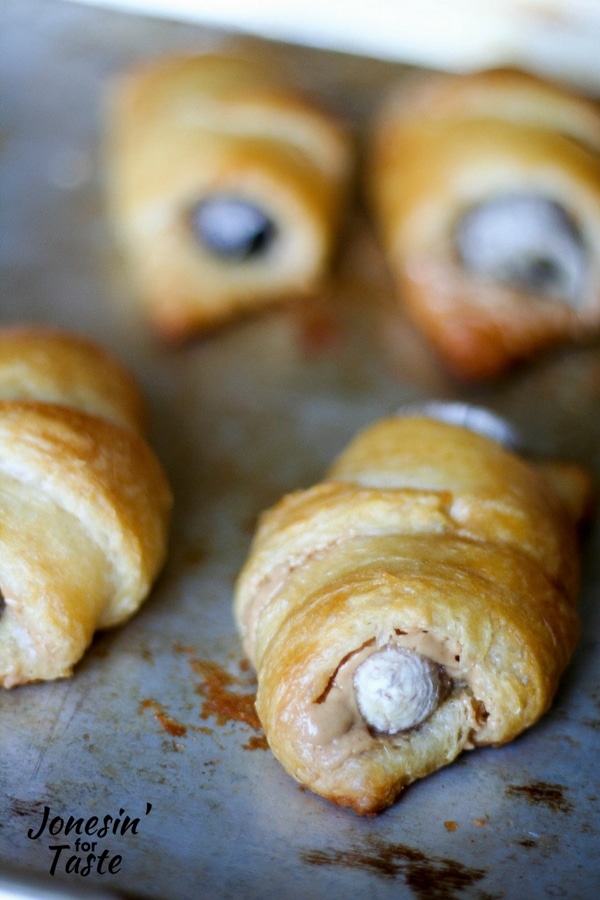 I'm still trying to come up with easy breakfast options for my kids that I can make really quickly in the morning. Although they love cereal even they get bored with it. Croissants are certainly yummy on their own but I like to add a little something to them so that they are a little more hardy. For National Peanut Butter Day, I figured peanut butter would be a perfect addition to the croissants and for me peanut butter and banana are such a natural pairing.
Now I've mentioned before like with the Banana Cranberry Muffins how only half my family likes banana but everyone here loves peanut butter! Next time I'm thinking about swapping out the banana for some apple slices. But we will see. For the half that does like banana these were a huge hit.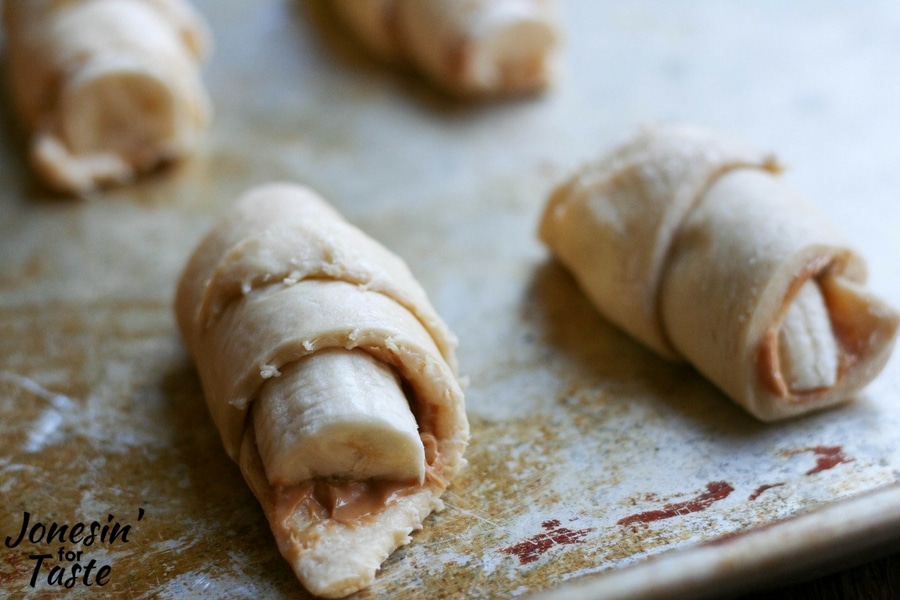 These whip up super fast because there's really no prep work other than slicing the bananas. I sliced them down the middle first and then cut those halves into halves to give myself quarters that were just about perfect width for the croissants they were on. Honestly, I wouldn't do an entire half of a banana because the first time I tried to make these doing it that way it was a lot of banana to everything else ratio. But if you REALLY love banana go for it and let me know how you like it.
My son was asking me if I could make these like I did the Easy Chocolate Peanut Butter Croissants because his favorite smoothie is PB Chocolate Banana. I'm sure it would be really yummy too and would be easy enough to add a square of chocolate on top of the peanut butter and before the banana.
If you're brain is swirling with croissant breakfast ideas check out the Easy Bacon Croissants and the Spinach Feta Breakfast Croissants recipes. Those are great make ahead options that take a little more prep work but reheat really nicely. There's also a list below the recipe card of a collection of wonderful peanut butter recipes in honor of national peanut butter day!
Do you follow Jonesin' For Taste on Facebook? Stop by, say hi, and let me know what kinds of recipes you want to see!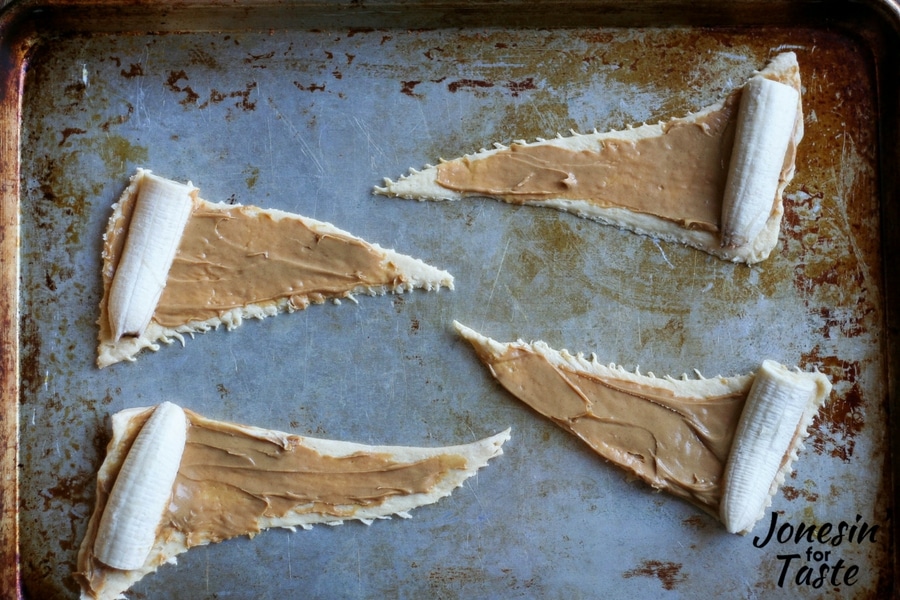 Easy Peanut Butter and Banana Croissants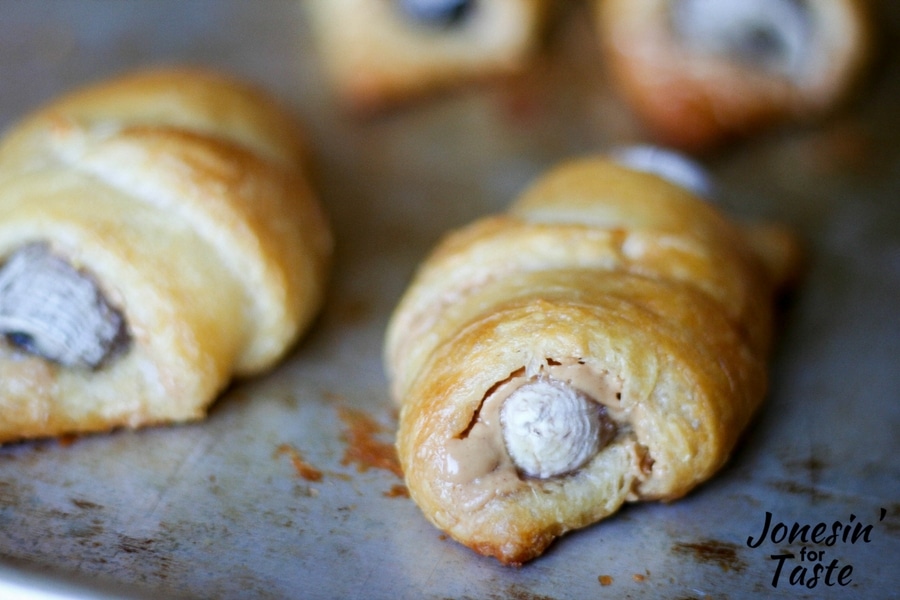 Ingredients
1/3-1/2

cup

peanut butter

divided

2

bananas,

quartered

1

pkg

croissants

powdered sugar

optional
Instructions
Preheat oven to temperature indicated on package. Unroll croissants and divide into separate triangles.

Add about 2 tsp to 1 Tbsp of peanut butter to each triangle. Top with banana quarter. Starting at the large side roll up.

Place on an ungreased baking sheet. Bake for 10-13 minutes until golden brown. If desired, dust with a little bit of powdered sugar. Allow to cool for about 5 minutes before eating.


Store any leftovers in the fridge. Reheat in the microwave for about 15-20 seconds.

Nutrition
Calories:
90
kcal
|
Carbohydrates:
9
g
|
Protein:
3
g
|
Fat:
6
g
|
Saturated Fat:
1
g
|
Cholesterol:
1
mg
|
Sodium:
50
mg
|
Potassium:
175
mg
|
Fiber:
1
g
|
Sugar:
5
g
|
Vitamin A:
20
IU
|
Vitamin C:
2.6
mg
|
Calcium:
6
mg
|
Iron:
0.3
mg
Peanut Butter Day Recipes