It ended up being a wild and crazy summer for the Jones bunch.  If the hubby wasn't working we were out playing.  We traveled to see my in-laws just after they moved to California.  Well, more like while they were moving to California.  We showed up before they even made it into their new house.  We are nice like that.  And then we left our kids there while I attended my Thirty-One Conference in Denver and my husband went back to work for a week.  Really nice of us right?  The kids loved it and I think their grandparents did too.  We've made sure to give them a month before we planned another visit.
If you follow me on Instagram you may have seen that we also went to the beach (a ton), the LA Zoo, the Long Beach aquarium, went camping and swimming, play dates, library trips, etc.  All of which was terrific but it made for a poor work atmosphere.
My oldest started Kindergarten this week so we are settling into a regular routine.  Which is really weird, we have never had a set routine before and even less so the last year since we've moved.  And with my husband's all over the place work schedule we have had more than a few lazy mornings.  I think I have been more productive in the last 3 days than I was the entire summer.  I'm exhausted!  And apparently everyone else is too because everyone is taking a much needed nap!
Mornings are a bit of a whirlwind in our house since I try to workout in the mornings and make sure everyone gets a good breakfast before we walk to school.  I love to make breakfast foods up en masse and freeze them so it's one less thing to worry about in the mornings. The number one requested breakfast in our house is pancakes so a LOT of those get made in our house.  I freeze my pancakes in stacks with a square of waxed paper cut to be about the same size as the pancake in between.  They are generally pretty easy to pull apart and negate the need to freeze them on cookie sheets before stacking which I do not have the room for.  And to eliminate the waste I just throw those squares into a ziploc bag and keep them in the freezer for the next time I make pancakes.
I need variety in my pancakes and there are too many terrific recipes out there to try.  My favorite kind of pancakes are pretty much any kind smothered in fruit compote.  You might see just a few of those here.  So here's a roundup of some incredible looking (and tasty) pancakes to get you ready for that back to school craziness!
Raspberry Pancakes with Orange Glaze by Jonesin' For Taste
Pumpkin Chocolate Chip Pancakes by Jonesin' For Taste
Lemon Ricotta Thyme Pancakes with Blueberry Sauce by Baked Bree
Apple Pie Pancakes with Vanilla Maple Syrup by Averie Cooks
Healthy Double Chocolate Pancakes by Jonesin' For Taste
Strawberry Lemon Poppyseed Pancakes by Le Creme de la Crumb
Coconut Pancakes by Adventure On
Whole Wheat Yogurt Pancakes by Jonesin' For Taste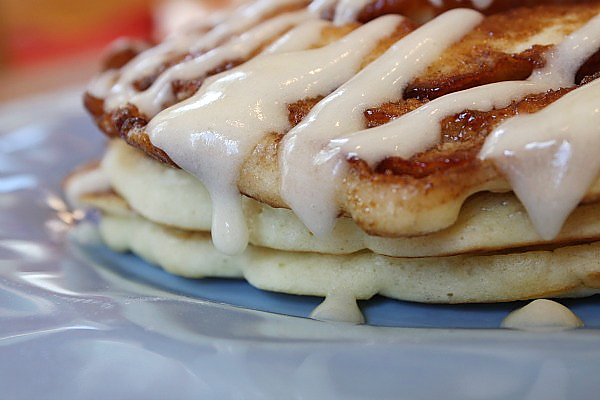 Cinnamon Roll Pancakes by Recipe Girl
Strawberry Oatmeal Pancakes by This Silly Girl's Life
Blueberry Ricotta Flapjacks by Simply Delicious
Sourdough Pancakes by Jonesin' For Taste
Lemon Cornmeal Pancakes with Strawberry Sauce by Eat Live Run
Chocolate Chip Oatmeal Pancakes by Minimalist Baker
Pumpkin Pancakes with Cinnamon Cream Syrup by Tastes Better From Scratch
Double Blackberry Pancakes by Jonesin' For Taste
Blueberry Yogurt Multigrain Pancakes by Smitten Kitchen
Whole Wheat Brown Sugar Banana Bread Pancakes by How Sweet It Is
Biggest Loser Pancakes by Jo Cooks
Quick Blueberry Pancakes (using homemade Whole Wheat Bisquik) by Jonesin' For Taste